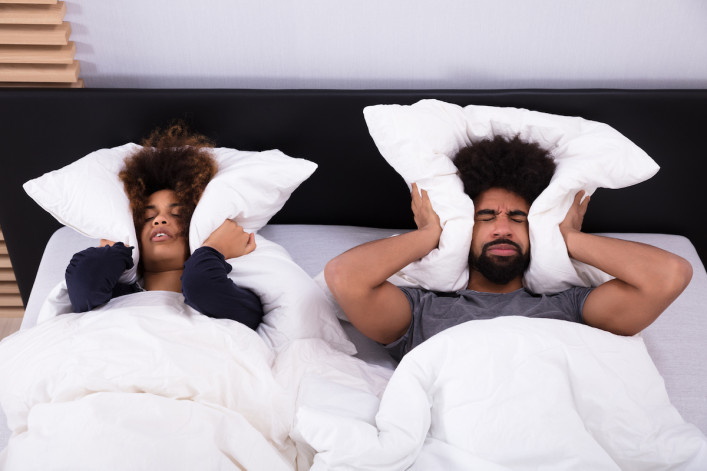 For weeks, our downstairs neighbor has blasted music from 10 p.m. to 2 a.m. so loudly that we can't sleep. We lodged a few complaints to the landlord, who in turn gave our neighbor some warnings, but the noise continues.

We're sick of it and told our landlord we want to break our lease because this is making our apartment unlivable. He said we would have to pay three months rent (we have nine remaining on our two-year lease). This seems unfair. What can we do?

Between the sirens, traffic, bars, restaurants, and, in your case, neighbors, it's no wonder noise is among the top complaint many New Yorkers have about living in the city. But just because it is a common grievance, it's not any easier to get out of the legally binding contract that is your NYC apartment lease. 
Some landlords, though, might be willing to work with you, as yours did by offering to let you out of your lease with the three-month-rent penalty. So, yes, that payment does seem fair, especially if your sanity (and sleep) is at stake. 
"Noise is one of the most complicated issues in New York City, but there are very few conditions under which a person has a right to unilaterally terminate the lease," says Catharine Grad, a city real estate lawyer with the firm Grad & Weinraub. 
Fraud, misrepresentation, and dangerous living conditions like mold or a harassing neighbor are grounds for getting out of a lease, and you might be able to negotiate something with your landlord if you lose your job, are relocating for work, or have a health issue, "but a noisy neighbor may not be enough," Grad says. "The law may compel your landlord to take some steps, but just because your apartment conditions aren't perfect might not be enough."tri
Pro Tip:
Dreaming of thick walls and concrete subfloors? Say (and hear) no more.  Entrust your next apartment search to an agent at The Agency, who will make your peace and quiet their top priority--along with negotiating the best possible deal on your behalf.  If you sign up here, The Agency will charge a broker's fee of 10 percent of a year's rent on open listings instead of the usual 12 to 15 percent. Bonus: The agents at The Agency are delightful to deal with.  
What should your landlord do about your noisy neighbor?
If you can no longer put up with the music, stomping upstairs, or whatever annoying sound that often bleeds through thin NYC apartment walls, you can try asking the noisy neighbor to keep it down yourself, which is obviously going to be a tricky conversation that might not lead to the result you want. 
"If the noise is dropping things or stomping, the landlord at the very least should make sure their place is carpeted and the tenant is adhering to the 80-percent rule," says Grad, which is a city guideline (not a law) that says 80 percent of an apartment floor should be covered with carpet or area rugs. "If it's music, they should talk to the tenant about the house rules." 

These let you know if you can hang something like a wreath on your door, how you can use communal space, and often designate "quiet hours," which might be from 11 p.m. to 7 a.m., for example. 
"The landlord should see how bad the situation is, and if the offending tenant is unwilling to make a change, the landlord has a responsibility to make your apartment habitable," Grad says. "If something is making it uninhabitable, and a tenant is clearly in violation, they should be trying to evict."
If that's not the case, a "constructive eviction" might be an option, which "means that the landlord has not literally locked you out, but they allowed conditions to exist that render it unsafe to inhabit," Grad says. "But the problem is you've got to move out—and you take your chances because the landlord could still sue you because there's still time on the lease."
Save for a few exceptions, renters by law have a right to request permission to sublet their apartment, but that is something you would pursue only if you want to come back to the apartment someday, which you likely won't because of that noisy neighbor. Another route could be assigning the apartment, which is "giving the lease to someone else and not coming back," Grad says. (Obviously, any new tenant would have to meet all the qualifications you did when you first rented the apartment.)
Brick Underground articles occasionally include the expertise of, or information about, advertising partners when relevant to the story. We will never promote an advertiser's product without making the relationship clear to our readers.