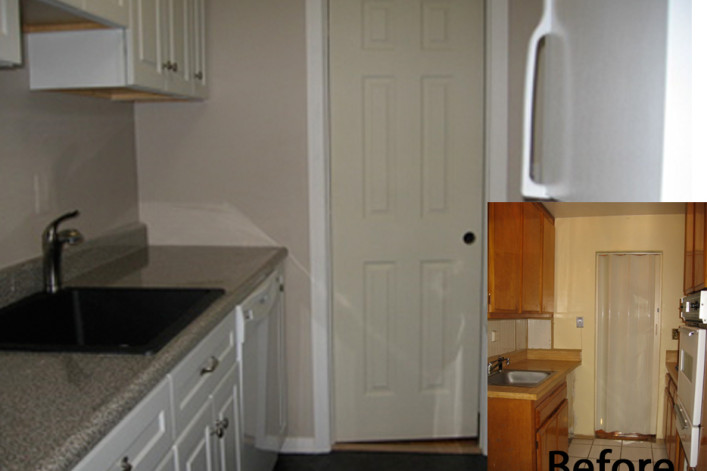 I have a 10 x 8 square foot galley kitchen.  Small is an understatement.  In our deluxe gut renovation vision, my fiance and I were thinking granite countertops, sparkling stainless steel appliances and the finest floor tiling Italy had to offer.  Then we got real.  All this stuff costs an exorbitant amount of money and for a kitchen that could double as a large closet? No way.
Instead, we decided to pay attention to aesthetics, design AND price. Here's how we renovated our kitchen (before and after pictured) on $10,000:
We shopped around: We made a lot of amateur mistakes, but heading to Home Depot or Lowe's for soup-to-nuts shopping wasn't one of them.  Instead, we found great bargains at neighborhood stores, discount liquidators and lumber yards. For example, at a local appliance store, we bought a suite of new, energy-efficient appliances (stove, microwave range, refrigerator and dishwasher) for $1,788, including delivery. 
We bought our cabinets at Home Depot We used one of their designers, Charlie, who strategically redesigned our kitchen into a more efficient work space.  He figured out how we could have more countertop space, fit a normal-size stove and place the fridge in a less obtrusive way. For an extra $100, we also had a Home Depot professional come and take measurements of our kitchen to fit the cabinets.  We had our contractor recheck the professional's work and it was perfect.
We didn't fall for the cabinetry bells and whistles At Home Depot, they try to sell you these amazing pull-out drawers, cabinets to the ceiling, etc.  We loved it and then Charlie showed us the whooping price tag of $7,000.  We backtracked to the basics and ended up buying our entire cabinetry with two pull-out drawers for a mere $2,800.
We got over stainless steel I know it sells, but it jacks up the price 

by about two-thirds

.  We chose all white appliances because they look modern, clean and actually make our small space appear larger.
We bought laminate instead of discount granite   To stay in budget, you have to get those countertop dreams of granite, soapstone and quartz out of your head.  Even the granite

on sale

 at Home Depot was $59 a square foot.  Keep in mind, you'll be cutting huge holes in your insanely expensive countertop to fit your sink, stove, fridge and possibly a long cabinet or two.  You'll be throwing away a ton of money. But there are some amazing, faux granite countertops out there that look aesthetically-pleasing with nice cabinetry. We chose a Wilsonart laminate that cost $400 total, as opposed to granite countertops which would've cost several thousands.
We shopped for discount tiles: We went to a 

floor liquidator

. We explained our budgetary concerns and a designer showed us around.  We chose a black faux-slate tile to complement our countertop, cabinetry and appliances.  It cost $300 total (including spare tiles) and we get compliments all the time.
We didn't skimp on the faucet.  You get what you pay for in faucets--but I'm talking a solid American brand, not a fancy import.  Our contractor emphatically said to us to buy quality in this area (for both kitchen and bath) and recommended both Delta and Kohler.  We're very happy with our sleek Delta faucet we bought for $180.
We made the sink the focal point.  Remember designer Charlie?  He recommended a gorgeous, dual deck,

composite sink

. It's deep, huge (25 x 22 inches) and a stunning anthracite color.  It was a bit of a splurge at $386, but we love it and so does everyone else who has seen it.
Including the $3600 labor cost for our fireman-contractor, we spent about $10,000 on our new kitchen.  And that's why we were able to gut and renovate our bathroom a year later.
Related posts:
Looking for a good contractor? Try the fire department
Paying it forward with my top 10 renovation mistakes
Is it weird to tip the painter, plumber, etc? 
Why your contractor charged you $100 for a shower curtain rod
BrickUnderground's Renovation Survival Kit
Brick Underground articles occasionally include the expertise of, or information about, advertising partners when relevant to the story. We will never promote an advertiser's product without making the relationship clear to our readers.