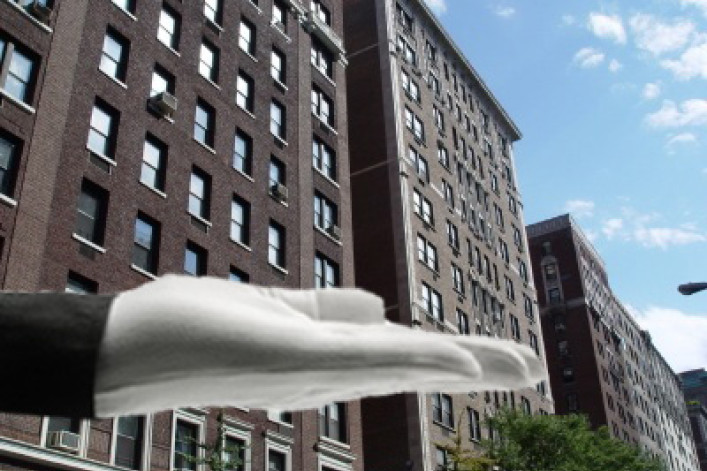 Recently BrickUnderground realized that we didn't really know what "white glove building" meant, beyond a starchy reference to a high-end Manhattan apartment building.
How, for instance, is white glove different from  "full-service" or "luxury"? Is the presence of white gloves a requirement?  Why do people say "white glove co-op" but not "white glove condo?" And why do some brokers avoid using the term at all?
Then and now
For some historical context, we turned to luxury-real-estate chronicler Michael Gross (740 Park and Rogues' Gallery) He wasn't sure about the term's exact origins, beyond the fact that the doormen obviously donned white gloves.
The gloves (now largely extinct) may originally have been meant to give the impression that the building was uber clean and therefore "that those who live there are somehow immaculate," theorizes Gross.
"White glove" these days seems to connote a Queen Mary past with hot-and-cold running service.
"You walk into those buildings and you feel like you're going into another period and lifestyle—there's a feeling of old world and quiet about it, almost a hush, where you feel like you shouldn't raise your voice," says longtime Upper East Side real estate broker and Selling New York reality tv star Michele Kleier. "It's the kind of building where they run down the street to take your shopping bags from you."
Just another full-service building…?
To tease out the difference between a full-service, luxury building and a white glove one, we turned to Chef-turned-real estate broker Paul Zweben. He compares the white-glove dwelling experience to dining at Daniel Bouloud's eponymous restaurant.
"You just walk into dinner at Daniel and you know it's white glove," he says. "Daniel just feels different, from the flowers, to the smiles, to the warmth, to the tailored suits the captains are wearing and the Windsor knots on their ties. You walk into another place and you know it's fancy but not white glove."
Indeed, suggest the brokers we talked to, a caste system rules ultra-luxury real estate.
"White-glove" not only trumps "full-service," but is disproportionately prewar, says Frederick Peters, president of Upper East Side epicentered Warburg Realty.
"'White glove' means top of the line," he says. "These are the buildings with a beautiful lobby, usually with larger apartments, almost always pre-war, which have a very high standard of architectural aesthetic and tenant-list refinement. There are many more 'full-service' buildings than there are 'white glove' buildings."
Nouveau white glove
Zweben argues that certain nouveau riche buildings have earned the white glove designation, and not just limestoned throwbacks like 15 CPW.
"The 2010 definition of white glove is a concierge and full-time doormen that are doing whatever needs to be done to have high-end services such as getting all your packages out of the car," he says.
"Some have valet services if there's a garage below, and the newer ones often have a refrigerator behind the concierge for Fresh Direct," says Zweben.  "And there are a tremendous amount of employees on staff, so that it runs like a hotel."
For example, he notes, if you have a leak at 845 United Nations Plaza—a 2001 Trump condo project where two bedrooms retail for around $2.5-3.5 million—"you call down and two seconds later there's a guy coming up to fix it."
The white glove backlash
Interestingly, brokers say there are downsides to marketing a property as white glove.
"The majority of buyers would rather pay more money for raw space, views or a renovated unit," says broker-blogger-entrepreneur Noah Rosenblatt of Urban Digs.
Meanwhile, some younger apartment hunters and those with small children apparently feel the term white glove is synonymous with snob appeal, says Kleier, and steer away from the buildings.
That could be why the term "white glove condo" has never really taken root in the real-estate lexicon.
After all, in New York City's co-op dominated housing market, the modern condo's appeal hinges as much on an all-money-is-equal philosophy as on sleek aesthetics--reincarnated condo "prewars" like 15 CPW notwithstanding.
Nothing to Google about either
Ultimately, it may be Google as much as the condemocratization of Manhattan that puts the phrase "white glove" out of business.
"When I write ads," says digitally au courant real estate broker Toni Haber, "I try to use words that are going to be picked up by Google—words like luxury, loft, penthouse, private terrace. People don't really search for 'white glove.'"
Related posts:
Confessions of a preconstruction condo buyer
My Big Fat Board Interview: This is not a white glove building
Brick Underground articles occasionally include the expertise of, or information about, advertising partners when relevant to the story. We will never promote an advertiser's product without making the relationship clear to our readers.