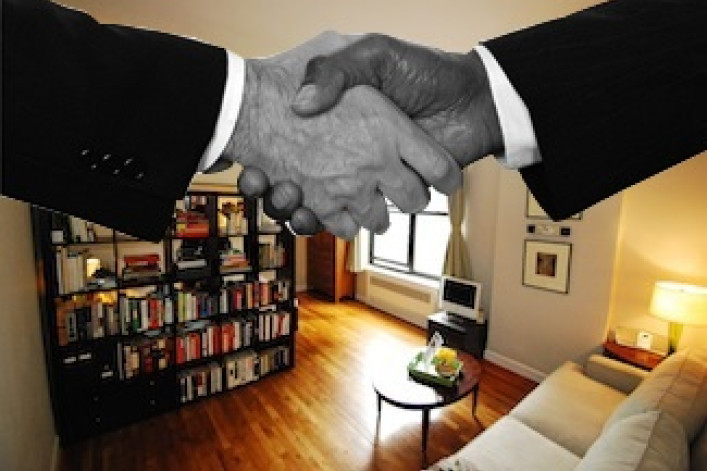 Big news: We accepted an offer on our Upper West Side apartment, and it was related to the first offer we got.
By related, I mean that the neighbor on one side of us who made the first offer decided later to go in on the deal with the neighbor on the other side who's on the board, and split our apartment to expand theirs.
One will expand from a 2-bedroom, 2-bath to a 3-bedroom, 3-bath, and the other will grow from a studio to a nice one-bedroom.
The contract hasn't been signed and anything could happen, but things are looking optimistic.
Of course, it took some discussion to get to this point—which brings me to today's topic:
Negotiation.
Most people think that negotiating is all about haggling back and forth and deciphering mysterious body language. They feel very uncomfortable about it.
I happen to think it's one of the most important subjects anyone can learn.
My father was once a salesman and I learned a bit more about negotiating in business school, but I'm not an expert.  
Googling around while preparing to negotiate my apartment, I found tips like, "always counter; don't walk away,"  "throw in the fridge and stove," and "the first to blink loses."
For real?  None of that is useful information and they're certainly not tips.
Here's what I recommend if you're negotiating the sale of your own place:
1.  Don't forget about value creation and trading on values 
People often think that negotiation is about grabbing as much value as possible for oneself, but negotiation is most effective when you're not just negotiating on price, but also values.

Price is just one type of value. The most underrated aspect of negotiating is looking for values beyond the price, successfully tapping into those values and trading on them.

For instance, our neighbors reminded us that their offer, while a bit lower than the asking price, would give us the flexibility to stay in the apartment for a mutually agreed-upon period of time before closing, allowing us to find our next apartment. They knew that we would value that. 
The alternative for us would have been to sublet an apartment until we found an apartment to buy.  It would have been do-able, but a nuisance.
In return, we gave them the opportunity to stay in their own apartments while expanding each of theirs by just the amount they needed, increasing the value of their homes with a relatively small investment.

2.  Take your time to consider the offer 
With the back and forth of negotiating, sometimes the numbers just become numbers and not actual dollar amounts. Or you can get caught up in the emotions of a situation.
Take at least a day to consider an offer no matter what.  Remind yourself of what's happening in the market and refresh your memory about all those comps you saw.  Selling an apartment requires patience...make sure you're really okay with the offer and not just trying to hurry the process along.

3.  Know the price range in which you'd accept an offer as well as your reservation price (or "walk away" price)
Toward the beginning of your journey, write down the prices and your thoughts about why they make sense, so you can remember it down the road when lots of numbers are floating around.  Doing this will help build confidence when an offer comes in or someone questions your asking price.
When you're in the heat of the moment--going, "Should I take this offer?"--you can go back to the piece of paper to see what you wrote when you were calm.  

Before my husband and I put our place on the market, we decided the amount that we wanted and the minimum amount we would acccept.

We put those numbers to the test by imagining various scenarios and asking ourselves if we'd still be confident about the price even if no one showed up to the first open house...would we be ok with this price, say, three months from now?

In negotiations, the first price put out there often creates a psychological anchor that could influence your judgment. But when you have done the pricing homework, you are less easily swayed by offers that try to anchor the price.   It might lead you to question your asking price, but you can choose to ignore it, too.

4.  Have high aspirations with your counteroffers, but stay calm and friendly

Keeping things smooth with the other party is part of the negotiation process, too.

As the book Negotiation Genius puts it, "The people with whom you negotiate will be satisfied to the degree that they believe they got a good deal, the degree to which they felt respected, and the degree to which they felt the outcome was equitable."
In other words, the best way to ensure that all parties are satisfied--and keep a deal from falling apart--is to remember that negotiations shouldn't be battles where one side wins and the other loses.

At the end of the day, like everything else about FSBO, negotiating really isn't that hard if you're willing to do the work.
__________________________
Kathy is now in the market to buy (from an owner OR broker) the perfect prewar 2-bedroom, 2-bathroom apartment in Brooklyn with private outdoor space that's near the subways (the good ones).
Previous FSBO Diaries:
Week 3: Second open house, first offer
Week 1: Our decision to sell bareback 
Brick Underground articles occasionally include the expertise of, or information about, advertising partners when relevant to the story. We will never promote an advertiser's product without making the relationship clear to our readers.