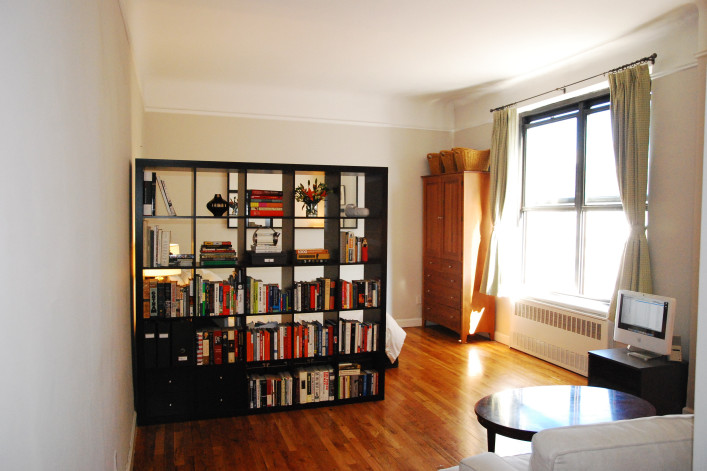 Soon after my husband Rob and I got married ten months ago, we realized that living together in a studio longterm wasn't realistic.  

With or without the help of a broker, the task of selling our Upper West Side place (pictured above) and then buying a new one seemed daunting, so we procrastinated.  And procrastinated.  

Oh, we went to open houses in Brooklyn, where we want to end up, but we didn't see anything we loved and even if we did, we couldn't do anything because we still had to sell our place in order to buy.  

Finally, on January 1, we made a resolution: We decided that 2010 would the year we're going to sell our place.

A friend told us about her successful experiences selling her own apartments in Brooklyn, so we decided early on that there was nothing to lose going FSBO.  She made it sound do-able and worth the work.  

But there are plenty of people out there who will tell you it's hard and something only a real estate broker can do.  

Just searching FSBO-related discussions on StreetEasy.com's forums led to dozens of posts on how much work brokers do to screen potential buyers and how regular people can't possibly compete with the marketing power of a New York City broker.  

Rob and I decided to take it on as a challenge and see if we could do the $26,340 (6 percent of the selling price, the standard broker's fee) worth of work ourselves, and learn something from the experience, too.
So, we went to the library, and friends lent us books like The For Sale By Owner Kit, which, among some useful tips, instructed one on how to make a For Sale sign to plant in your yard.  Not so relevant for the city dweller.  

We Googled, we searched the New York real estate blogs, and realized there wasn't one place that had any meaningful FSBO information.  So here we are.  Learning from scratch.

Getting a house ready to sell isn't all that different from planning a wedding:  There are a lot of details and checklists and deadlines, and it seems like a lot of stuff, but you create a vision of how you want things to work out and then just tackle it one task at a time.  

And some tasks take longer than others.  

For instance, we went to dozens of open houses for comparable apartments in our neighborhood, the Upper West Side, and other parts of Manhattan.  That involved a lot of time because the research didn't end with the open house--we tracked how the apartment sold, too.  

There are a lot of variables in terms of "comp"-ing apartments and at the end of the day, the number just has to feel right.

For example, there was a studio that was across the avenue in a similar building (both prewar, both doorman....well-managed, nice lobbies, essentially they same location, etc) and it sold for around $430,000 in December. 
But our building is on a nicer block and has an amazing roofdeck, and our apartment has an eat-in kitchen and newer bathroom, so we felt like that must be worth at least $10,000 more.  We priced it at $439,000.

Doing the research gave us confidence when we set our own price.  And we felt comfortable going with the price-it-right strategy, instead of pricing low and hoping for a bidding war or pricing high and expecting to lower the price to give people a false sense of getting a deal.  

Our first open house is tomorrow from 12-2. 

Did we print enough sell sheets?  Will anyone come?  Is it going to rain?  Will we get robbed? What do we do if we get lots of offers?  We'll see!  Follow along as I navigate FSBO in the City.

Tune in Wednesday to find out how the open house went.
Related posts:
"The FSBO Diaries" debuts on BrickUnderground
Brick Underground articles occasionally include the expertise of, or information about, advertising partners when relevant to the story. We will never promote an advertiser's product without making the relationship clear to our readers.