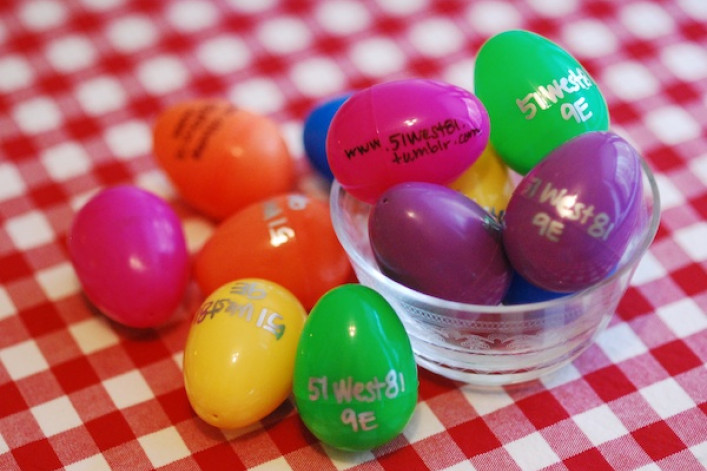 Well, we got an offer on Easter Sunday, the day of our second open house at our Upper West Side studio apartment , so that concludes this column.  Selling on your own without the help of a broker is quite effortless.  Goodbye.
Oh, if it were only that simple.
Let's start with the open house:  The relaxed feelings we had going into our second one were markedly different from our anxiety the week before.
This time, we felt like old pros and things seemed to take less time to prepare even though we were doing the same tasks.   My husband and I pretty much have the routine down to the following:
Wake up at around 8:30
Get flowers from the Greenmarket a block away and take the dog to a friend's place
Remove all signs of daily living from the apartment: Put all shower toiletries in the cabinets, recycle the pile of newspapers and magazines, hide the dish rack to create a sense of more counter space.
Wear something professional-looking but not stuffy
Turn on all the lights, even though the apartment is sunny, and open up all the windows if it's nice out
Display the sell sheets and sign-in sheets on the coffee table
Tape one of the sell sheets to the door so that as soon as people step off the elevator, they know right away where they should be going (I hate that feeling when you go to an open house and you're wondering if you're going the right way)      
Remind the doorman that we're having an open house so that when buyers arrive, he doesn't give them a big, "Huh?" 
Turn on some music at low volume.  It makes the space feel more inviting, and visitors don't feel like they have to be quiet.  Last week we played a classical mix and this week it was whatever was on the iPod.
Then I start computering at the kitchen table and Rob goes to the roof, waiting to show it (only residents can access the roof with a card key).
Last week at our first showing, no one showed up for an hour, and things were no different on Easter.
Altogether, three brokers, one family and one man whose wife came to first open house saw the apartment this week.  The repeat visitor seemed like a positive sign.
But the offer we got didn't come from any of the people we met that day.  Later on, we got a knock on the door from another owner from our building.
He offered slightly less than the asking price, with a very flexible timeline: "If you want to close a year from now, that's fine," he said.
Rob and I talked afterwards about how that was an important element to the offer since extra time would allow us to continue looking for a place to buy without the pressure of getting out of our current apartment.  Also, since the neighbor already owns in the building, the board might be easier on the candidate and the transaction might run more smoothly.
But we said no thanks, letting the potential buyer know that our timeline is long and we're shooting to get the asking price or more.  We might be more open to his offer somewhere way down the road if the apartment is still on the market.
In this market, you hear more about motivated sellers than other types, but that's not us; there are many types of sellers with their own reasons for selling and their own timelines.  
Rob and I want more space for the future, but it's sort of nice to have this time to save up money, and while we want kids at some point, we don't need that two-bedroom apartment right away.
At the end of the day, though, it was good to get an offer.  There's a feeling of security in that.  Like getting into your safety school.
Previous FSBO Diaries:
Week 1: Our decision to sell bareback 
Brick Underground articles occasionally include the expertise of, or information about, advertising partners when relevant to the story. We will never promote an advertiser's product without making the relationship clear to our readers.