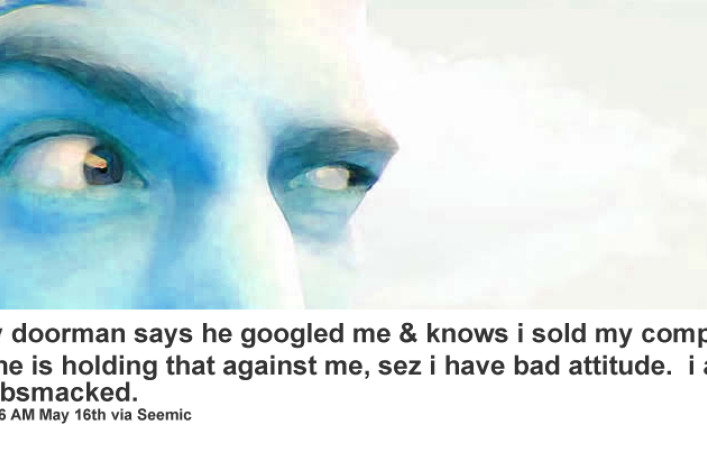 When new media entrepreneur and newish NYC renter Rafat Ali walked into his Murray Hill building yesterday morning, he stopped to alert the doorman that he was expecting some guests for a housewarming party.

"His first reaction was, 'You can't go on the roof,'" says Ali, who immediately bristled at the doorman's tone. "I said, 'Okay, but now that you said that I might."

The doorman accused Ali of having an "attitude," then, according to Ali, blurted out: "You think you're better than us. I Googled you and because you sold your company for however many millions of dollars, you think you are a bigshot."

A heated exchanged followed, in which the doorman allegedly threatened to have Ali-- who sold his new media company, ContentNext Media, to the Guardian News in 2008--thrown out of the building.

"I said 'I don't want to deal with this, I have guests coming over,'" says Ali, who left to prepare for his party.

As befits a digital media bigshot, @rafatali (as Ali is known on Twitter) Tweeted his shock over being Google-stalked by his doorman, which made its way into our @BrickU feed.

By the time we caught up with him today, Ali had complained to the super and received a formal written apology from the doorman.

But he's still puzzling over what prompted the man to Google him in the first place. He thinks it might be related to the intensive decorating he's been doing since moving here from Los Angeles six months ago.

"A lot of stuff came into the apartment, and I'm assuming he was curious—'Who is this guy?'" says Ali.

Curious doormen are nothing new.  As our own anonymous doorman confesses, curiosity and gossip are entitlements of the job, and sometimes the only recompense for boorish treatement by some residents.

As another Twitterer pointed out, perhaps this doorman's biggest mistake was his failure to interpret the true significance of his online research:
"Suppose it would be useless to point out that 'sold company' = 'better holiday tip'?"
Related posts:
The staff is talking about...you
If you think your trash is private, think again
F'd! UES co-op kills deal after reading kid's Facebook page
Brick Underground articles occasionally include the expertise of, or information about, advertising partners when relevant to the story. We will never promote an advertiser's product without making the relationship clear to our readers.