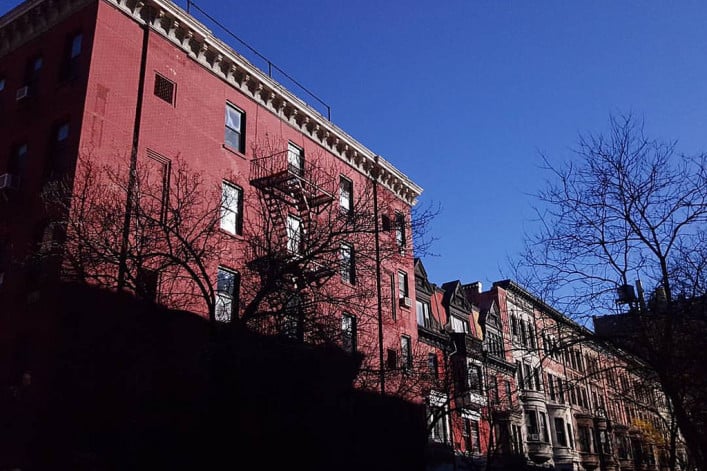 As Brooklyn's housing prices have skyrocketed over the last decade, scammers have been drawn to the borough like moths to a flame, hoping to cash in on quick-fire gentrification by duping vulnerable homeowners out of their ultra-valuable properties.
Deed theft scams have been a growing issue in recent years, and now, per a new report from the Center for Public Integrity, homeowners also need to be on the lookout for fraudsters promising lowered mortgage payments and relief from foreclosure proceedings.
It works like this: shady firms allegedly browse sites like PropertyShark for distressed properties in the outer boroughs, then aggressively court the home owners with offers of foreclosure relief services and loan modification. (As with many of these housing scams, fraudsters disproportionately target Black and Hispanic owners as well as the elderly, and often in rapidly gentrifying areas like Bed-Stuy and Crown Heights). The Center for Public Integrity's report focuses on lawsuits currently in progress against a firm called Homeowner Assistance Services of New York, though its author, journalist Fred Schulte, tells us that the practice is widespread not just in New York, but nationwide.
"Basically, they keep calling until you agree to meet them. Then, they send cars out to pick people up," Schulte told us over the phone of allegations against HASNY. The next step, apparently, is to bring the homeowner to an office "for an alleged loan modification," he says, and requests for more paperwork about incomes to complete qualification. 
"At some point, they tell you that your credit is not good, but you've got another option," says Schulte. And this is where firms talk owners into a short sale (selling their property for less than the total of their loans, and far less than its current market value), with promises that they'll be able to continue living there, and potentially even buy the home back.
Homeowners who are filing against HASNY also say that the firm had a lawyer present claiming to represent their interests as they signed off on paperwork they didn't fully understand.
Days (or sometimes hours) after homeowners sign over the deed, representatives of these firms show up at their homes instructing them either to leave, or pay exorbitantly high rents. Currently, federal prosecutors are seeking forfeiture of the properties they say were "fraudulently acquired" by HASNY in an attempt to restore these Brooklyn homes to their rightful owners.
If you're  a homeowner receiving mailers or phone calls offering quick-fix relief on your housing debt, treat them with a heavy dose of suspicion. "It's probably not legitimate if they're the ones who contacted you," Schulte tells us. "If somebody's contacting you constantly, making promises, sending cars and giving you this whole song and dance, it should be clear that you're being scammed." 
Instead, if you're in trouble with your mortgage, the Department of Financial Services outlines options here, and you can also call 855-HOME-456, a line set up by the Attorney General's office to provide help for distressed homeowners. And if you have been in contact with someone about mortgage modification, check them out at AGscamhelp.com. As always, if someone appears out of the blue making you an offer that sounds too good to be true, it almost certainly is. 
(H/T WNYC )
Brick Underground articles occasionally include the expertise of, or information about, advertising partners when relevant to the story. We will never promote an advertiser's product without making the relationship clear to our readers.