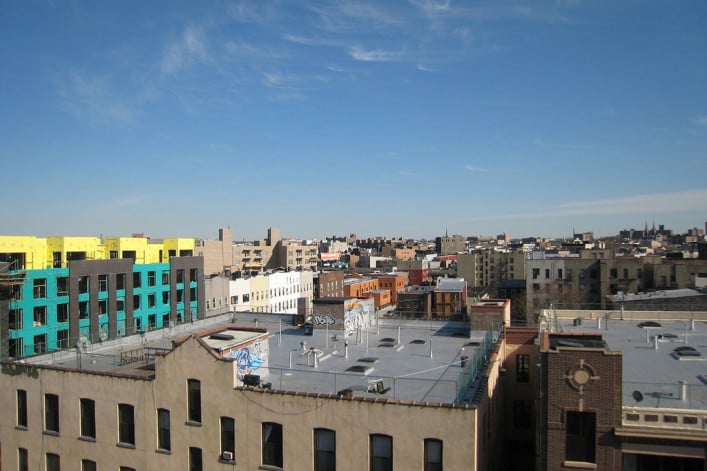 We've all salivated over the stories—the artist prescient enough to buy a Park Slope townhouse in the 1970s for five digits; the friend of a friend's parents who bought a scruffy Soho loft pre-Ed Koch years, only to sell it for millions in its current high-priced, post-Sex and the City final form.
But on the flip side, New York viewers all collectively winced on Mad Men when a 1960s broker promised Peggy that a Yorkville apartment would "quadruple in value" once the Second Avenue subway was finished. If Peggy had bought hoping to make a profit based on the shiny new subway line, well, she'd still be waiting.
Point being, in the high-drama setting of the NYC real estate market, it's easy to get whipped up into a frenzy trying to make ultra-savvy, in-the-know investments. And we all like to flatter ourselves with the idea that we somehow have the foresight to buy when the market's at a low point, and sell just before a peak starts leveling off. "Unless you buy at the very day the market's at a low point, and sell on the day it peaks, there's always room to feel bad about your transaction," says RealDirect CEO Doug Perlson.
But for those of us who aren't stone-cold investors with massive portfolios—or psychics—is this really any way to navigate the real estate market? By and large, experts tell us, the answer is 'no.' And in fact, attempts to sell at exactly the right moment have been known to backfire.
Consider the case of three Williamsburg siblings who've waited for the past three years to sell their family's building, only to find that now that they do want to list it, prices in the area have dipped in the lead-up to the L train shutdown. "It came to a certain point last year when rents were pretty much at an all-time high, and I was saying 'now might be the best time'," recalls Citi Habitats agent Vittorio Faricelli. "They wanted to hold off because they felt the market was going up and up and up. People can sometimes overthink it, which can cause them not to make as much of a profit in the end." Yes, the sale of a long-held family building in a now-trendy neighborhood will still be a windfall, but if they were hoping to max out their possible sale price, that ship has sailed as the area's market braces for a dip in rents (and thus, a dip in sale prices, as well).
Similarly, Perlson cites the story of a building in the East 60s whose owners were hoping to get a boost on their sale price when plans to finalize the Second Avenue subway were finally announced. "But there was blasting that was happening and literally shaking the china cabinets when we were showing the apartments," he says. "If you had tried to time the market as far as when that project would be done, you'd never get it right, because it keeps getting pushed back. And for the second phase [of the subway into East Harlem], I'm sure there are people holding on for that to come to fruition, but by the time that's approved, maybe the market isn't so hot any more, or there are other factors to consider." Between the unappealing prospect of living with construction noise and the fact that the 2nd Avenue announcement coincided with the recession, the apartments didn't sell for quite the premium the owners had originally envisioned.
Not to mention the not-small consideration of your own life and comfort. "I think there's a certain amount of shaming that goes on, like 'You sold too early!'" says Miller Samuel appraiser Jonathan Miller. "But what if you sold because you wanted a smaller place, or to move out of state?"
In other words, hanging onto an apartment that no longer suits your needs—say, a cramped one-bedroom after you've just had a second child and need more space—in hopes of maxing out the market isn't generally going to serve you well.
"Personal matters come first," adds Faricelli. "If it's the perfect time to sell in terms of the real estate market, but not the perfect time for you, then the question becomes, is the extra money you might make going to compensate for it not being the right time in your personal life?"
"In many ways, real estate is a residence first and an investment second," says Miller. "And that got us into trouble in the housing boom. We saw housing as a stock transaction and that was very liquid, you could just flip it, etc. And I don't think that's really the point."
Instead, if you're buying or selling a place for you and/or your family to live in, it may be wise to think about the picture in the longer term (in addition, of course, to the usual due diligence of checking comparable transactions to make sure you're getting a good deal). "I tell buyers that you won't even know until, say, six years from now how the investment really turned out for you," says Bond New York agent Mark Neuwirth. "So don't commit to a property unless you're willing to commit to that time frame."
"What's hard to get people to understand is that the market cycles, it always does," says Compass agent James Cox. "People get freaked out. But if you look at any one New York apartment on a continuum over 20 or 30 or years, you see that it's still an unbelievably great investment."
And next time you hear an urban fairy tale about someone's genius deal, take it with a grain of salt. "For the most part, I think success stories about timing are a combination of luck, coincidence, and some really good storytelling," says Miller.
Brick Underground articles occasionally include the expertise of, or information about, advertising partners when relevant to the story. We will never promote an advertiser's product without making the relationship clear to our readers.