If you own an apartment or townhome in Upper Manhattan, lucky you. As buyers balk at prices in the rest of Manhattan and much of the outer boroughs, the market uptown is booming, according to Bohemia Realty Group, an independent brokerage specializing in sales and rentals north of 96th Street in neighborhoods like Morningside Heights, Harlem, Washington Heights and Inwood. 
"In all the sales I've worked on recently, I haven't seen one that hasn't gone to 'best and highest'—i.e. a bidding war—especially in the condo market," says Bohemia Realty agent Susan Molloy.  "The market uptown is still growing, and there's a lot of potential for sellers to make a great, very quick return on their investment, certainly faster than in other parts of Manhattan."  
Here's what you need to know, according to Bohemia Realty:
1. Demand is high, and supply is low
While there are plenty of buyers eager to snap up properties in Upper Manhattan, there are comparatively few places for sale. Currently, there are approximately 258 co-ops and condos for sale for under $1 million in the over 100 blocks that comprise Upper Manhattan. By comparison, the closest neighborhoods on the southern border—the Upper East Side and the Upper West Side—have approximately 471 co-ops and condos within 40 blocks. Buyers uptown have fewer apartments to choose from, which illustrates why sellers have keen advantage.
"I have buyers who are itching to buy, and not a lot of inventory on the market," Molloy says. "So unless your apartment needs a gut renovation, you'll probably get into a bidding war." 
If you put a re-sale co-op or condo on the market right now and don't have an offer within a month, says Bohemia head of sales Beth Gittleman, "you've priced it wrong. Generally anywhere in Harlem or farther north, it won't last past the open house. If we could copy and paste houses right now, we would do it."
2. Low interest rates are exacerbating the supply-and-demand imbalance
Buyers across the board are more motivated than usual right now thanks to low interest rates on mortgages (currently, the rate for a 30-year fixed rate is 3.42 percent.)
Unlike other areas of Manhattan, "buyers uptown are generally middle class and they care about the interest rate a great deal," says Gittleman. "It affects their monthly payment, and what they can afford to buy. It's kind of the perfect storm for Upper Manhattan sellers right now, with low inventory, and a buyer pool that really wants to purchase while interest rates remain so low."
3. Your apartment may be more valuable than you think
The Upper Manhattan market has been going gangbusters over the last few years, so if you haven't checked in on prices in a while, your apartment might be able to sell for a much higher price than you initially expected.
"A lot of people who have been in their apartments for decades don't realize the value they have," says Gittleman. "A lot of things like neighborhood amenities and transportation have improved since they first bought, especially if it was more than 10 years ago. And even if it's not renovated, buyers look at the value compared to the rest of Manhattan and think, 'I'm getting this at a great price and can do renovations later.'"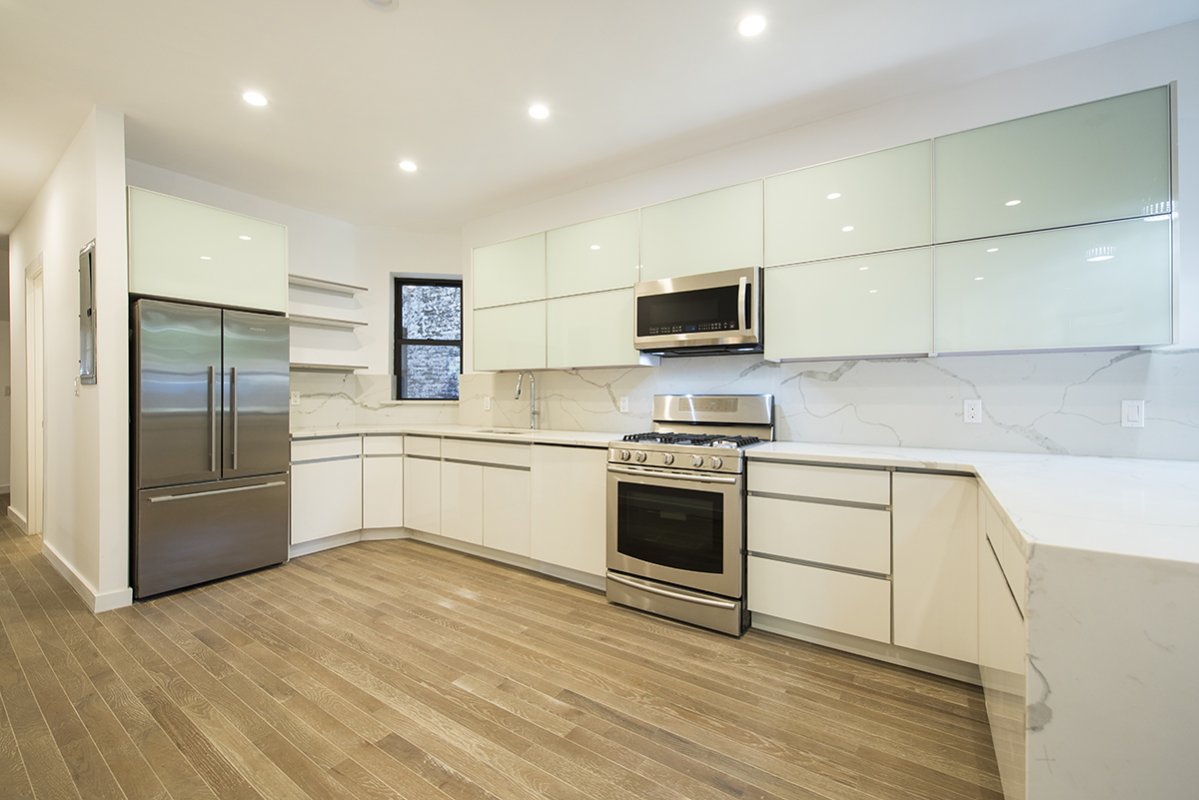 Pictured above:  This floor-through 1,600-square-foot two-bedroom in The Leo, a brand new condo conversion in the historic Sugar Hill section of Hamilton Heights, is listed for $1.25 million. It features a king size master bedroom with decorative fireplace, and an entire backyard and storage room—all right off the C train. 
"There are certain neighborhoods in Upper Manhattan that are really flourishing right now, like Hamilton Heights, which in the last year has become the hottest neighborhood for both investors and people looking for primary residences," adds Molloy. "Hudson Heights and Fort George are starting to become hot spots as well, and I think we'll continue to see Washington Heights grow over the next year."
The right price, the right trains, and new restaurants are drawing buyers right in: they're drawn to the sense of neighborhood that other parts of the city are losing, having a New York, NY address, and the ability to commute to work in less than 30 minutes.
Another consideration is how much equity you have in your home, says Gittleman: "Depending on how much of the principal you've paid down—for instance, 50 percent—you stand to take home a nice chunk of change at the closing table, even six figures."
A broker can give you more insight into potential sales prices and your proceeds depending on the particulars of your current financing.
"You may walk away with enough money to move up to that two-bedroom you've been wanting, or downsize to a smaller apartment and put a bunch of cash in the bank for retirement," says Gittleman.
Even if you're not necessarily ready to formally start the sales process just yet, now is also a smart time to get your ducks in a row whether you're thinking of selling in the next few months, or the next few years.
"Anyone thinking about selling in the next year or two should talk to somebody now," says Gittleman, in part because Upper Manhattan is evolving so rapidly--including, for instance, the numerous new condo buildings heading to East Harlem over the next couple of years.
Talking to an in-the-know broker now can help you map out your eventual strategy.
"If you're selling two years down the line, you can figure out what is the path, what's changing in the neighborhood that you should be aware of, and what your pricing might be if market conditions remain the same and stay on their current trajectory," says Gittleman.
 
---
Bohemia Realty is a dynamic team of real estate professionals focusing on sales, rentals and new developments in Upper Manhattan. Over 90% of Bohemia's agents call uptown home, providing first-hand knowledge about life at the top of the island.  Start your search >>
Related:
5 reasons to hurry up and buy a place in Upper Manhattan