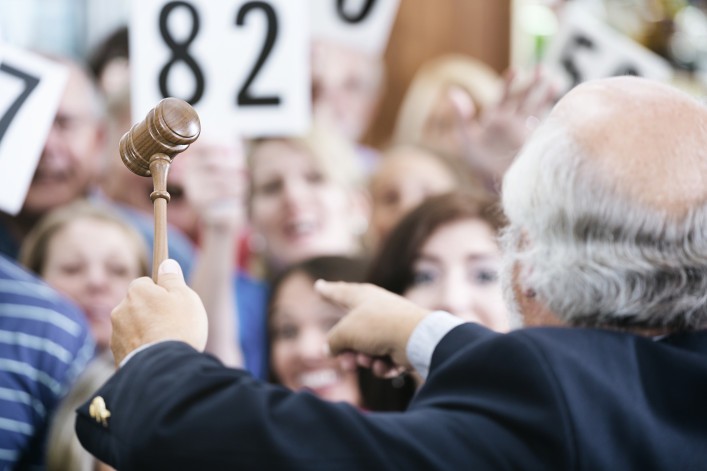 While you might associate real estate auctions with distressed properties, there's a lot more to them, experts say. In fact, real estate agent Victoria Shtainer of Compass is working with several high-end clients who are considering going the auction route to unload their apartments. She recently had one sell a (non-distressed) four-bedroom, four-bath apartment at  East End Avenue and 86th Street via auction with Concierge Auctions (though the sale price isn't public, the starting bid was just under $2 million). 
While a spokesperson for Concierge Auctions says auctions are more common in New York City suburbs than in the city proper, they do happen here. And they may become increasingly popular. "I think that we are going to be doing more luxury residential auctions as the market continues to transition," says Misha Hagani of Paramount Realty USA, a marketing firm that specializes in auctions and has, in the last 15 months, auctioned 400 properties in New York City and Long Island. (Among them: Donald Trump's childhood home in Queens.) An auction also gives special attention to a particular property, he says.
So why would a seller choose to go this route?
First, a lot of it has to do with timing. Auctioning a property means you know the exact date it'll sell. Richard Maltz, president of Maltz Auctions, which handles about a handful of New York City residential properties each year, says the whole thing usually takes "about 90 days from engagement to closing." Maltz has helped sell a Financial District two-bedroom condo for $1.69 million, a Battery Park City two-bedroom condo for $2.35 million, and an Upper East Side four-bedroom condo for $4 million.
The decision to go the auction route may also be influenced by how an apartment or a house fared within the typical market. Usually, he says, properties sold at auction sell for more than their minimum bids but less than the last asking price (if they were on the market before going to auction, which about 60 percent of his properties are, he says). 
Another perk: The sales are final and are sure to happen.They're not contingent on financing, although financing is often permitted.
Co-op or condo?
Condominiums are more commonly sold at auction than co-ops. "If the board is notoriously difficult we will probably not take on the engagement," says Maltz. In the case of one co-op property Maltz is marketing at 832 Broadway, which operates more like a condo, he says, "the largest concern/requirement [is that] the buyer put down at least a 25 percent down payment."
Apartments that sell at auction are also often a little "different." "Sometimes when an apartment is really unique or really expensive, it can linger on the market," says Shtainer.
Sometimes the agent will turn to an auction house once the apartment's been on the market for a while so they can keep representing it. "More and more, we're getting listing agents who are calling us saying they don't want to lose a listing," says Maltz.
How it works
First, the auction house has to approve the seller's reserve price (the minimum sales price). Maltz says he looks at recently sold properties and current market inventory for comparables.  "I come up with my own opinion of value and like to have a reserve at least 20 percent below that amount," he says. 
Once that's set, the seller signs an agreement to work with an auction house and pays for marketing, including postcards and brochures. "I like to say we do what a broker does on steroids," says Maltz.
In addition to the flat marketing fee, a "very rough rule of thumb," says Maltz is that the buyer (a.k.a the bidder) pays about 1 percent of the estimated property value to the auction house. (The seller doesn't pay any fee). The auction house also offsets transfer taxes. And "whenever possible, the auction house makes it a co-brokerage, offering the buyer's broker a percentage that typically ranges from 1 to 2 percent," says Maltz.
Prior to a set live auction date, there are usually a couple of open houses. "That's when a buyer can bring in an appraiser or an architect" to check things out, explains Maltz.
To register to bid, buyers have to bring a cashier's check to the auction. In the case of a 4,100-square-foot downtown Manhattan apartment Maltz is currently selling, for example, the cashier's check will be $320,000 (that particular property doesn't have a reserve). That cashier's check helps to ensure the seller that the buyer is qualified. That amount is "often around 10 percent of the opening bid," says Hagani.
The bidding progresses slowly, says Maltz. Most of the time it's happening live with the buyers present, but occasionally interested parties will send brokers and attorneys to represent them; less often, they'll do it online or over the phone. The accepted bid is a binding, non-contingent transaction. And "within 48 hours the buyer must post a total of 10 percent plus the buyer's premium," says Maltz. As a result, "we very rarely have a default, maybe 1 in 100."
How much money each auction fetches, of course, depends on the property. "I've had properies that double a reserve price, and others that just meet a reserve price," says Maltz. (Maltz's company has a 96 perccent sale rate, he says.)
Why it works
There's a psychological element to going the auction route, real estate-wise.  "The buyers feel like they're getting a great deal," says Shtainer. And, of course, for the seller, it means that your apartment won't linger on the market. "If you're going through a divorce or a death in the family, you probably want to move on. It can be very expensive to hold onto these properties," she says.
Also, adds Maltz, you "don't risk underpricing or overpricing your property." 
But some brokers aren't so keen on it—yet. "It's not commonplace, so brokers and sellers aren't used to it," says Ari Harkov of Halstead Property. "The other issue is that I believe there is somewhat of a stigma associated with real estate auctions. It doesn't conjure up ideas of luxury but rather of seller desperation or of foreclosures."
But, Maltz says, the reality is just that: "It automatically turns it into a seller's market ... You pick the day and date you sell, you don't have to deal with multiple bids or buyers pulling out. It's a surefire thing."
 
Brick Underground articles occasionally include the expertise of, or information about, advertising partners when relevant to the story. We will never promote an advertiser's product without making the relationship clear to our readers.