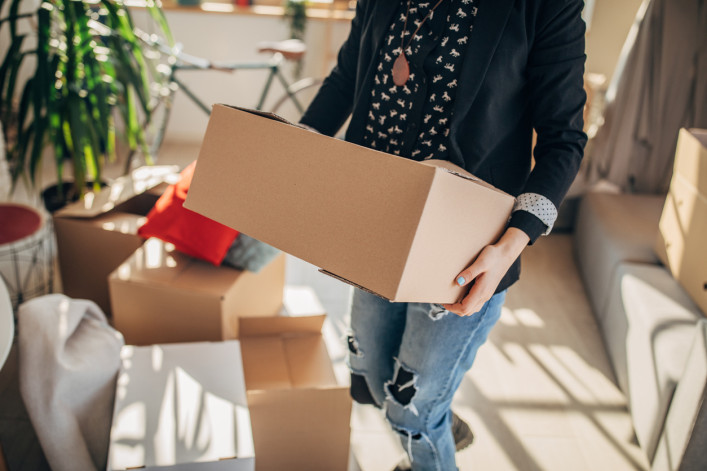 If you're buying or selling an apartment in NYC right now, a ban on moving may prevent you or your buyers from taking ownership. 
Even though moving companies are deemed essential businesses, many apartment buildings are forbidding them. That's because co-op and condo boards can set their own rules and in many cases have banned residents from moving in and out while the city is shut down. Likewise, rental buildings have done the same in an attempt to limit renters' exposure to the virus. 
"Our buildings have completely locked down—no one is going anywhere," says Daniel Wollman, CEO of property management firm Gumley Haft. However, he acknowledges such restrictive policies can have financial implications for those wanting to rent out their condos or sell their apartments.
If your board is sticking with its moving ban, you may have to wait it out. However, there are a few ways you may be able to work things out. Here's what you should consider.
---
Click here for more of Brick Underground's coronavirus coverage.
---
Approaching the board for a solution
Even if your building isn't showing flexibility, it's still worth approaching the board to see if they will work something out on a one-on-one basis. One co-op seller found his deal in jeopardy when the buyer announced he was no longer willing to close because the apartment could not be delivered vacant due to the ban on moving. 
In an effort to salvage the deal, the seller approached the board and building management company about making an exception. He found a moving company that could do the job safely. The building agreed to let him move out.
His attorney, Craig L. Price, a partner at Belkin Burden & Goldman, recommends being creative. "You have to flip the table on them—you have to find a way to meet your responsibilities under the contract and deliver the apartment vacant and broomed clean."
Price says there are very few buildings that are taking the stance that you can't properly conduct move in or move out, "especially as all the [moving] companies now have proper personal protective equipment and some are even wearing hazmat suits."
These stringent cleaning rules will be a priority in your negotiations with the board to allow a move to go ahead. Some boards are requiring the individual movers to have their temperatures taken before they enter the building and asking movers to carry out additional cleaning.
Elise Kessler, an attorney at Braverman Greenspun, points out that that this can include the sanitizing of common areas and elevators. "Whether the buyer or seller pays these cleaning fees is subject to negotiation," she says. 
Post-possession agreements 
Agreements that allow the seller to stay in the apartment beyond the closing date are typically risky for buyers but might be a good solution during the pandemic.
"While sellers want to close and get their money, if they can stay in place and not have to reduce their purchase price that's also a benefit," Price says. The benefit for the buyer is locking in today's low interest rates.
Price says he's not usually a fan of post-possession agreements but it's all about "unique circumstances in a unique time for the objective of getting a deal." He points out sellers are particularly keen to close right now. "If a deal falls apart, the next price in is definitely going to be less than the present price in today's market," he says. 
One unknown in these negotiations is when a board will change its policy to allow move ins and move outs. That can make these agreements "tricky to draft" right now, Kessler says. 
A personal property agreement or escrow
Another version of the post-possession agreement might involve a seller taking as much as they can from the apartment without involving a moving company and the buyer moving in with the remaining possessions—couches and tables—still in place. 
On a NYC townhouse sale in the past few weeks, Price says a Pennsylvanian staging company wasn't able to remove their furniture and an agreement was reached where the seller put everything in the basement so the buyer could move in.
"The buyer required that the seller keep money in escrow to ensure that those belongings would be removed post closing. The fear is the seller is going to abandon them and the buyer is going to be left with the responsibility of clearing out the seller's belongings," he says. 
Delaying the move
Delaying a move is an obvious choice and might even be beneficial to both a buyer and a seller. Wollman says he's aware of one seller who has agreed to pay the ongoing obligations of the new purchaser until the buyer can take occupancy. 
"The seller moved out months ago, the buyer can't take possession and the seller is making a financial concession to accommodate the purchaser during this time," he says.
Brick Underground articles occasionally include the expertise of, or information about, advertising partners when relevant to the story. We will never promote an advertiser's product without making the relationship clear to our readers.