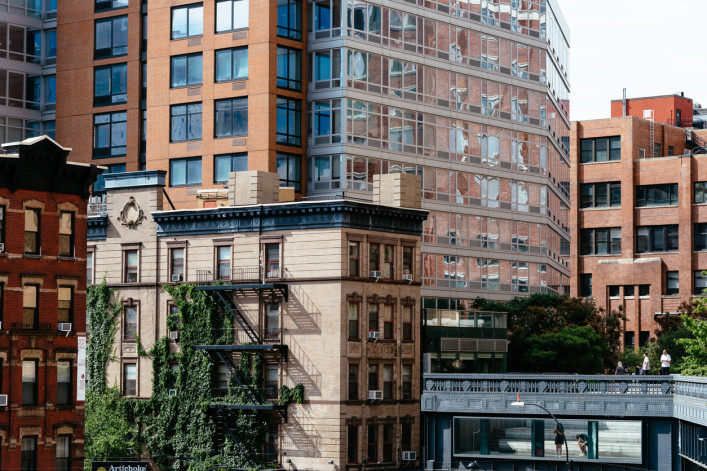 If you're thinking of selling your NYC apartment, you've no doubt seen the headlines about the stalled market that has apartments lingering unsold. But the headaches are largely for sellers of larger, higher-end apartments. There's good news if you are looking to sell a studio or one bedroom: Prices are rising and the market is moving much faster in this segment. In Manhattan, these smaller apartments made up 59 percent of sales in the last quarter according to the latest Douglas Elliman reports. 
Realistic pricing is important no matter what size apartment you are selling, so is finding the right real estate broker who can advise on how to price your apartment and handle the marketing. It takes around 90-120 days to close on a successful sale (and sometimes longer) so your broker is going to be a big part of your life for many weeks. Here are the factors to consider to make sure you get the right match.
Pro Tip:
Unsure what your apartment is worth? Before you list your place publicly, test your price quietly among real-life, qualified buyers via the pre-marketing program at New York City real estate brokerage The Agency. There's no charge to participate, nor any obligation to enter a traditional listing agreement if your place doesn't sell during the pre-marketing period. Click here for more information.
Communication and a plan
As a seller, you want a broker who keep you updated and explain about how your apartment is being marketed. Mara Flash Blum, a broker with Sotheby's International Realty, says when she is called in to replace a broker who was unable to close, the most common complaint is that the seller wasn't told what was going on. 
"[The broker] might host an open house every weekend but not say anything. You want to know how many people came, what feedback they gave—you want that communication as well as knowing the plan for the week ahead," she says. 
A broker needs to be proactive with a pricing strategy. They also need to listen to your real estate goals and communicate how they are going to help you achieve them. Being able to listen is an important skill for both broker and seller says Vickey Barron, a broker with Compass. She says listening to the other person can tell you who you are dealing with. After that, it's going to be about communicating a creative strategy.
"It's like fishing and you better have the right bait on the hook and know how to get to the right part of that water to catch that buyer because they are not easy to find these days," she says. 
Matching personalities
Some real estate companies have coaches who advise brokers on how to get a read on a seller's personality and then match it to make you feel more comfortable.
"You want enthusiasm but you don't want to overwhelm [the seller]," says Flash Blum. For some brokers, this is easy, because for many, real estate is a second or side career alongside work in an entertainment field, like acting, and they can easily adjust their tone and gestures to match yours.
If a broker can successfully read you as a seller, the likelihood is they will be able to read a potential buyer too. "There is a skill set to showings rather than just opening the door," says Flash Blum. "You want to read whether [open house visitors] need some space to experience the place, know when to talk, how to move them through the apartment, to get a sense if they like it, maybe get them to sit down on the couch in an apartment to take it in,"  she says.
As a seller, this really comes down to trusting your gut. If you aren't seeing eye to eye with your broker, it might be worth continuing your search for a broker. Keep in mind that you'll be sharing private financial and sometimes personal information with them, so it is imperative you find someone with whom you are comfortable.
"This person is going to be in your home so there has to be a trust factor. You want this person to carry you through from this apartment to your next home, whether it is rental or the next chapter in your life," says Flash Blum.
Put another way, Barron says "if you are going to sit next to someone on a plane for six hours, who are you going to pick? Because it's a long trip. There are times when you want to move your seat and there are times when it is pleasant."
Brokerage size
Do some research on the type of brokerage that will work for you. You'll want to match not only with the broker but their team. Find out what kind of infrastructure they have to service your listing. A team, a partner, or at the very least, an assistant, is preferable to having a single broker because they may not be able to do it all in the time frame you want. 
Track record
Beware the high-balling broker who promises you a sale beyond your expectations, particularly in the current market. (Brokers tell us the apartments that are going to bidding wars these days are the ones priced below the average.)
A broker's transaction history can help you evaluate whether they are right for you. Someone who has earned a New York Residential Specialist designation from the Real Estate Board of New York will have completed an advanced course and have a solid professional track record. 
Most will also list their active sales as well as their recently sold apartments on their profile page. Look at a broker's deal history and if you want to go into even more depth, you can cross-check the pricing on StreetEasy to see how far off the closing price was from asking. Keep in mind, however, discrepancies here could be related to a stubborn seller—so have a frank conversation with your broker and don't be that seller. 
Familiarity with the neighborhood
Hire a broker who has a close familiarity with the neighborhood in which you're selling. You can ask the agent questions about the area to get a sense of their level of expertise. If they have similar listings in the neighborhood they may be able to easily bring buyers your way.
Brick Underground articles occasionally include the expertise of, or information about, advertising partners when relevant to the story. We will never promote an advertiser's product without making the relationship clear to our readers.