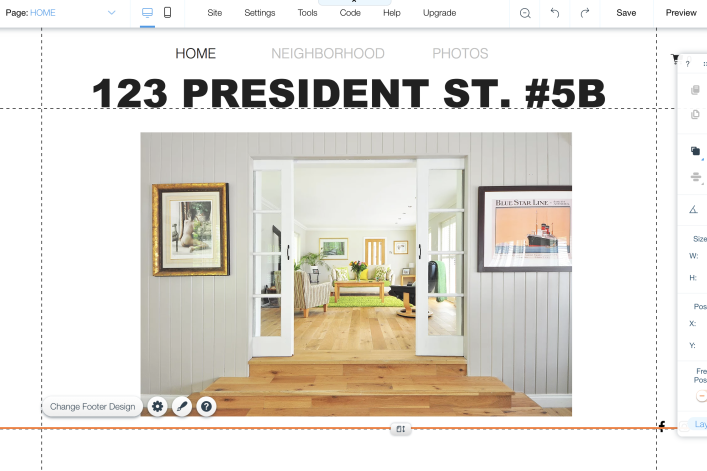 With the NYC real estate market softening, some sellers might be tempted to try to "go it alone" and find a buyer without hiring a broker. It's a move that makes sense when sales slow and prices slip, as they are doing for many segments of the NYC market, because it allows sellers to forgo having to pay a broker's fee and save some money.
But taking on the challenge of "for sale by owner" (aka FSBO, or "fizz-bow") is not for everyone. It's definitely more work for sellers, and extra stress during an already stressful time, but it has its financial advantages and thanks to technology and social media, can be done more easily now than in the past.
So if you are considering FSBO-ing it, one of your prime marketing tools is going to be a website. You are going to want to blast that address out to email contacts, post it on Facebook, Craigslist, and whatever social channel you are active in. The good news is, you don't have to know a stitch of code to set one up.
You've likely heard of some of the DIY website services out there that promise a simple and easy-to-use interface. There are many. But which ones are best for setting up a website to sell your apartment or house? You don't need the most amazing website ever to sell your place; you need one that works and is easy to navigate, showcases great photos, and ideally, doesn't cost you anything.
With that in mind, we looked at the options and narrowed it down to three using three main criteria: cost (free, or close to it), ease of use (the simpler, the better), and mobile-friendly interface (your site should look good and be easy to navigate on a phone).
Here are our picks for sites that you can use to create a FSBO page with ease.
If the thought of creating a website paralyzes you with fear and dread, Wix could be the way to go. The service will host your site, provide you with numerous templates, and has an interface that's very intuitive. You can drag and drop elements, and editing text is very similar to Microsoft Word. Wix also offers basic image editing capabilities and a nice editor for the mobile version of your site.
Cost: You can set up a basic site for free. In exchange for paying nothing, your site will have small Wix ads in the header and footer, and your domain name will include Wix in it. (Instead of bestapartmentforsale.com, your address will be a combo of your username and site name plus Wix, i.e., joesmith.wixsite.com/bestapartmentforsale.)
If this was your business or professional portfolio, that might be a drawback, but to sell your apartment? It's probably not a deal-breaker. If you don't want to be a Wix shill, you can upgrade and pay $11 a month to remove ads and also get more storage and bandwidth.
Another web-design-for-the-not-so-techy crowd, Weebly also provides themed templates, basic image editing, and you can even edit your site via an iPad app. Weebly provides limited, but still interesting site traffic stats, but does not enable users to customize the look of their mobile offering. Weebly is not as intuitive as Wix, but it's still very user-friendly, and if you're the slightest bit tech literate, you should be fine.
Cost: Also free, again with the trade-off of low-key Weebly ads on your site.
Started by two German teenagers in a barn back in 2007, Jimdo feels like the next generation of "web site building for dummies" services. The interface is slick with icons and typefaces that feel more influenced by social media like Instagram than an editing platform such as Microsoft Word. It's nice to look at, and there's almost a game-like quality to it. (The menu of pricing tiers lists the free level as "play.") Users can choose from lots of templates and color schemes, and can pull photos from Jimdo's library of stock photos as well. (Although presumably, you're showcasing your own photos of your amazing apartment.) Jimdo lets you preview your site on mobile, and also offers an app for site creation and editing.
Cost: Again, free, with Jimdo subdomain and footer branding. The next level up, "Start," is $9 a month and gets you your own domain, more storage and bandwidth, analytics, and more.
Brick Underground articles occasionally include the expertise of, or information about, advertising partners when relevant to the story. We will never promote an advertiser's product without making the relationship clear to our readers.