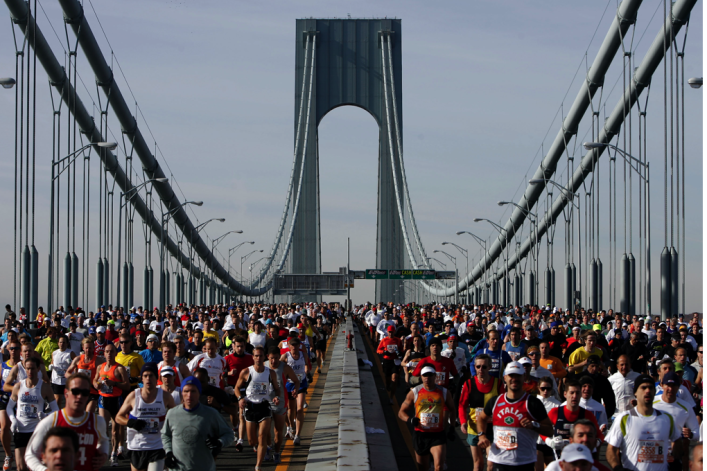 People who haven't run marathons tend to think that completing one is almost impossible for the average person to do.
One July a few years ago, I learned that I won a number to run in the New York City Marathon in November.  I had three months to go from six miles (the most I had ever run on a single day) to 26.2 miles.  I was terrified of the challenge because of everything I had heard about the grueling training and sacrifices that would have to be made for the race.
Long story short, I did the training, but it didn't take over my life and I had the best time ever running the marathon.  I never once thought of quitting the race and I had a smile on my face the whole time I ran it.  Yes, it took me five hours and 24 minutes, but I did it and it was worth it.
Running that race taught me never to assume that something is too hard to accomplish.
Including selling FSBO in Manhattan. I haven't sold my apartment yet, but I'm not intimidated by the process.
After talking to several people who have sold (or are selling) FSBO, I realize that the characteristics they have in common are confidence, resourcefulness and feeling like you have a great apartment to offer.

In broker-dominated New York, it also takes someone who willing to wonder, "How hard can it be?"

For this column, I wanted to learn more about the experiences of other FSBO sellers, so I talked to one friend named Johanna who sold an apartment FSBO during the peak of the market in October 2006 as well as two apartments with the help of brokers in 2007.

I also spoke with Marie, who emailed me after reading the FSBO Diaries. She's selling her junior one-bedroom in the Village without a broker.

Johanna's story
Johanna and her husband sold their 600-square foot one-bedroom on their own during the peak market in 2006 because they figured it'd be easy: The demand was there.

"All I did was post my listing on Craigslist and put balloons out front during our first open house," she said.  "We had eight offers after the first open house and we ended up accepting an offer within the first week for $415,000, which was $25,000 over our asking price."

Must be nice to have the market on your side.  And balloons.
But Johanna's husband, Eitan, used a broker to sell two units on Degraw Street in Park Slope that he developed in 2007.
Those properties were listed at $1.2m and $899,000, so they were much more expensive than the unit the couple sold FSBO.
"The more expensive the property, the wider the net you need to cast, and the people who can buy are often more likely to be working with brokers," says Johanna about the decision to team up with a broker.  "Also, the more expensive the property, the more problems you could have screening qualified candidates."

Some open house tips from Johanna:
Presentation is key and a lot of people overlook it.  If you need to buy a new shower curtain, do it. There's no excuse for not making your place look as good as it can, even if it means buying some things to get it there.  
Check out as many other open houses as you can and you'll see things that look weird or terrible in other spaces. Clutter is off-putting and distracting--keep your place looking close to what a model apartment in a new development would look like.   People leave food boxes out on their counter, so that you notice the cereal the owners eat instead of the nice backsplash.  Dirty rugs in the kitchen or bathroom, soap scum on the sink, a toothbrush or dishes (even washed) in a dish rack are also a turnoff. 
Play soft music-- it's soothing and relaxes people. It also helps cover up street noise.

Marie's story
Marie contacted me two weeks ago, shortly after putting her junior one-bedroom apartment on the market without a broker.

She said she used the website I set up for my own apartment as a template for her apartment website.
"I only ended up going FSBO after finding The FSBO Diaries and having some sense of exactly how to list and market my apartment," Marie told me when we spoke.  "I think a lot more people might sell FSBO in New York if help was more readily available."

Her FSBO decision was driven by the fear that a broker's fee would eat up too much of the profits from the sale to allow her to buy a bigger apartment.  But she also felt that she would be the best person to sell her apartment, because she knows and loves it—and because the apartment sells itself.
She has already received one offer, so she must be doing something right.
Some tips from Marie:
Go to a lot of open houses. This will help you price your apartment appropriately and allows you to see what works and what doesn't work at an open house.  Pay attention to how the owner or broker acts while visitors are there? How do they try to "sell" the apartment?
Hold open houses once a week and don't be discouraged if only one or two people show up.  You only need one buyer.
Before you list, know what price you need for your apartment.  And don't be afraid to walk away from an offer that falls below this number.  But always negotiate--the buyer's first offer is rarely his last. (See my earlier column on negotiating tips.)
And one more tip from yours truly: The marathon is 26.2 miles, but you only run it one mile at a time.
__________________________
Kathy is in the market to buy (from an owner OR broker) the perfect prewar 2-bedroom, 2-bathroom apartment in Brooklyn with private outdoor space that's near the subways (the good ones).
Click
here
for the complete FSBO Diaries.
Brick Underground articles occasionally include the expertise of, or information about, advertising partners when relevant to the story. We will never promote an advertiser's product without making the relationship clear to our readers.