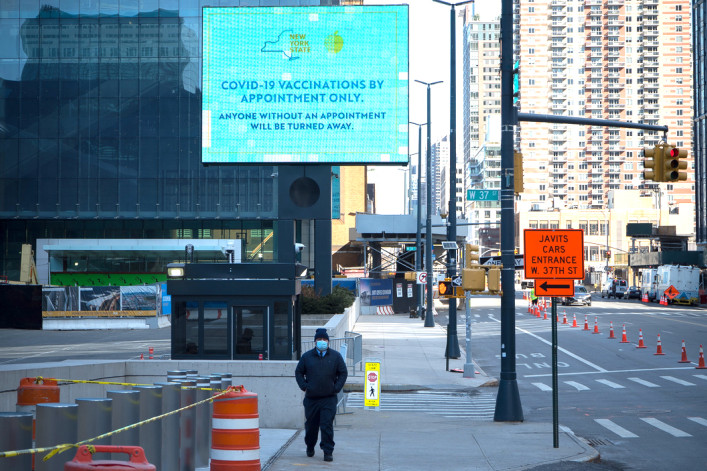 Governor Andrew Cuomo greatly expanded access to the Covid-19 vaccination for New Yorkers starting today, so how far will this measure go toward returning life to some semblance of normal and boosting real estate activity in New York City?
Yesterday's announcement made New Yorkers 50 years and older eligible for vaccination and allows New Yorkers with underlying conditions to be vaccinated at pharmacies. It comes as vaccine production ramps up and shipments to states increases. According to The New York Times, as of Sunday, 26 percent of New York State's population has received at least one shot of a vaccine, while 13 percent have been fully vaccinated.
Brick Underground asked brokers, real estate attorneys, mortgage brokers, and renovation experts about how they view these developments and whether they will help New Yorkers move forward with real estate decisions. Most were quick to say that the market is already booming—so those who are wading in now are going to have to get up to speed quickly.
Most commented that the move will help to keep up the momentum for NYC real estate.
"Cuomo's announcement will invigorate our market and add fuel to an already slow-building fire that will impact sales of properties in Manhattan most. Brooklyn has been rocketing along…but now Manhattan has a chance to catch up," says Sydney Blumstein, a broker at Corcoran.
NYC has spring fever—the weather is warmer, trees are budding, and the energy is returning, says Tara King Brown, a broker at Corcoran.            
Cuomo's decision "provides one more layer of certainty to help people make decisions—with real estate among the most paramount. Buyers are taking advantage of softer prices, incredible supply, and record low interest rates," Brown says.
A dose of confidence
Vaccine distribution boosts consumer confidence, continuing a trend that started earlier this year, says Pierre Debbas, a partner in the real estate law firm Romer Debbas.
Buyers are seeing the city come back to life and those who have been sitting on the sidelines will start looking at properties, he says.
In fact, it's already happening, and competition is heating up.
"We are seeing multiple offers and without much discounting on price. Now that more people are eligible it will only serve to bolster the market," says Mark D. Friedman, an agent at Brown Harris Stevens.
"The bottom of the market is in our rearview window. My suggestion to buyers is: Don't let it get out of sight," he says.
Brokers have told Brick they've gone from working "zero last year to working 6 a.m. to 12 midnight now." Demand for townhouses in Manhattan, for example, is seeing a return to 2015 levels.
"I don't know that the market can be busier than it is," says Scott Harris, an agent at Brown Harris Stevens.
New Yorkers are "beyond thrilled to begin getting back to their normal crazy lives" and that "sellers need to take note and bring their apartments to market," Harris says. Sellers now have an opportunity to take advantage of what might be the strongest spring in years, he says.
When offices open, renting will follow
Melissa Cohn, executive mortgage banker at William Raveis Mortgage, sees the announcement as paving the way for NYC to open more fully.
"The sooner we can get the population vaccinated, the sooner we can go back to what the new normal will be. Once people go back to work in offices, theaters and sports facilities open up, more people will want to come back to New York City and take advantage of all it has to offer," she says. Case in point: The city says it is bringing 80,000 municipal workers back to the office by May 3rd.
A return to offices will boost the rental market, says Bill Kowalczuk, a broker at Warburg Realty. 
"Many people have been working remotely, outside of New York. With more people getting vaccinated, their jobs may require them to be here, bringing back the renters who left last year when Covid-19 hit," he says.
But brokers also acknowledge there are still many vacant rentals in NYC right now, so renters are not likely to face much competition here anytime soon. For example, the number of new leases in Manhattan in February more than doubled compared to the February 2020—but inventory is still triple the amount available last year.
Return of the gawkers
Unfortunately, warmer weather, and seemingly return to normalcy will also bring out the window shoppers. Buyers and sellers are likely to be more comfortable having people in their apartments and doing open houses.
"I definitely think though we will see more people making appointments to see homes. But that should not be confused with an improving market. It just means real estate 'tourism' will become more robust," says Rowena Dasgupta, an agent at Warburg Realty.
Call the contractor
Elizabeth O'Neill, an agent at Warburg Realty, says she thinks this is the signal New Yorkers need to jumpstart renovations, which have been moving "at a snail's pace if at all."
Wider access to vaccinations "could provide peace of mind for those considering the need to finally move ahead [on renovation work]. It may also motivate buyers to give more consideration to properties that require work," O'Neill says.
So far, condos and co-op buildings have been restricting renovation projects, making it tough to get work done and helping boost demand for apartments that already fully renovated.
"Lots of buildings had limitations on how many renovations could occur at one time, but now with people getting vaccinated, that restriction will inevitably be loosened," says Asher Lipman, founder of NYC Renovation Coach, which helps renovators understand design options, budgets, and time frames. "And while it will make that part easier, there's still a lot of pent-up demand for people renovating and not nearly enough qualified contractors to fit the need, so I think the backlog will continue for the time being."
Christopher Totaro, an agent at Warburg Realty, says more widespread vaccinations could "help assuage hesitation to purchase a property needing a renovation and help the market absorb the lingering properties," he says.
Brick Underground articles occasionally include the expertise of, or information about, advertising partners when relevant to the story. We will never promote an advertiser's product without making the relationship clear to our readers.