Sell
Fewer deals and high prices: Brooklyn's sales market doesn't make a lot of sense
Brooklyn's third quarter median sales price was the third highest on record yet again
Sales of Brooklyn co-ops, condos, and one- to three-families dropped by a 25.7 percent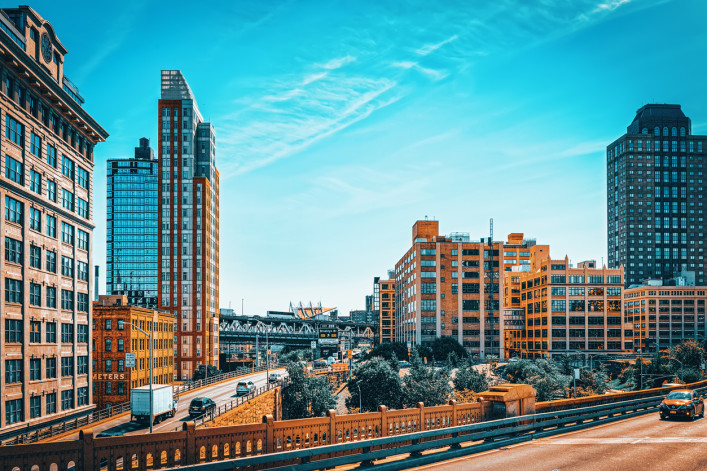 Buyers hunting for a place in Brooklyn are likely feeling frustrated by a market that continues to defy common sense. Even as listings plunge and sales drop, the median sales price remains strangely frozen close to a record high.
You can see it in the numbers: Sales of Brooklyn co-ops, condos, and one- to three-family properties dropped by a 25.7 percent in the third quarter compared to a year ago, according to the latest edition of the Elliman Report. And listings were down 17.5 percent compared to the year-ago quarter.
Despite the lack of sales activity, Brooklyn's third quarter median sales price ($950,000) was the third highest on record for the fourth quarter in a row, the report says. Brooklyn saw a similar scenario in the second quarter as well.
"We've never experienced this before," says Jonathan Miller, president and CEO of appraisal firm Miller Samuel and author of the report, adding that his team has been "double-checking their numbers" for each of the past four quarters.
Typically, when sales drop, listings increase, which causes prices to decline—that's how supply and demand works but the Brooklyn sales market is not behaving normally. Low inventory is depressing sales and as a result, keeping prices elevated (That's not the case in Manhattan, where the median price has fallen for four, consecutive quarters as listings and sales have slipped.)
Miller notes that listings in Brooklyn are 25 percent below where they were in the third quarter of 2019, prior to the pandemic.
Brooklyn mirrors the U.S. market
Bess Freedman, CEO of Brown Harris Stevens, points out in her firm's third quarter sales market report that Brooklyn is behaving a lot like the national market.
Sales are down significantly compared to a year ago and "[a] surge in mortgage rates starting in the middle of May helped bring closings down 28 percent from the third quarter of 2022," she writes.
The challenge housing markets face is unlikely to change soon, she notes. This is a result of a stronger-than-expected labor market, which may lead to more inflation and unyielding mortgage rates.
Sellers reluctant to part with their low rates
Would-be Brooklyn sellers who are sitting on low mortgage rates remain hesitant to list their homes, points out Michael Sorrentino, Corcoran's senior vice president and general sales manager, New York. Corcoran also released a third quarter sales market report.
"As we saw in Manhattan, Brooklyn sellers are hesitant to forgo their low rates, and buyers are reluctant to close a deal. As a result, sales figures appear down compared to 2022, but in reality, the numbers are normalizing to pre-Covid levels," he says.        
House sellers willing to negotiate
Compass also released a third quarter Brooklyn sales market report, which notes that buyers are showing signs of accepting elevated mortgage rates and sellers are more willing to negotiate on price.
Prices for houses, which constitute 46.3 percent of the Brooklyn market, declined across all price categories, the Compass report says. Northwest Brooklyn, including Dumbo and Park Slope, saw declines in both average and median price. "This trend highlights the willingness of sellers to adapt to current market conditions to get deals done," the report says.
Luxury deals decline but the pain is not so bad
SERHANT released market reports for Brooklyn, Brooklyn new development, and Long Island City for the third quarter. Every price range experienced a decline of activity in the third quarter; however, the $2 million-and-up bracket experienced the "least amount of hurt."
"The ultra-luxury sector is where we find the most cash buyers and potential homeowners who are not affected by the two-decade-high mortgage rates," says Coury Napier, director of research at SERHANT.
A similar situation in Queens
In Queens, both listings and sales continued to slide, Elliman Report says.
The median sales price, $692,410 fell year over year, but at a smaller rate, for the second time. It dropped a negligible .4 percent compared to the third quarter of 2022. (In the second quarter, the median sale price fell 1.9 percent year over year.)
Sales fell year over year for the fifth, consecutive quarter, falling 24.2 percent, putting them below pre-pandemic levels.
Listings slid annually for the third, straight quarter, a drop of 11.2 percent, putting inventory also well below pre-pandemic levels, the report says.
All indicators drop in the Bronx
In the Riverdale market, an area that includes Fieldston, Hudson Hill, North Riverdale, and Spuyten Duyvil, saw listings fall sharply, restraining sales, according to the Elliman Report.
Listings were down 21 percent and sales were down 22.2 percent year over year. The median sales price, $320,000, represented a drop of 13.5 percent.
Brick Underground articles occasionally include the expertise of, or information about, advertising partners when relevant to the story. We will never promote an advertiser's product without making the relationship clear to our readers.