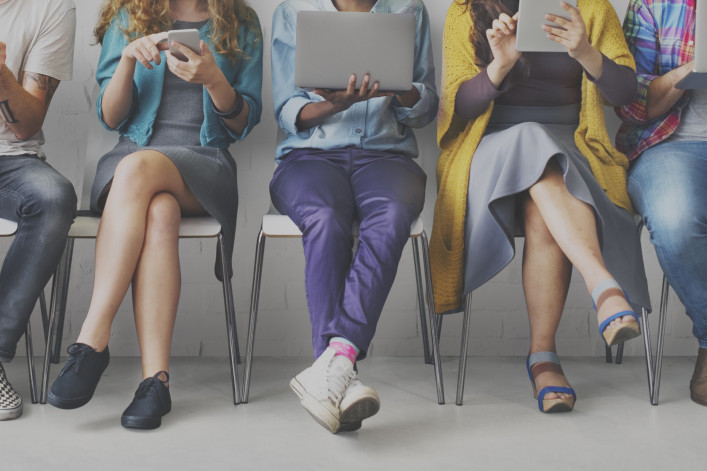 There are differing opinions as to who exactly is a millennial, but in general, anyone born between the early 1980s and the late 1990s is considered to fall into the demographic. That means a good chunk of those millennials are either approaching or firmly in their 30s, that decade life where salaries tend to climb. And as a result, they're fast becoming a targeted demographic for developers looking to attract them with efficient apartments and coveted amenities.
But the gap between what millennials really want and what developers and brokers think they want can be pretty vast. We find out where the two sides converge: 
Communal building spaces: yay or nay?
We hear it all the time: millennials are inherently social. They seem to prefer co-working spaces that come with myriad networking events to traditional offices, and many thrive on social media. So developers of new buildings often create communal spaces to appeal to these trends. "People want a social life in their building," says Deb Zolan, head of sales for DUMBO's 51 Jay Street, a warehouse-to-condo conversion.
While Andrew Barrocas, chief executive of brokerage firm MNS, was hesistant to generalize too much—"Millennials don't all fall into the same category and all like the same thing," he says—he adds that "there's no denying that the social aspect is there. The desire to know your neighbors is there."
Karen Asprea, director of Whitehall Interiors, a Manhattan-based design firm, explained that it's both the social factor and blurring lines between work and home life that are leading them to create "large community work tables, conference centers and designated art studios" in new buildings. "We are designing to fit the needs of those who don't work within the 9-5 box," she says. "They have a lot of their own projects and businesses, and they like to meet with clients and have space in their buildings to do that," she says.
But not all millennials want to sit side-by-side with their neighbors. "The emphasis on communal space is not interesting to me. It's like we're all clamoring for shared roof decks. We're not," says 29-year-old Bedford-Stuyvesant resident Elizabeth Koehn, who prefers more modest amenities. "It would be nice to have a doorman just to have packages delivered and avoid the post offfice trip. I'd also like storage space or a bike room."
"I'm not saying it wouldn't be nice if I hung out with people in my building, it's just not something that I'm shopping for," says 34-year-old Prospect Heights resident Rachael Berkey. "I care more about the features of the unit and the cleanliness of the building," she says.
Elisabeth Fertig, a 30-year-old resident of Bushwick adds that some communal spaces can feel gimmicky. "When you go to the gyms in these buildings, they're often totally empty. And people always say that everything's broken. Sometimes they'll have a 'game room' but it just looks so uninviting," she says.
Looking for some "basic" extras
Trevor Nasroodin, a broker with Mdrn. Residential, says when it comes to in-unit "extras," a washer and dryer usually tops young renters' wish lists. And way more than communal spaces, millenials whom we spoke to are, indeed, clamoring for laundry in their apartments.
"I would kill to have a washer and dryer in my unit," says Berkey. "I'd also love up-to-date kitchen fixtures because I cook. I don't care if the kitchen is granite or anything, just as long as it's clean."
She also values an apartment in top condition. "The maintenance of the building in general is important," she adds, saying when it comes to "extras," she's not looking for anything over the top: "I would love a doorman or at least a vestibule to leave packages. As long as people can leave stuff."
Fertig says she's a sucker for a good building renovation—clean lines and attractive fixtures specifically. But she's also learned that a lot of the renovations to older buildings in Bushwick look good, but don't hold up. 
"They have an expensive sheen on them, and then everything is broken after a year," she says. She's seen it happen to countless friends in her neighborhood, she says.
One of the reasons she chose her current apartment was because she liked the look of the renovations the management company had made.
 "There are markers of bad renovations—these certain blue and brown mosaic backsplashes in the kitchen, certain bathroom fixtures that all look the same. One of the things that attracted me to my current apartment was that the management company hired a designer that did it well. It's sort of Scandinavian-style. It does a lot with the space that's there, even though it's really small."
When it comes to buyers, even more than renters, Nasroodin says people want dishwashers, and buildings with elevators. "When it comes to spending a little more money for dishwashers, elevaors and doormen, they're willing to pay a little more for that."
Location, location, location
While in recent years, developers have tried to lure young, hip renters and buyers to some far-from-the-subway locales with buildings chock-full of amenities, the millenials with whom we spoke say location beats amenities almost every time. In fact, while 27-year-old Upper East Side resident Anna Osgoodby briefly considered moving to Jersey City, tempted by buildings with lots of amenities, she and her boyfriend ulimately opted for Manhattan instead, and a no-frills building to boot.
"In theory those amenities appeal to me, but other things outweigh it. I don't want to live somewhere desolate," she says. While most of her friends live in Brooklyn, the Upper East Side was appealing because it's easy to get elsewhere by train, there are tons of bars and restaurants nearby, and she felt safe. "My parents are still sticklers for that," she says.
So what else does a good location entail? "A good location means good transportation, and good Seamless options,"  27-year-old Sarah Miers told us.
After cost, a "safe neighborhood is number 1," says Berkey. "I do my research on a neighborhood before I move in, but it's also a feeling, and a vibe: Am I comfortable walking around at night?" Being near a subway station helps in that way, she says.
"Proximity to the subway and restaurants are both very important," agrees Fertig. "I need to be no longer than a 10-mintue walk from a train that'll get me into Manhattan.I'm willing to live anywhere where there's a train that's a direct line into Manhattan. Changing trains is soul-sucking."
Tweaking the layout to suit the younger generation
According to Zolan, in a condo building like 51 Jay Street, apartments with extra office spaces tend to sell quickly. The reason, she says, is because lots of young couples who are investing in a property want to buy one where they have a room they can potentially turn into a future baby's room. And even those for whom babies aren't in the future, an extra space to work is valuable. As work and home lives continue to become mixed, people appreciate spaces to work at home (sometimes in their buildings, but even more ideally, in their homes).
Overall, says Zolan, millennials seem to prefer larger entertaining spaces in exchange for smaller bedrooms.
"I personally wanted a living space that was big enough and versatile enough to imagine spending time there," says Fertig. "A  lot of living spaces are perfunctory, and I wanted something with a better flow. I don't care about a small bedroom, really—I just need room for a full-sized bed and desk, but don't need much more space than that."  One thing Fertig did look for last time she moved, though, was a two-bedroom apartment with bedrooms that weren't next to each other to create more privacy between her and her roommate.
Nasroodin also says his renters who are looking for studios want alcove studios, so there sleeping spaces have added privacy.
Broker fees begone
Mdrn. Residential's Nasroodin says savvy renters are wanting to stay far away from broker fees. "The upfront fees scare them," he says, and adding a broker fee to the thousands of dollars people must already put down when they're taking an apartment is simply not attractive. That's why, he says, sometimes younger rentals will go for more luxury buildings that don't have broker fees, despite the higher rents.
Brick Underground articles occasionally include the expertise of, or information about, advertising partners when relevant to the story. We will never promote an advertiser's product without making the relationship clear to our readers.