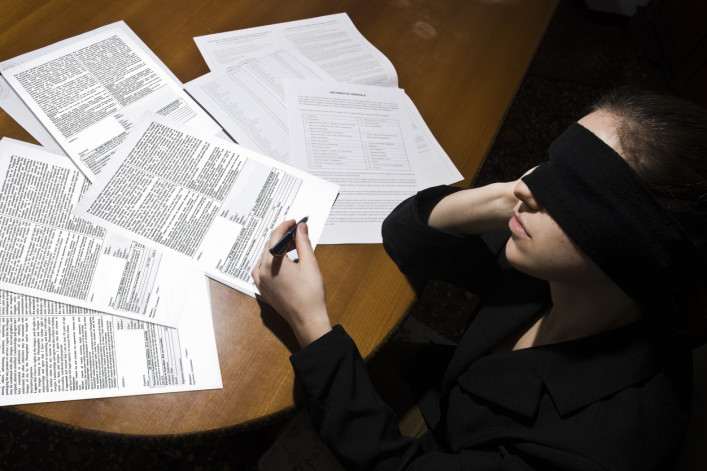 It's hard to imagine looking for an apartment in New York City without seeing options in person, but it does happen. 
It's an understandably risky (or riskier) proposition, and that's why landlords or agents will sometimes ask tenants signing leases for apartments they have not visited themselves to also sign a "sight unseen" rider. But what, exactly, does that involve?
Like it sounds, sort of
A sight unseen rider (also sometimes called a "waiver"), is a document stating that a tenant is renting an apartment he or she has not viewed in person and is accepting it in "as is, where is" condition, and that the landlord/owner is not obligated to make any changes to the apartment.
"It is intended to protect against a tenant signing a lease and then alleging that the landlord is obligated to make sometimes costly repairs or changes to the apartment," says Craig L. Price, partner at Belkin Burden Wenig & Goldman.
Additionally, it protects the landlord should someone choose not to move in. (In that case, per the terms of the lease, you're still on the hook for the rent.)
"You can't show up and say, 'This is not what I wanted,'" says Ethan Wolvek, an agent at Citi Habitats. He describes the document as a paper trail a landlord can point to should a tenant try to get out of a lease.
Skype doesn't count
As we've written about previously, technology makes finding an apartment in New York City even if you don't live here much easier. Skype, FaceTime, videos, high-res photos help prospective renters get a sense of an apartment to an unprecedented degree.
But there's nothing like seeing the real thing, which is why Wolvek introduces the concept of a sight unseen rider (he prefers the term "agreement") early on in the process of finding an apartment for someone who is not physically in the city. (He cites apartments rented by a group of roommates as a situation when a rider might be used.)
Not only does a rider protect the landlord and the agent, it underscores the serious nature of signing a lease.  
"It puts everyone on notice. It's a fair message," he says, pointing out that many people, particularly those unfamiliar with the New York City real estate market, may not fully understand that stakes involved.
"People need to be reminded...that a lease is a contract," Wolvek says.
Brick Underground articles occasionally include the expertise of, or information about, advertising partners when relevant to the story. We will never promote an advertiser's product without making the relationship clear to our readers.