Transitions
From the East Village to Noho: I promised myself I would live in a luxury building—and be happy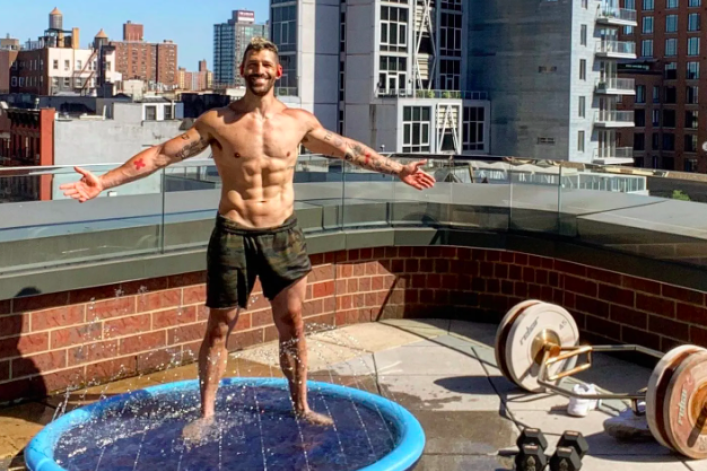 After years of sharing small East Village apartments and being nearly broke, Noah Neiman set his sights high: He vowed to earn enough to live in a luxury tower in Noho and worked seven days a week for a year to make it happen. He recently moved from a studio in the building to a much pricier two bedroom. Here's his story.
I grew up in Steel City, aka Pittsburgh, PA, and I've lived in NYC for over a decade. When I first moved to NYC, I lived in Stuyvesant Town with three of my friends from high school. Then I lived in a series of two East Village apartments that I found on Craigslist with some of the nicest yet oddest roommates ever: A perpetually drunk writer and a very high-level television executive.
More recently I lived with a (now ex) girlfriend in a small, one-bedroom walk-up on Saint Marks. We lived with her cat and my big, old dog. It was one of those apartments where the bathroom was in the kitchen and the entire tiny apartment was somehow on a slant.
---
[Editor's Note: Brick Underground's series "Transitions" features first-person accounts of what it's like to move from one New York City neighborhood to another. Have a story to share? Drop us an email. We respect all requests for anonymity.]
---
When I lived in the East Village, I was poor. I bartended and modeled—doing whatever I could to make ends meet. My contribution to the rent was about $1500 to $2000 a month—which is a lot in any other place besides NYC. 
I had no amenities—I was lucky if the heat worked. The door wouldn't open with the key or stay locked without it. There was a pay-per-pound laundry service nearby; it was a nice treat when I could afford it. My funds were limited, so I always had a ton of dirty gym clothes and sneakers.
Saint Marks and the East Village have everything, good and bad: Fine dining, coffee shops, beautiful parks, garbage, graffiti, great smells, awful smells, and people doing pull-ups, dips, and calisthenics at Tompkins Square Park. People of all races, religions, genders, and sexual orientations hanging out together. It's a melting pot within the melting pot.
It was impossibly tough to keep a clear head at times, but I loved living there. The chaos was the energy that drove my ADHD-riddled self. The East Village hums at a unique frequency, and you can learn a lot about yourself and fellow neighbors if you just keep your eyes and ears open. Which is also good advice if you're ever walking around Tompkins at night. The East Village taught me to be alert.
Cafe Mogador and Veselka are two of my favorite East Village spots. Oh, and the bars! So many bars! It was the dive bars that really did it for me. The EV has such a diverse array at all price points but worries about my card being declined meant I went wherever dollar drinks were going down!
I was always outside: working out in the park or taking my dog through the neighborhood for a walk. A trip to 7-11 for a 40 ounce to drink in the park was a good Saturday night for this cash-strapped New Yorker.
Then one summer night, I was at a party on the roof of The Standard, East Village and I looked down across the street and saw an insane rooftop pool! This was several years ago, when I was going through some extreme changes in my life and coming off a depressive stint filled with panic and anxiety attacks.
I looked down at the pool—it was on top of 2 Cooper Square in Noho—and said to myself, "One day I'm going to be happy and I'm going to live there!" The next week I introduced myself to Louis, the doorman at 2 Cooper—because I knew one day, I would live there  and wanted him to see how I did it!
It took a year of seven-day work weeks to save enough, but I did it. First I moved out from the place I shared with my ex and got a short-term place in the basement of a brownstone on Fourth Street I found on Craigslist—it was almost catty corner to 2 Cooper. 
By the time I had saved up some money, there was just one studio available at 2 Cooper—and even that was out of my price range. Still, I took a little leap of faith and applied. I got it, and knew I'd have to work my ass off to keep it. But isn't that why we live in NYC? To force ourselves into uncomfortable positions so we have no choice but to grow.
And grow I did. I went from a negative balance in my bank account to feeling secure as my business expanded. I am a co-founder of Rumble Boxing and Rumble Training. Rumble was born out of a desire to make working out an experience—a place where you don't have to work out; a place you want to work out. Rumble Boxing combines boxing with strength training for a one-stop fitness experience. Rumble Training (our second concept) combines short interval runs at varying intensities with strength training. 
The rent for my studio was $3,600 and having an apartment with an in-unit washing machine felt like the epitome of NYC luxury. The place was about 600 square feet and on the sixth floor with no real views, but to me it felt like a mansion.
The building has everything: A movie theater, rooftop BBQ, and a pool with panoramic Manhattan views. Thanks to Noho's building codes, you can't build over a certain height, which gives you breathtaking views.
There's also a top-of-the-line gym where I put in a bunch of boxing equipment. It's always such an honor to see Rumble Boxing wraps tucked away by the bags! It's very surreal seeing branding from something I helped create at the space where I worked hard to live. Most importantly, the staff is so incredibly kind and welcoming. 
While not far from the East Village, Noho has a different feeling to it. It is less chaotic and with higher-end shopping and dining.
Some of my favorite things about the neighborhood are walking my three, hyena-like dogs (during the pandemic I rescued two more dogs, Tyson and Zo) to La Colombe for a coffee or through Washington Square Park. You can often find me hitting up Honeybrains (a restaurant I'm a partner in) for a post-workout meal after going to my boxing gym. I also enjoy riding my motorcycle through the hood and shopping at Aimé Leon Dore. I keep it in a garage on Lafayette Street which is around the corner from my apartment; it costs $300 a month. 

There are so many beautiful boutiques and restaurants that you could spend months trying to experience them all. The Butcher's Daughter, Atla, Carbone, Ill Bucco, Ruby's, Sant Ambroeus, Double Zero, Lovely Day, Thai Kitchen, and Tacombi are all great nearby eateries. I also like to order from Lovely Day (Thai), Wild Rissoteria, Mellotti, Westville, and Akira (Chinese).
I'm a big fan of neighborhood walks and Bond Street has such a quaint and beautiful vibe to it. If I'm going out in the neighborhood it's mainly to Zero Bond—a beautifully designed members-only club founded by my friend Scott Sartiano. It is filled with art from world-renowned artists.
During the pandemic, I moved up two floors, and it still felt like a big move. The hardest part was moving into a bigger place while the world was in such disarray. I felt so badly for those that were suffering that I was only recently able to reflect on far I've come.
My new place is a large, two bedroom with a 1000-square-foot terrace. My new rent is $13,000. It's a true bachelor pad with big TVs and signed Mike Tyson and Mohammed Ali pictures on the walls. My limited-edition Ducati V4S Corse motorcycle is set up in my living room like an art installation. 
I'm proud of myself for working to get here, but I also understand how fortunate I am. Hopefully it shows others that no matter how bleak circumstances may be, there is always a way to fight through it.
My friends and family know where I came from and they're happy to see me doing well. My baby brother and his fiancé took over my old place as a wedding gift, so I have them close to me. He has a dog and I have my three so it's nice when the dogs need a play date.
I plan on staying in Noho forever even though I am spending more time out west. We have a Rumble in Los Angeles, so in the coming year I'm going to try to enjoy the bi-coastal life a bit more than I did last year.
Brick Underground articles occasionally include the expertise of, or information about, advertising partners when relevant to the story. We will never promote an advertiser's product without making the relationship clear to our readers.