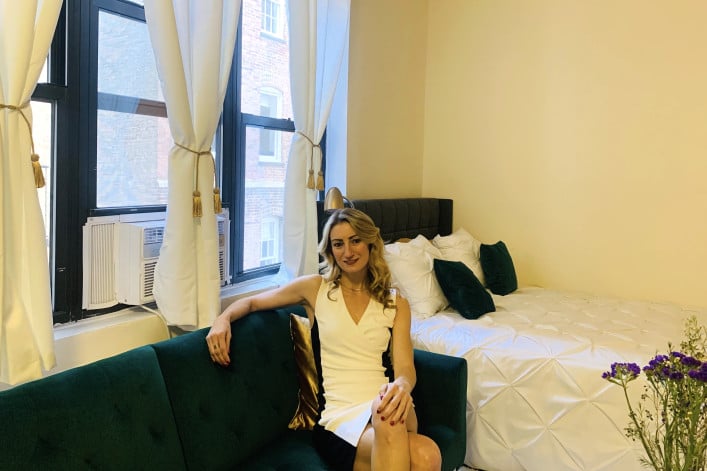 In 2020, Tiana Beniamino, a teacher and real estate agent, decided to splurge on a modern studio in Nomad where she taught her students remotely during the pandemic. When her lease renewal notice came with a big rent increase, that was the push she needed to achieve her dream of living in the West Village. Here's her story.
I was born in Rockland County, New York, and raised in Westchester about 30 minutes outside New York City. I have been a full-time high school teacher in Westchester for 15 years (teaching world history) and a real estate agent at BOND New York for the last three.
I have been living in NYC for the past seven years, but left NYC in March 2020 during the lockdown and moved back in October 2020. I ended up renting a studio on the 22nd floor of a newly renovated, 50-story luxury building in Nomad. I was paying $3,200 but got a month free so it ended up being around $2,900.
The 650-square-foot alcove studio had a great open kitchen and full-sized appliances. There was a ton of natural light streaming through a giant wall of windows, which looked out onto The Clocktower and the gold-topped New York Life building. I woke up every morning and was like, Damn! I love the NYC skyline.
---
[Editor's Note: Brick Underground's series "Transitions" features first-person accounts of what it's like to move from one New York City neighborhood to another. Have a story to share? Drop us an email. We respect all requests for anonymity.]
---
I also had six giant closets! I didn't even have enough stuff to put in them! I had a closet for each season of clothes and then I put my bike in the other one and my giant Christmas tree stand occupied a whole closet by itself! I even considered renting out closets to friends.
The building had a gym, common area, pool table, laundry rooms, and an incredible rooftop with a 360-degree view of Manhattan. I would bring coffee up there and watch the sun rise and see the Freedom Tower in the morning. It was so gorgeous and peaceful.  
There was a laundry room on every floor and mine was right outside my apartment door. No one else used it, so I felt like it was my own.
I knew teaching would be rocky because of the pandemic, so I really wanted an apartment that was bright and cheery while the world was so dark and bleak. When we started school in person that September, I had a feeling that we would be Zooming from home a lot when the numbers spiked, and I was right. 
I also knew I would probably only be there for a year, so it was worth it to pay a little more to wake up in a modern, bright apartment with incredible views. I also saved money by not going out when the world was locked down, so I didn't feel that guilty about my rent.
Outside my building, Nomad was a ghost town—hotels and restaurants boarded up with plywood, the streets were empty except for the occasional pigeon or piece of trash blowing in the wind. 
I had lived on the UES previously prior to the pandemic with an ex-boyfriend and I wanted a change of scenery. I drive to Westchester every day and was afraid Downtown was too far to move for my commute, so in my head I thought Nomad would be a solid, central location and not a terrible drive to work. For months I basically stayed in my apartment, but when things started opening up a little, I explored the area.  
I survived on delicious meat and cheese from Scarpetta's, which was practically downstairs. I never really found any restaurant or bar there that felt like my speed, and there was still limited capacity for dining. I also felt the area was a bit young for me. Overall, I would have to say Nomad doesn't have much character; there are great luxury buildings, but it's really lots of businesses and hotels. I was craving more energy and personality when I stepped outside the front door.
So even though I loved my space, I couldn't rationalize the price. When I got my lease renewal notice with a rent increase to $4,219 with no concessions, it put the nail in the coffin. I was moving out! I always wanted to move to the West Village before I had kids and a hubby, so I decided to take the leap and move in July. My lease was up the last day of September. I had the month of September "free" as my concession month, so I was okay with jumping ship early if I found something I loved.
As a real estate agent, I had been watching inventory shrink little by little over the summer and the Covid concessions vanish and rents start to rise! I knew I needed to find something fast or it wasn't going to happen.   
The West Village had always been a place to visit on special occasions for great food and fun, eclectic bars/lounges. I love traveling and have a soft spot for Europe, and the West Village gives off a quaint European vibe despite being in the middle of a big, bustling city.
With so many travel restrictions, my thinking was: Why not live in a place where I can sit at a sidewalk cafe and eat delicious cheese and feel like I am in Paris, or eat homemade pasta and reminisce about my trip to the Italian countryside? Now that I am single, the West Village felt like the right place to start a new chapter.
As an agent, I could see what was out there and was well aware of my options. I also had a pep talk with myself. I made a vow to not pay more than $2,700 in rent. This meant no more doorman or any amenities; the West Village itself would be my new luxury amenity! I looked at 30 apartments in my own personal search. I saw some dungeon-like units, some without closets, some with half fridges. I knew my budget was low for the West Village, but I'm 37; I need a full-size fridge! 
One day in August I went to look at an apartment with an agent not in my firm. The unit was microscopic and she could see on my face I was unhappy. She explained she had to go take pictures of this new apartment that wasn't on the market yet and invited me to tag along. When I heard it was in a prime West Village location, had laundry, elevator and live in-super for sub-$2,500, I ran! 
I had my application submitted within the hour. Within a day, I was approved and leases were signed! The best part was I didn't have to compete with other applicants since it was off market! It was a win-win for me and the other agent! I was finally moving to the West Village! 
My new place is in a six-story, prewar building in Sheridan Square. It's not nearly as fancy as my Nomad apartment, but I am okay with that because I love the area and I have made my place feel super cozy. If I had to estimate, it is about 350 square feet.
I have gone from having six gigantic closets to just one and a half closets. You bet I was Googling the hell out of clothing storage ideas. I have made it work! Also, Rent the Runway is a godsend for people with tiny homes. With this service, I don't accumulate more clothes, and also it helps in the laundry department too because you don't have to wash the items before returning! Thankfully my building does have a laundry room in the basement. It's still a coin-operated machine and not a card system, which is kind of annoying, but it's nice to have it in the building and I never have to wait for a machine.   
There are a few drawbacks. The heater is super loud! I sleep with earplugs every night. Thankfully it is only an issue in winter; I'll survive.
Another issue is I have to wear clothes all the time because my windows face my neighbor's kitchen where they spend most of their time since they are working from home. If I close my shades my place becomes as dark as a cave.
Not having a doorman can get tricky with packages and my Rent the Runway deliveries. I get so nervous about stuff being stolen. 
Despite these drawbacks, I feel like my new nabe is a magical oasis amid the chaos and hustle of NYC, one that makes you feel like you are living in an old European movie. There are restaurants that serve your every mood and palate. You could play darts one night, sing karaoke the next, get dressed to the nines another, or see live music.
When I was in Nomad, I Ubered to the West Village all the time because most of my friends are there and that got really expensive; now I can just walk out the door. I also discovered the A, C, and E subway lines! I never took the subway in my life because I was always on the East Side, but it's a game changer and very convenient. And the entrance to the subway is just a one-minute walk from my building. I save a lot on transportation.
When I lived in Nomad I had to use a parking garage because it's all commercial parking in that area. Walking to my car at 5:45am was scary at times, especially during the height of the lockdown. One time I came very close to getting attacked by a homeless person. 
Before I moved to West Village, I compared monthly rates for parking garages. The first garage I walked into quoted me $1,000 a month to park my Jeep Cherokee! I almost cried because that is like paying to rent another apartment! I didn't find anything cheaper than $600. It was all pretty disheartening, but then I did some research on where schools were located. I figured out I could street park after 4 p.m. and then move my car by 7 a.m. It takes a little patience, but not having to pay for a garage is worth it! I may get up to four tickets a month but they never total more than $300.  
I was very apprehensive about moving all the way to the West Village since I commute to Westchester every day but the day of my first commute I was beyond happy. In the morning, Waze directed me to the FDR and it only took five more minutes than my old commute from Nomad, totaling just 35 minutes. On the way home it directed me to take the West Side Highway, which ended up being so much shorter than the old commute and it's gorgeous seeing the water and the piers. I am actually a lot less stressed these days because my commute is actually quite peaceful. People are shocked at how fast I zip back and forth to Westchester for work; my friends spend more time on the subways getting to work in the city than I do! 
Because of the significant rent decrease, less Ubers, and no parking garage fees, I am saving a ton of money! However, now that the world is opening up again, I am like a kid in a candy store exploring all the amazing restaurants and cafes the West Village has to offer. That's where my money is going: Food and alcohol, but what fun that is! I cooked a ton in Nomad because I had a great kitchen, but I don't even have a dishwasher in the West Village so it limits my desire to cook.
For fun I have a food/drink Instagram account @bubblesandburratanyc (new followers always welcome). I go to cool places and order burrata and Prosecco and then post about it. I am genuinely obsessed with cheese! One of my favorite places is Morandi; it's so cozy and they are beyond welcoming there. I walk in and the staff makes sure there is a stool at the bar for me and they have my favorite drink the Picante immediately in front of me. Their burrata is on point and they change the pairing seasonally too! The bartenders are some of the sweetest people I've met in NYC. Shout out to Andrew, Luis and Carlos! Carlos makes a solid espresso martini too. Every time I go there, I always meet someone interesting. 
The Spaniard, which is right across the street, is also a fun spot too. I love wandering in after a workout and indulging in their amazing Smashburger and fries! The bartenders there rock too: David, Ciran and Johnnie! Sometimes too much fun at the Spaniard translates into highly entertaining evening at the Boho Karaoke bar right next door. I don't mind because my home is a crawl away.
That's the cool thing about the West Village: If you have the courage to just turn to a stranger and strike up a conversation your life will be enriched. There is an energy in the Village and it just makes you so proud to be a New Yorker! Just going for a walk and taking in my surroundings after a long stressful day can make me feel better. I even think moving here has made me dress better. I see all the amazing fashion and style around me so I have had to up my game.
It's crazy, but I have lived in 19 different places since I graduated college in 2006! But this time I plan to stay in the West Village—at least until I find a partner and maybe get married.
Brick Underground articles occasionally include the expertise of, or information about, advertising partners when relevant to the story. We will never promote an advertiser's product without making the relationship clear to our readers.