Transitions
From West Village to Hell's Kitchen: I moved to a luxury building for love, but it didn't last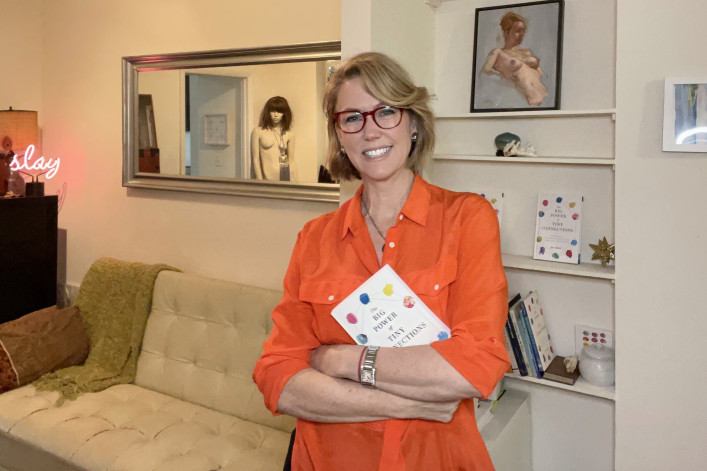 Author and executive coach Jen Nash left her roommates in the West Village for a coveted rent-stabilized apartment in Hell's Kitchen. Then she fell in love—and moved to a luxury building a few blocks north and another world away. Sadly, her relationship didn't last, but at least she kept her rent-stabilized place. Here's her story.
I grew up in many places around the world. By the time I was 18, I'd already moved 10 times —several Canadian cities, and then Malaysia, Hong Kong, Japan, and Australia—before coming to New York City for college. I totally fell in love with this city and decided to stay after graduation.
At first, I lived in a 1,000-square-feet, three-bedroom apartment with roommates in the heart of the West Village. The building had no amenities other than access to a small backyard. We were on the first floor and there was no dishwasher or microwave. I was pretty happy there was coin-operated laundry in the basement and our rent was $2,800; I paid $800 because my room was the smallest. It was basically just a single bed with a closet.
---
[Editor's Note: Brick Underground's series "Transitions" features first-person accounts of what it's like to move from one New York City neighborhood to another. Have a story to share? Drop us an email. We respect all requests for anonymity.]
---
I worked at the New York Times in Times Square, so I would hop on the 1, 2, or 3 at Seventh Avenue and fly Uptown. On a good day my commute was an amazing 11 minutes door to door. But you really had to nail the subway's arrival.   
I never thought I would leave the West Village. The neighborhood's charm and French-like bar scene has a sleepy/cozy feeling that I loved. I also enjoyed being close to charming Soho and Tribeca. 
I'm a huge fan of La Bonbonniere on Eighth Avenue. It's a freakin' institution. Their blueberry pancakes with bacon are killer! I even made an ad campaign for them when I was in art school. One headline was: "Why not crawl out of your hole in the wall and come to ours?" Total NYC humor! Another place that's unexpectedly amazing is Tea & Sympathy on Greenwich. Authentic British high tea, with custard over cake, beans on toast—it's heaven! I also love Frederic Malle just a little further East on Greenwich. Their perfumes are to die for, and I will never stop wearing Portrait of a Lady. Divine! For Italian food I love Aria and how casual it is. Sure, it's a chain but it's dependable and the kitchen is fast. And, of course, Corner Bistro is my go-to for burgers and beers. And for making out, I always love Hudson Bar and Books. It's a cigar bar, so it can be a bit smokey at times, but sometimes that's sexy, right? 
After living there for six years, I decided it was be time to move. As part of my job at the Times, I worked on the Sunday business section on Fridays, so I would get the real estate listings before anyone else—and I would scour them. I figured that was my best bet to find something really below market and my goal was a rent stabilized apartment under $2,000.
I didn't really want to leave the Village, but my mom's car always got robbed when she parked it on the street during her visits from Ottawa. I figured moving close to Midtown might be a bit safer since being closer to Times Square meant that there were more cops. My mom was thrilled that she didn't have to pay so much for parking. I guess it's the little things. 
I worked with brokers and looked at a ton of different options, but most were too expensive. Then I saw an ad in the NYT for a no-fee rent-stabilized apartment! I ran to the address because I was so hopeful it might work.
It did! It was a second-floor walk-up in Hell's Kitchen. The 500-square-feet apartment had zero amenities, but the rent was just under $2,000 a month for a true one bedroom. And no roommates! The place had nice hardwood floors and good sunlight from 10th Avenue pretty much all day. But being on 10th Avenue was hard because it is so noisy and there is so much pollution.
There were other tradeoffs. I couldn't just walk south 10 blocks for brunch and art galleries. I had to hop a subway or grab a Citi Bike. But being close to the West Side Highway made biking Downtown a breeze. Biking around the Village isn't always easy because while they're gorgeous to look at, cobblestones aren't fun to ride on! 
Hell's Kitchen with Amy's Bread and all the crazy restaurants and the gay bars has a completely different vibe—not to mention the greatest Mexican restaurant in New York: Tulcingo Del Valle. It's kind of a dive, but their tacos and tostadas are to die for! You can't go wrong with Pio Pio for chicken and 44 & X, which is a trendy brunch place. I should also mention The Little Pie Company because it's an institution.
At that time, I left the NYT and became a creative director, freelancing at the best ad agencies in New York City. I also expanded a writing and coaching business I had started. I work with companies that want their employees to connect more powerfully with their clients, their coworkers, and the world at large. I also wrote a book: "The Big Power of Tiny Connections." 
Then I fell in love and we decided to move in together. I worked with Fernando Canale, an agent at Compass, who found us an amazing two bedroom in a great building on 52nd Street for $9,500 per month. The building was heaven! There was a great staff, led by Carlos and Adam; and a gym; spa; doggie daycare; meeting rooms; roof terraces; golf; pool table; and so much more. The place even smelled good.
My favorite thing about the apartment were the high ceilings and huge windows. The kitchen had a microwave, dishwasher and appliances were stainless steel. We had two full bathrooms and a washer and dryer in the unit.
Even though it was just five blocks north, living in such an elegant place felt like a whole other world.
Food shopping when you have a doorman and elevators is no hassle. We used Max Delivery. Pretty much anything you needed could be delivered within an hour. Unfortunately, during the pandemic, all deliveries had to be left in the lobby so we were constantly taking the elevator down to pick up our deliveries. (At least in a walk-up you're getting some steps in!)
A great thing about the building was you could give people permission to enter your apartment remotely. I lose my keys all the time, so I loved this feature. It gave me such a huge sense of security and relief. We also had an outdoor patio, decked out with heating lamps and cozy blankets, and our friends loved coming over.
Our wedding date was set for April 4, 2020—it was going to be down the street at the Edison Hotel on 47th Street. But on March 16th, 2020, just before the city shutdown, we drove to Canada. We thought the countryside might be a good place to be for what we assumed were going to be a few weeks of lockdown.
Sadly, our relationship didn't make it another year, and I ended up right back in my rent-stabilized apartment. I am so glad I didn't give it up. I'm super grateful that things worked out, and a year later life is very much back to status quo. But I do really miss the staff and the quiet of that 52nd Street luxury building. It's an amazing building and I am so glad I got to experience that lifestyle for a short time.
Brick Underground articles occasionally include the expertise of, or information about, advertising partners when relevant to the story. We will never promote an advertiser's product without making the relationship clear to our readers.