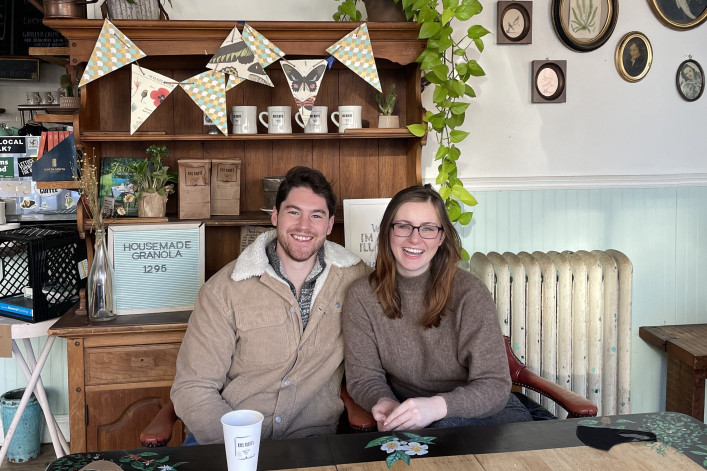 At first, Greenpoint felt young and fun to Cait and Brandon but then the noise and bar scene started to lose its appeal. They headed to Park Slope, landing a place in a classic brownstone near Prospect Park. The area feels more mature, and that suits them just fine. Here's Cait's story.
I was born Portland, Oregon. Most recently, I was living in Greenpoint with my boyfriend Brandon and our Australian Shepard puppy Bast in a one-bedroom rental. The place was about 800 square feet and we paid $3,250 a month.
The building was beautiful, new construction (built in 2016, I believe) and had a roof deck. We loved our floor-to-ceiling windows. The kitchen was open plan with an island dividing it from the living room and had stainless-steel appliances.
Laundry was in building, so that was easy, but the company that managed the machines was garbage and it was impossible to get our clothes to dry, which was a constant frustration.
The apartment was a perfect fit for my style: clean and modern, and a huge upgrade from our previous one bedroom in the UWS. I had lived in Williamsburg before, but both my boyfriend and I were new to Greenpoint. I was excited to be around a crowd that was younger than what we experienced on the UWS. I had lots of friends in the neighborhood and fond memories of summer days chilling in McCarren Park. 
---
[Editor's Note: Brick Underground's series "Transitions" features first-person accounts of what it's like to move from one New York City neighborhood to another. Have a story to share? Drop us an email. We respect all requests for anonymity.]
---
Greenpoint has lots of cool cafes, a foodie scene, and lots of bars, and thrift stores. It's a fun place to go people watching because everyone has a very unique style. The neighborhood also has a big Polish community that has been there a long time, so there is also a cool mix of cultures happening as well. 
I am big into the food scene, so that's the biggest thing that I miss since moving. In particular, I miss having Le Fond literally right outside my doorstep. I also miss early morning walks to Bakeri in north Greenpoint, and going running over the Pulaski Bridge into Queens and then to Roosevelt Island, where I trained for a half marathon.
Typically, when we needed to food shop we went to Whole Foods in Williamsburg, since it ended up being the cheapest and most convenient option.
Most of the traveling that we were doing at the time was to Grand Central to visit my boyfriend's family in the Hudson Valley, so we'd ride the G to Court Square then 7 to Grand Central, which was super easy. You could be there in a half hour. It felt like you could be basically anywhere in a half hour from where we lived.
Our most social activity was climbing with friends at Brooklyn Boulders Queensbridge in Long Island City. We'd take the 7 there and then walk and climb for a few hours. After we'd go to The Duchess for burgers. And since our first puppy was still small then, we had lots of puppy play dates with friends in McCarren and McGolrick parks. 
We enjoyed our time there—just one year—but we decided to move in May of 2021 after becoming less fond of the neighborhood. I found that it changed a lot during the pandemic; it seemed like it became a lot busier, and we had issues when we brought our dog on the subway—having a dog with us was like an invitation for anyone and everyone to interact with us.
For example, one time on the G, a maskless stranger lifted Bast to try to put him into his lap and screamed about what a good baby he was. Another time, a man showed pictures of his cats on his phone to our dog for the entire 40-minute ride. Obviously those interactions were not the norm, but they happened frequently enough to make us wary of taking the subway from the stop near us. 
We also wanted to move because we were too close to a busy street, and we really wanted something quieter. We also had stopped taking advantage of the cool things that initially drew us to the neighborhood, like the bar scene. 
I was in the process of getting my real estate license (I'm now an agent at Keller Williams NYC) so finding a new apartment was one of the first tests of my ability. We must have looked at a thousand apartments on StreetEasy, but only saw one apartment in person.
My boyfriend has really specific tastes in buildings. He wanted to be in a brownstone, it had to have curb appeal, and it had to be on a quiet street. Last time I pushed his boundaries and he took a risk on going with a building that I was in love with, so this time it was my turn to let him have the final say on what would or wouldn't work. 
Finally, we found a place in Park Slope and moved in July. We are paying more for our smaller apartment ($3,500) than our place in Greenpoint, but we still feel like we have upgraded because of the neighborhood. Our building is one block from Prospect Park, in an old brownstone with a beautifully preserved interior, and gorgeous original wooden details. We even got the NYC apartment holy grail: A wood burning fireplace! 
Brandon really missed the UWS, and culturally, these neighborhoods feel a lot alike. Cute restaurant scene, lots of families, loads of dogs, people are friendly, and we actually know all of our neighbors now. 
I did make a pretty big sacrifice with this move. I went from having a dream kitchen, with a brand new six-burner stove, to a kitchen that's a quarter the size—one that seems like it was put in as a total afterthought. Also, we have coin laundry now, which is not my favorite, but hey, the dryers work, so who am I to complain? It's also a fourth-floor walkup, which was rough when we got our second puppy, Reshi, also an Australian Shepherd (both dogs are named after characters in our favorite book, "The Name of the Wind" by Patrick Rothfuss) and he needed to go out to pee every two hours, but now I barely notice the stairs. 
There are some big pluses to living here: I love off leash hours in Prospect Park with our two dogs; the absolute chaos of that many dogs every day is something to behold. I also love all the weird Park Slope Facebook groups, and the cult that is the Park Slope Food Co-op. I think we've found our niche in the city. It has everything that the UWS has, and yet I still get to be in Brooklyn.
I love Al Di La and Haenyeo on Fifth Avenue. I am a total Park Slope Food Co-op convert. Their membership was closed for almost two years due to the pandemic, and I joined three minutes after they reopened. Their produce is unbelievable, and the work-shifts are honestly super fun.
Ana, the sommelier at our local liquor store, has been pretty game-changing for us as well; she gives us an entire wine lesson every time we go in to pick up a bottle, so shout out to her as well. 
I do feel a little sad that Greenpoint is now getting some of the recognition that it deserves as a food destination within the city and we're no longer there, but Park Slope isn't exactly lacking for options. 
The commute for both my boyfriend and me is a little longer. We're on the 2, 3, 4 lines, and things usually run pretty smoothly, but it is an extra 15 minutes farther.
At first it was hard to see our friends who live in LIC because it takes so long to get here by train, but they recently got a car, so they actually come see us more than most! And another friend just moved to Prospect Heights, so we're slowly converting people to our area!
Overall, this move was a great idea, because we're so much happier in this neighborhood—the more mature feel and slower paces suits us. Saying that makes me feel super old, but if the shoe fits! We plan on staying here for quite a long time.
Brick Underground articles occasionally include the expertise of, or information about, advertising partners when relevant to the story. We will never promote an advertiser's product without making the relationship clear to our readers.