Take It Or Leave It
Would you rent this Williamsburg three bedroom where you don't need to fear the L shutdown, for about $3,000?
For many months now, headlines about the impending L train shutdown have projected a sense of doom and gloom surrounding real estate in Williamsburg. And it's not just talk: A recent study from StreetEasy found that rents in the area have dropped to 2015 levels.
The MTA confirmed Tuesday that the L train closure will begin April 27, 2019, according to NY1. It's used by 225,000 people everyday, the majority of whom will have to find alternate routes to and from Manhattan.
But renters should bear in mind that other trains serve this highly desirable neighborhood, known for its nightlife, food festivals, and shopping. So if you are willing to live a short distance from the more bustling part of Williamsburg served by the L, you might be able score a deal here.
Here's one such deal: A three-bedroom, one-bath apartment, 234 Union Ave., #5F. The gross rent is about $3,166 on an 18-month lease with one month free. That's less than the median asking rent for a three-bedroom apartment in Williamsburg, $3,500.
The apartment is fully renovated, and has a washer/dryer and a dishwasher. There are new stainless steel appliances, what appears to be decent-sized bedrooms, and a marble bath. It's three blocks from the M and J trains, also the G, if you don't need to go into Manhattan, and it is not at all close to the L. There's no square footage listed and no floor plan, so it is not clear how big this place is.
As always when weighing New York City apartment listings, we turn to our Take It Or Leave It experts: Constantine Valhouli, founder of real estate research and analytics firm NeighborhoodX, freelance writer Lambeth Hochwald, and myself.
But first, here are more pictures of the place.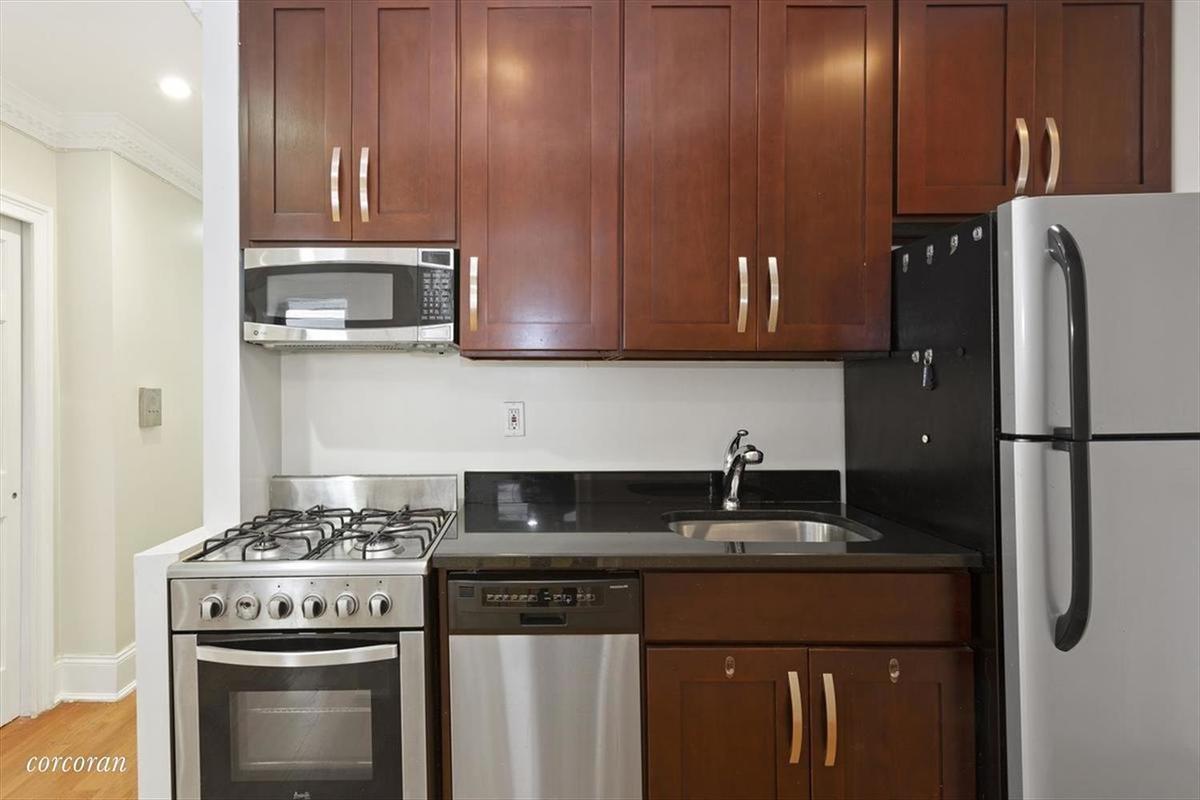 Pros and cons
"There's something compact and functional about this Williamsburg three-bed, but this apartment is on top of Hello Bklyn so you better like waking up to the smell of burgers a fryin' on the grill." —Lambeth Hochwald
"I literally cannot tell if these are exquisite renderings with CAD-furniture dropped in, or particularly well-balanced photographs. Or perhaps we've simply hit that Uncanny Valley (which I seriously thought was somewhere north and east of Manhattan Valley for the longest time, but I digress) of real estate, where real estate has chosen to mimic the super-hyper-realism of the renderings so closely, that it's impossible to tell the difference, like that lady in the red dress in 'The Matrix.' [Editor's note: These are indeed virtually staged images.]
"There's no square footage listed, so it's impossible to tell if these are three adult-sized human bedrooms or a two bedroom converted to three hamster bedrooms. Data. It matters, people." —Constantine Valhouli 
"It's not the cute part of Williamsburg. This apartment is a good 10 blocks from the L train at Lorimer Street, so the shutdown isn't necessarily a factor here, but that distance also means it is not really in the heart of Williamsburg's commercial area. But 10 blocks is not that far, and there are these things called buses. The B48 travels along Lorimer." —Jennifer White Karp
Whom it's perfect for 
"A trio of three recent college grads who figure they'll just bike to work (and won't mind sharing one very teensy renovated bathroom)." —Hochwald
"Everyone. It's Williamsburg for $1,000 a month. It's like a pricing time warp back to the days before MGMT recorded 'Time to Pretend' and its opening chords became a hipster mating call on the dance floors of Williamsburg. Well, that song still serves that purpose. But at least you'll have money left over from rent to buy drinks now." —Valhouli
"It's hard to tell how big this place is, so ideally roommates who aren't necessarily home at the same time." —White Karp
Take it or leave it
LEAVE IT. "With a capital 'L'—pun intended!" —Hochwald
TAKE IT. "Because, in the immortal words of MGMT: 'This is our decision to live fast and die young/We've got the vision, now let's have some fun/Yeah it's overwhelming, but what else can we do?/Get jobs in offices and wake up for the morning commute?' Of course, they weren't thinking of the L train shutdown when they wrote those lyrics." —Valhouli
TAKE IT. "As long as you work somewhere accessible by the J and M trains." —White Karp
Brick Underground articles occasionally include the expertise of, or information about, advertising partners when relevant to the story. We will never promote an advertiser's product without making the relationship clear to our readers.