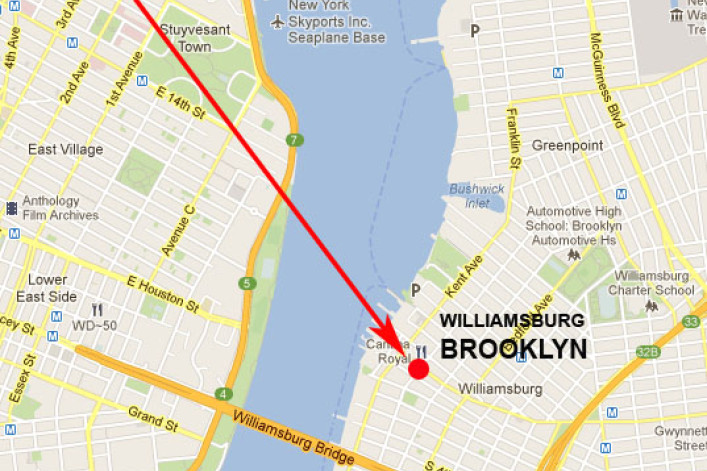 My husband and I were looking to buy a place, just for us. Our old apartment, a block and half east of Gramercy Park on East 19th Street and Second Avenue, was my first in New York...it was above my in-laws and next-door to his younger sister. After years of living in a family-owned building, it was time for our own space.
We had been "talking" about it seriously for the past three years. We would go onto Trulia and StreetEasy sometimes in the evenings when we had nothing else to do and browse what we could (and sometimes what we could NOT) afford in neighborhoods that we liked.
Of course, as any apartment-hunter does, I would forward my husband all the listings we couldn't afford--like a $15,000 per month penthouse or a $5-million brownstone. He was not amused. 
In the beginning we were strictly looking to stay in Manhattan, near where we were already living.  I still really loved our neighborhood and could not see myself leaving the convenience of Manhattan.  
It was pretty convenient to transportation/food/shopping/work/etc. We were basically in a nice sweet spot where in any direction within walking distance, we could find anything we wanted from super-casual East Village places (hey, let's stop at Pommes Frites after a late night out and get a paper cone full of Belgian fries and our pick of 26 different mayos and eat them on the walk back to our place) to more upscale, date-night at Danny Meyer's Maialino in the Gramercy Park Hotel...I still dream about the roast suckling pig special I once had there. 
I always felt I could walk around without anyone even paying attention to me (in a good way...it just felt very unpretentious.) It was a very diverse neighborhood (ethnicities, ages). It was always easy to get a cab right outside my front door. I loved going to the Union Square Greenmarket (since Union Square was my primary subway stop, I was always in that area so it was convenient for me to stop by on my way home).
That said, about a year and a half ago, we both started feeling really "old" in our neighborhood. I think it was because more bars (the kinds where college students hang out...not the sophisticated kind) started creeping into "our territory." Our apartment was just a block away from StuyTown, which may have had something to do with it.
Drunken people fighting or running into the traffic on Second Avenue would wake us up at night.  We always felt we were "just close enough" to East Village proper so that it was convenient but didn't feel like we were right in the thick of it all.  But the neighborhood slowly changed and we were getting a bit tired of it. 

Living on Second Avenue was very noisy with vehicular traffic as well. Also some weird guy climbed up the fire escape one night and tried to get into my apartment through my window when I was sleeping!  And I hated when they would close down Second Avenue right in front of our building for cheesy street fairs...I always dreaded that sound of their metal tent support poles hitting the ground early in the morning.
We decided to expand our search to include Brooklyn. EEK! You could hardly get me below the numbered streets or above 23rd St. or West of 6th Ave, and now I was looking in a whole different borough!
My husband kept mentioning Williamsburg but I kept saying "I don't like Pabst Blue Ribbon from a can" or "I don't want to wear neon spandex" or something...I did NOT want to be a hipster or even be around any hipsters...and I think 3-5 years ago I would have absolutely hated Williamsburg. 
He somehow convinced me this time around that it would be a good idea and that we should "at least look," so we included Williamsburg in our search. 
It took about a year's worth of SERIOUS searching before we finally found the place we're living in now on Wythe Avenue. As first-time buyers, we took our time. 
We own our new condo on Wythe. It was around $670,000 and the monthly costs work out to $2,800 (30-yr mortgage plus monthly maintenance), less than the $3,500/month rent we had previously been paying.  The new place is a 960-plus square-foot, two-bedroom, one bath, in an elevator building, with private terraces off the living space (50 SF + 140 SF) plus a common roof-deck with Manhattan skyline views and a deeded parking space. 
We downsized, giving up a very large second bedroom (we could put an elliptical machine in our old bedroom) and tons of storage space. But we've adjusted and edited our possessions and got creative with furniture (we purchased a raised bed with storage drawers underneath and a fantastic CB2 daybed in the guest room/office that converts to a full size bed, for example).
We were actually glad to get rid of a lot of it.  We feel like we actually use ALL of our apartment now, whereas before, about 25%-30% of our old apartment was unused space that we hated to clean.  Bigger is not always better.  What we lost in space we gained in features like our terraces and our sunlight.
Our new neighborhood is great. The L train stop is within walking distance and there are always some interesting performers at the Bedford L stop. There is also the East River Ferry, which is a great way to travel if you work Midtown or want to go to DUMBO or Greenpoint.
I can see the river from my kitchen window and I have a great view of Manhattan from my roof...there are great views of the Manhattan skyline in general from Williamsburg.
There is a lot of convenience in this neighborhood for daily stuff (groceries, drug store, dry cleaning); there are some really great restaurants here and a lot of them have personality. I've been here six months and I don't feel like I've even scratched the surface of what's available yet.
I have a love/hate relationship with places like Radegast Biergarten (which is literally around the corner from us.) They have some really kick-ass food and an awesome beer selection, but when the crowds of (usually drunk) people spill out onto the sidewalk on weekend afternoons I admit, I cross the street rather than walk through the crowd.
I love Smorgasburg on Saturdays...but I am sad that the season is almost over; I love the culture of artisanal food making we have in Williamsburg... Mast Brothers chocolate is just around the corner from us (and they always have free samples!) and there's a ton of other independent companies that are making some really good products.
I love the Bedford Cheese Shop, even though they take their sweet time...(I don't know why it takes so long to cut a piece of cheese and wrap it in paper).
There isn't a Starbucks here (yet) and we have so many great cafes (Blue Bottle Coffee, Toby's, Modca) that actually care about coffee and taste.
Although I have yet to go, we have the Nitehawk Cinemaright across the street which often themes their menu offerings to the movie that's being screened.
There are lots of venues to see music (Music Hall of Williamsburg, Brooklyn Bowl) and art in Williamsburg and surrounding areas; the murals that are painted on buildings in this neighborhood make the scenery interesting, and some of the graffiti art is pretty good too.
This is also an excellent neighborhood for dog owners...my little dog loves walking along the East River!
But as with any neighborhood, there are some drawbacks… The closest train to Manhattan is the L which requires a transfer to get anywhere above or below 14th Street. There are also some really bad, annoying performers at the Bedford L stop. And unfortunately, there are still some remnants of hipster stigma, which I find to be really annoying. 
We also didn't entirely escape the party scene, but it seems way more laid back in Williamsburg. No one is climbing our fire escape or stumbling through traffic drunk like they did on Second Avenue. 
The density and pace is very different than Manhattan. There are fewer people in my neighborhood now and I feel like I should appear more "put-together" since everyone notices. People walk much slower here than they do in Manhattan (maybe that's a good thing, but I am not used to it yet).
I can't just walk outside and hail a cab. Catching a taxi in WIlliamsburg is rare. (I'm still getting used to calling for car service when I need to.)
There tend to be a lot of film/TV/photo shoots at the diner and the bar right downstairs from my building (and in the neighborhood in general)...sometimes it's interesting to peek and see what's being filmed, but mostly it's an inconvenience when you're just trying to get home and they're monopolizing the sidewalk.
Oftentimes there's a little bit too much concern about "being part of the neighborhood/community" in a way that almost feels artificial to me… I don't need to wave hello to every neighborhood business owner as I walk down on the street....I don't necessarily need to be part of the CSA rather than buy produce at Whole Foods or feel badly if I buy clothes at Club Monaco as opposed to an independent neighborhood boutique or buy a mass-produced coffee table from Crate and Barrel as opposed to one made out of reclaimed wood by a local craftsperson.
That said, I am confident that we made the right decision. If I had to make the move again I would. Definitely.  Would not change a thing.
See all Transitions
Related posts:
Williamsburg, Brooklyn to Sunnyside, Queens: Goodbye hipster haven, hello half-price rent, nicer neighbors
An expat's view of 8 NYC neighborhoods (in 6 months)
A move-by-move neighborhood guide for the people, by the people
Brick Underground articles occasionally include the expertise of, or information about, advertising partners when relevant to the story. We will never promote an advertiser's product without making the relationship clear to our readers.