Take It Or Leave It
Would you rent this two bedroom in a Bushwick building that looks like a boutique hotel, for $3,325?
Fair warning to all you New York City renters, this two bedroom, one bath, 123 Melrose St., #4008, in Bushwick, Brooklyn, comes with so many amenities that watching this promotional video may make you weep out of envy, at least until you realize maybe you don't actually need an on-site bowling alley.
But still, the level of amenities and amount of space for congregating at this rental building, Denizen Bushwick, one part of the site that was once home to the former Rheingold Brewery, is both startling and appealing.
Renters here have access to 100,000 square feet of entertainment, according to the video, with a courtyard, pool, rooftop pet run, mini golf course, brewery, lounge, dog spa, rock climbing, community kitchen, conference rooms, parking, and storage, plus something called an experience coordinator. There are also artist studios, and dramatic, multi-level murals.
This building is part of a pair of eight-story buildings have 900 apartments in total and fills two city blocks. Brick Underground reviewed the co-working space at its sister building, The Rheingold, which our writer says feels more like a boutique hotel than a giant rental complex.
The same could be said of 123 Melrose, where this apartment is asking $3,325 with no fee. That's much higher than the median asking rent for two bedrooms in the neighborhood, $2,650, according to StreetEasy. There are currently 20 rental available, ranging from $2,325 for a studio to $4,850 for a two bedroom, two bath with terrace.
As for the neighborhood, you can catch the J, M, and Z trains at Myrtle Avenue, three blocks away, which can get you to the Empire State Building in about 35 minutes. The immediate neighborhood lacks options for shopping and restaurants, but you can find more choices on Myrtle Ave and Broadway.
As always, when weighing New York City apartment listings, we turn to our Take It Or Leave It experts: Constantine Valhouli, founder of real estate research and analytics firm NeighborhoodX, freelance writer Lambeth Hochwald, and myself.
But first, here are more pictures of the place and the amenities.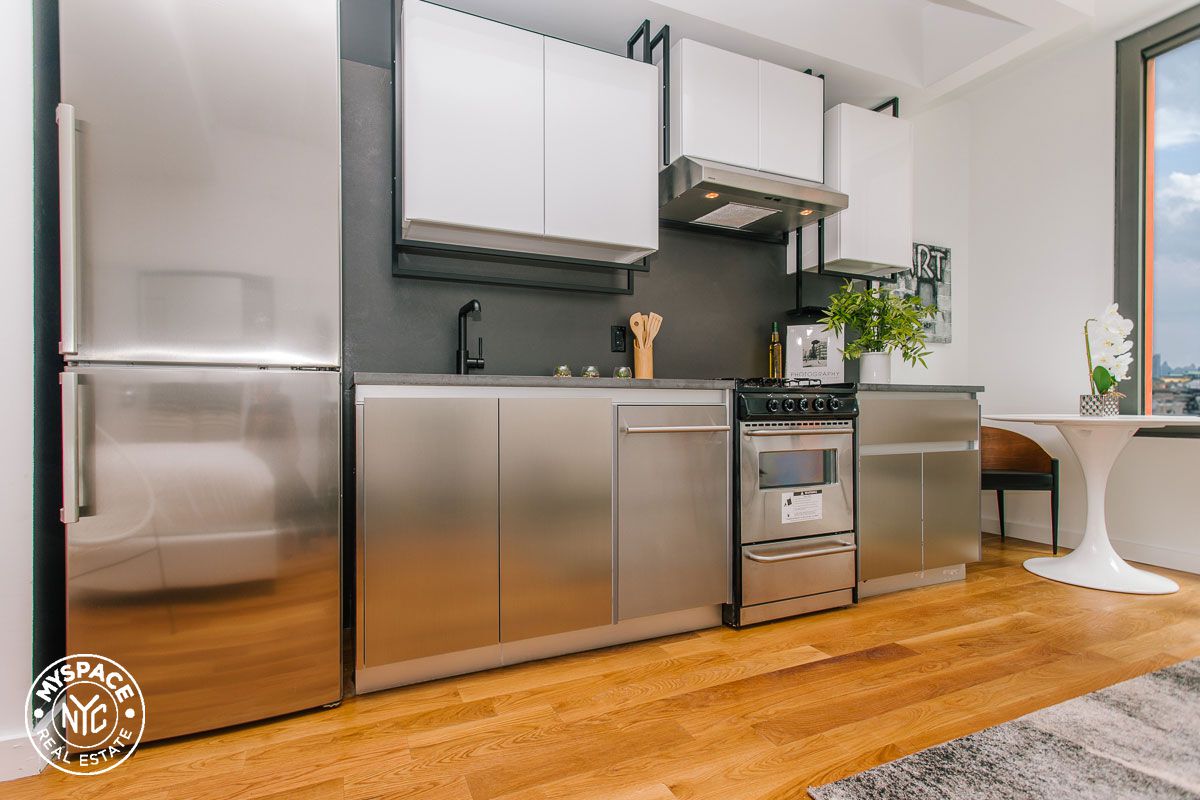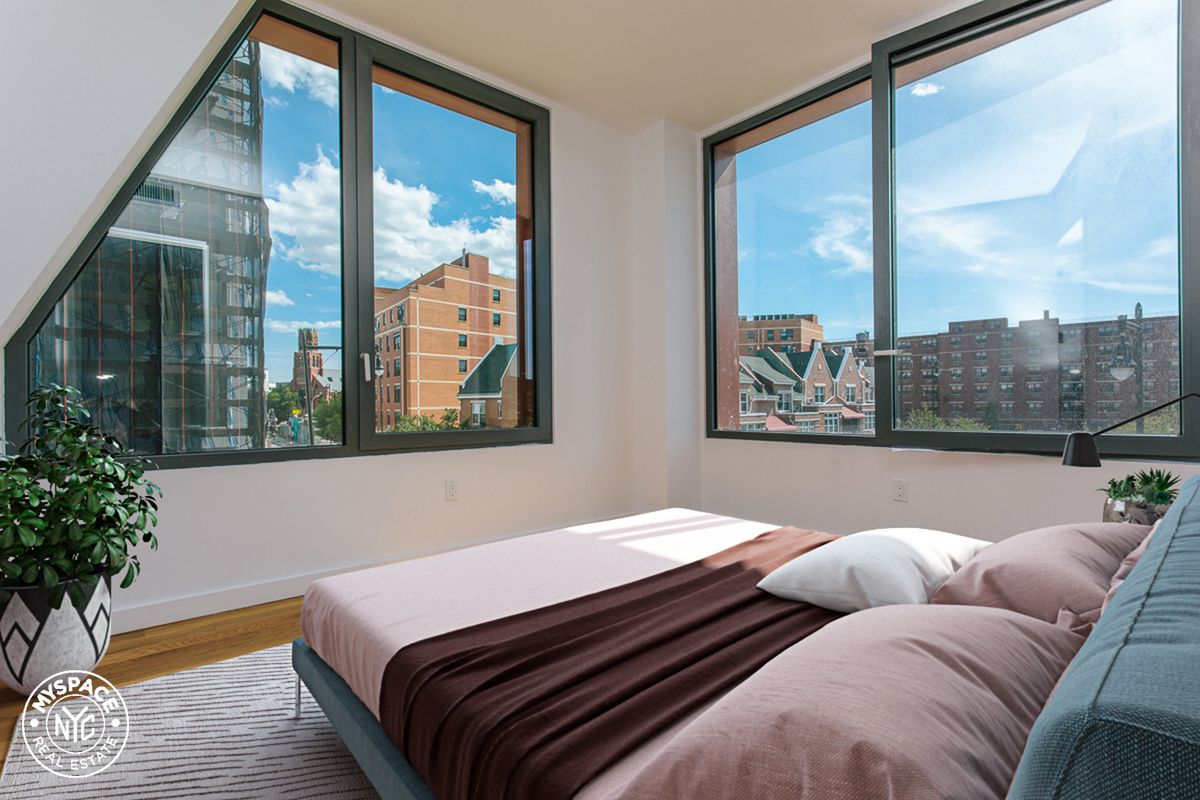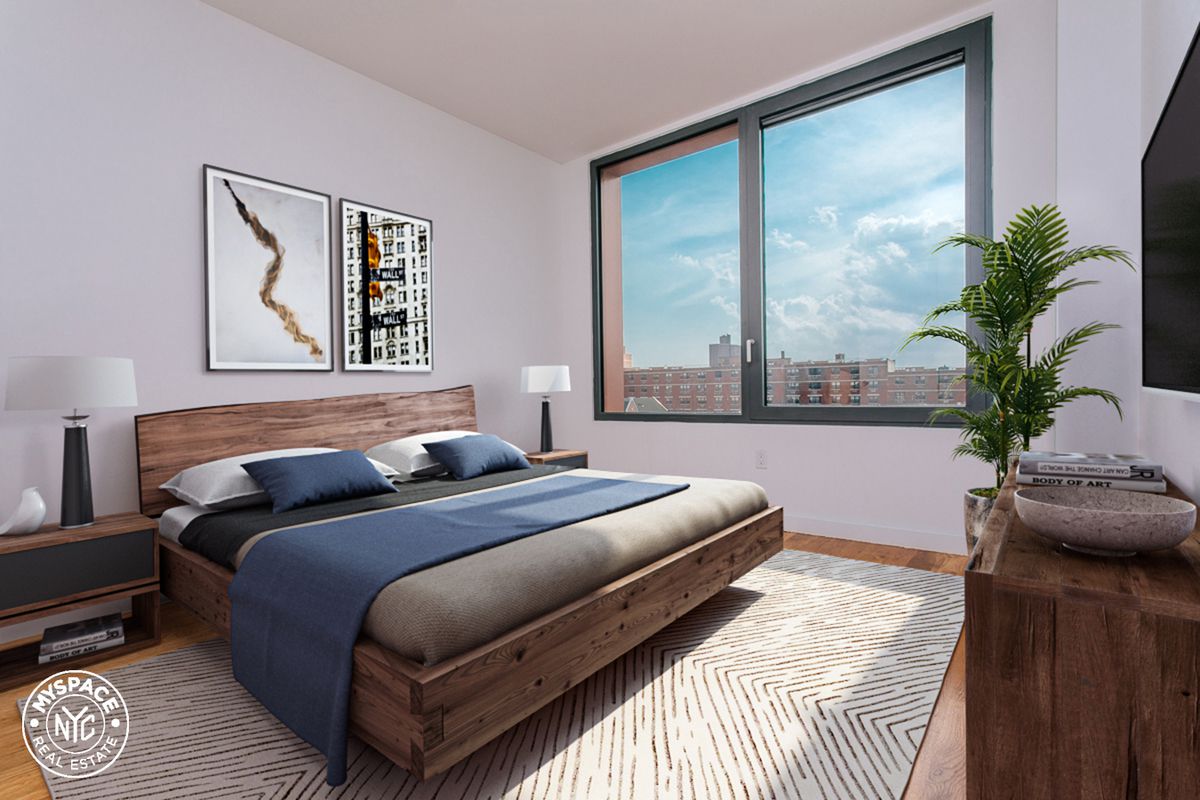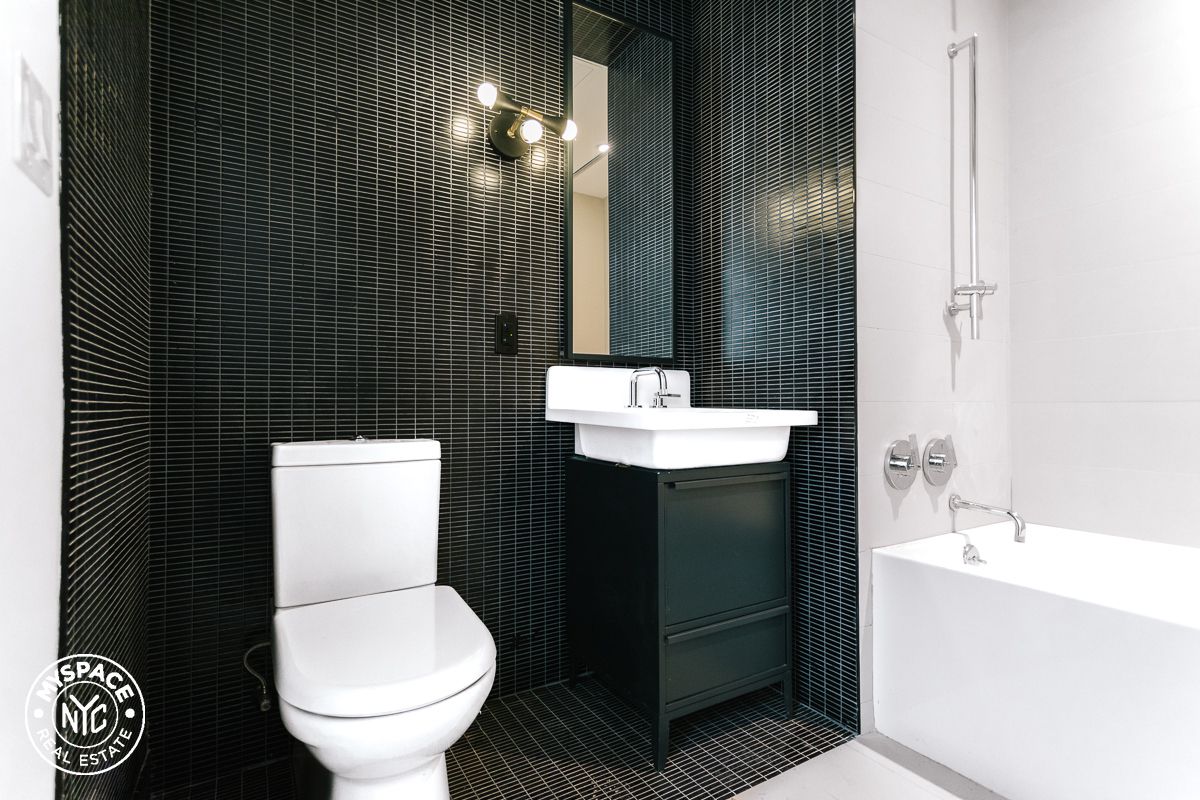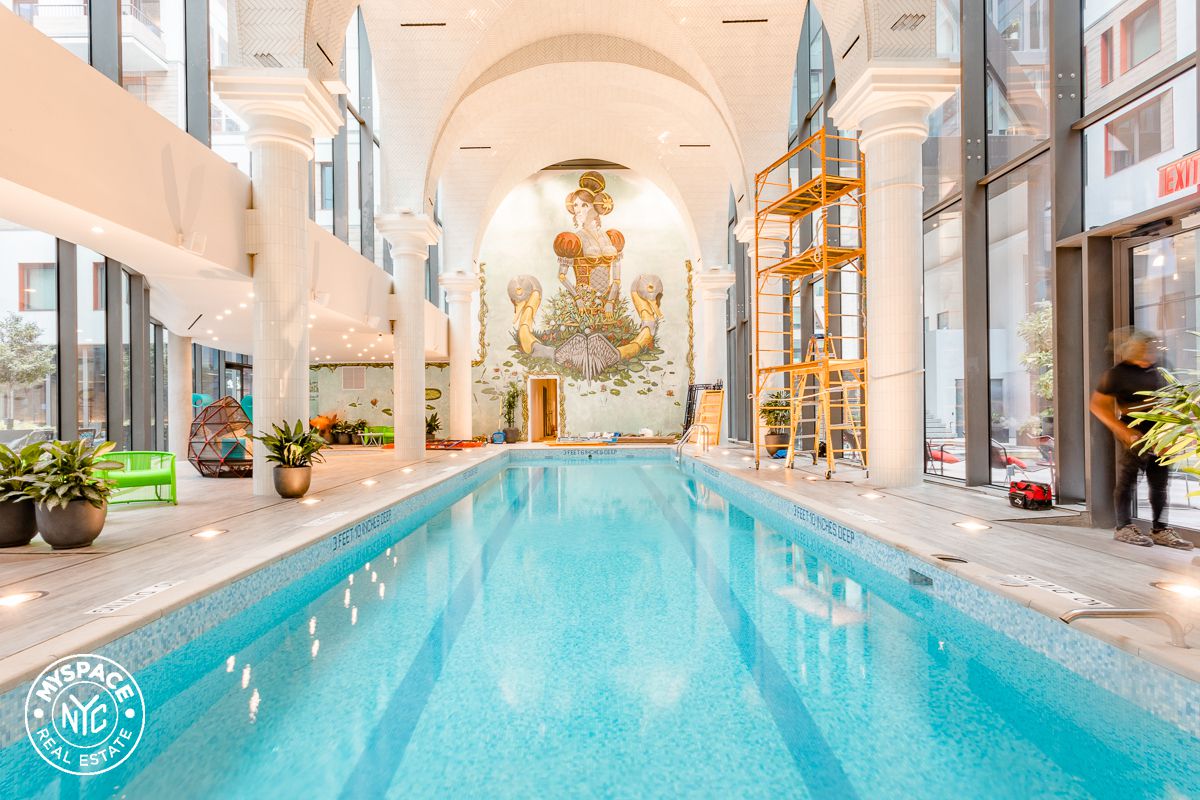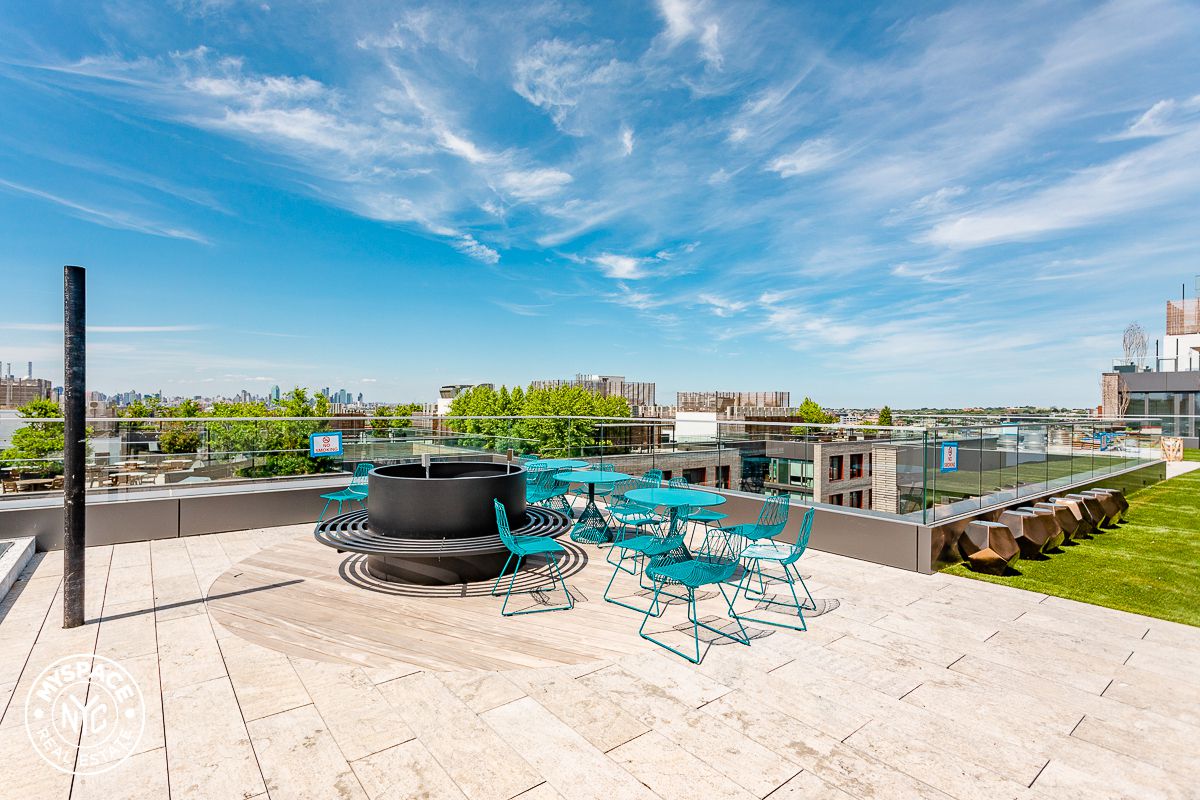 Pros and cons 
"It bears repeating: You are getting serious amenities for your dollar when you rent this two bedroom and, to quote Game of Thrones, 'Winter is Coming,' so if hibernating is your thing you will have more than enough to do at the aptly named Denizen Bushwick. On the flip side, I am getting a high-end penitentiary vibe from the internal walkways and there's a 24/7 party vibe that might not be your speed." —Lambeth Hochwald
"As you know from previous columns, I enjoy when architects and designers take chances—and 100,000 square feet of amenities seem so delightfully over-the-top that it is completely worthwhile. It's as if the architects came to the developer with a few options: 'Well, we could go for the bowling alley or the golf simulator or the...' and the developer replied, 'Let's just do all of them.' (But the mathy side of me is wondering how many units were foregone? If we assume 1,000 feet per unit—and this includes pro-rate share of common areas, etc.—that's still 100 units, or almost a half million dollars of rent per month)." —Constantine Valhouli 
"This building looks very fun, and stylish, like you're living inside your own music video. The grown up in me always wonders how well maintained these amenities are in real life, like who cleans up the communal kitchen after a party? But that may be taken care of by management, and as someone who has zero amenities and would be happy with a chair in the corner of this vast, sunny roof deck, I am digging this listing." —Jennifer White Karp
Who is it good for? 
"A millennial who will use every single amenity here and might even book a conference room just 'cause he/she can.'" —Hochwald
"Truly, you'd never need to leave your apartment building all winter. Especially if you work remotely. Or someone who really wants to practice their bowling." —Valhouli
"A family with kids. A NYC winter would be a piece of cake with all of this fun stuff in your building."—White Karp
Take it or leave it? 
TAKE IT. "Invite every single friend over for dinners on the roof. If it starts to snow, just relocate to the, I can't believe I'm even seeing this, on-site brewery!" —Hochwald
TAKE IT. "In the immortal words of Wang Chung, 'Everybody have fun tonight.'" —Valhouli
"TAKE IT. "You will be your children's hero." —White Karp
Brick Underground articles occasionally include the expertise of, or information about, advertising partners when relevant to the story. We will never promote an advertiser's product without making the relationship clear to our readers.