If you're looking to rent a studio apartment in Manhattan for under $2,500, you can't have too long a wish list and you have to be prepared to accept some sort of inconvenience. At that price, you just can't have it all.
For example, if you want a renovated apartment, you would probably have to sacrifice square footage, and there will probably be a flight of stairs or three to navigate. Or let's say you wanted space and light. You might get it, but the apartment may look the same as it did decades ago.
Consider the trade offs of this studio apartment, 235 East 54th St., #3A in Sutton Place. It's in a handsome building in a quiet neighborhood that's just a short walk or ride from many other Manhattan neighborhoods. It's asking $2,200, which is under the $2,350 median asking rent for a studio in Manhattan, according to StreetEasy. (Interestingly, according to the apartment's price history on StreetEasy, it was listed at $2,200 in July, 2016 but was rented for $1,975 in September, 2016.) 
It has some prewar details and looks clean and relatively bright, but it's not renovated. There are stainless steel appliances (we see only one, a dishwasher, in what looks like a tiny kitchen, although the listing says it is eat in). This is a 1900 building with four stories, so it's very likely that it is a walk-up. Besides its location between Second and Third avenues, and relative proximity to several subway lines, the listing notes "there is no board approval needed on this co-op building, just your good credit and employment record."
That's a bit of a head scratcher. Make sure you ask questions and confirm that the owner of this co-op is allowed to rent this apartment. You wouldn't want to find out that "no board approval needed" means "the board doesn't know."  
Is this apartment enough of a draw? As always when weighing New York City apartment listings, we turn to our Take It Or Leave It experts: Constantine Valhouli, founder of real estate research and analytics firm NeighborhoodX, freelance writer Lambeth Hochwald, and myself.
But first, here are more pictures of the apartment, as well as the street. There was no floorplan included with the listing.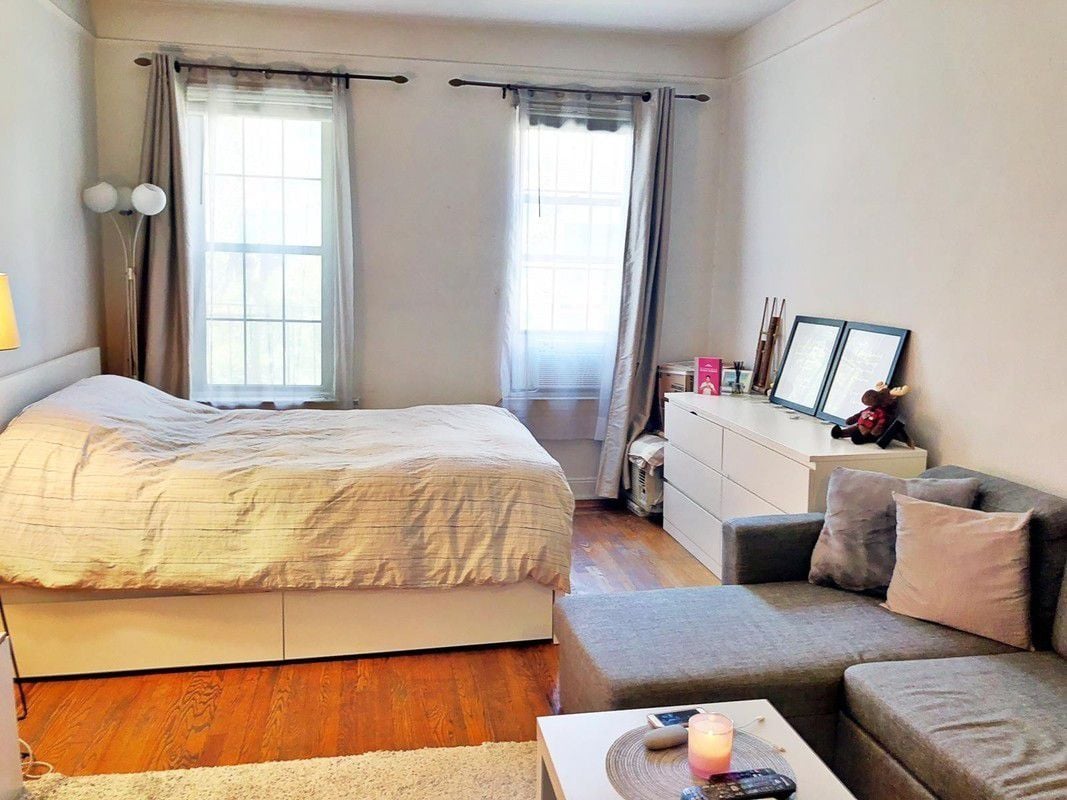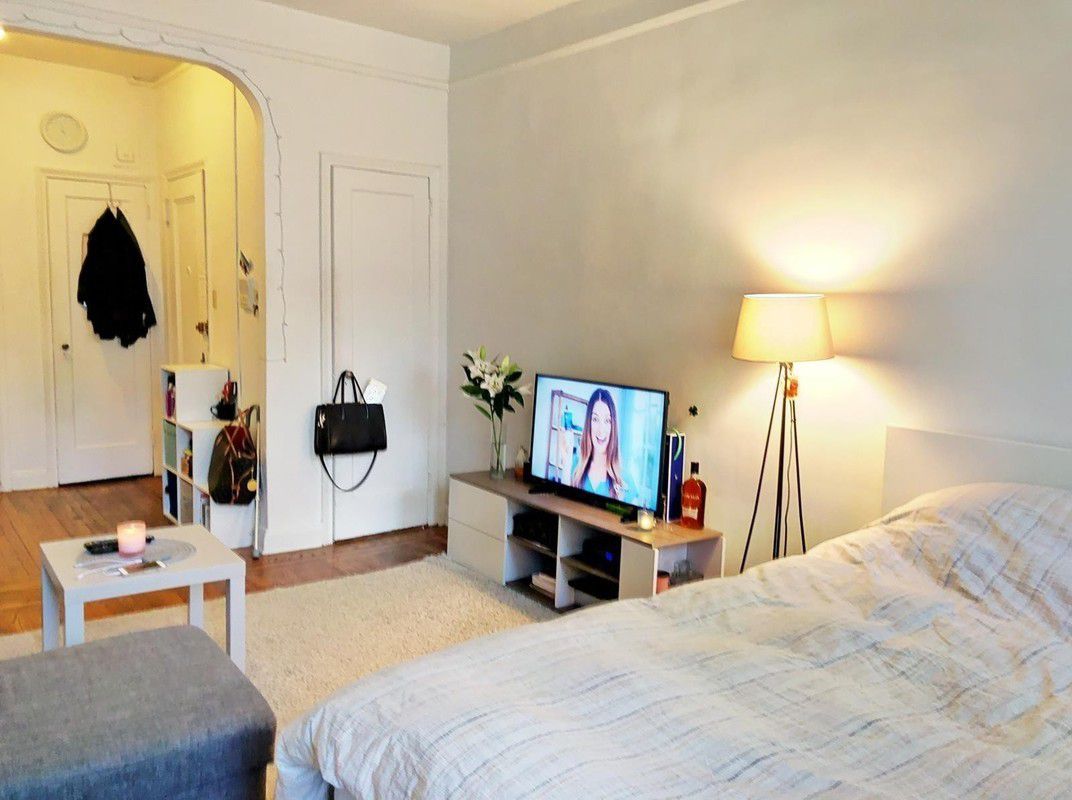 Pros and cons
"There's something quaint about this Sutton Place studio or maybe I just love an archway. On the flip side, this is a pretty pricey one-room space, and the kitchen isn't nearly as updated as it should be for the price." —Lambeth Hochwald
"It has curb appeal, a gorgeous historic front door and a limestone facade that would be a pleasure to return to each night, and ... wait. It has one room." —Constantine Valhouli 
"It's a great neighborhood to be in and that's a big plus. I would reconfigure the furniture and replace the sectional couch next to the bed with a loveseat and replace the TV stand and a low clothing bureau with one larger piece of furniture to maximize the small space." —Jennifer White Karp
Whom it's perfect for 
"A single working late hours in a nearby office. This is a quick walk to all of Midtown. —Hochwald
"An agoraphobe who digs the compact space. Someone who can't quite yet handle having a separate bedroom. Or a pied-à-terre for people who have actual space elsewhere and need to work in the city a few days a week." —Valhouli
"Someone who would have trouble passing a co-op board interview." —White Karp
Take it or leave it
LEAVE IT. "And consider the fact that for this price you can surely find a studio in a newer building with loads more amenities." —Hochwald
TAKE IT. "Because paying half of your monthly salary to live in a room that is the size of a prison cell is a rite of goddamn passage for New Yorkers. It's some serious Joseph Campbell 'Hero's Journey' stuff, right there. Except, instead of visiting Yoda and going into that tree and confronting Vader, you pay $2,200 a month to Yoda to live in his one-room hut on Dagobah. Seriously, though, nothing focuses one's ambition like the drive to one day live in a place with actual rooms, and full-size appliances." —Valhouli
TAKE IT. "If you want to be in this centrally located neighborhood and just care about a quiet, clean space. Sure, you could find a fancier place in a new building, but not necessarily within walking distance of Midtown. There's always going to be some kind of trade off at this price." —White Karp