The sprawling complex of Stuyvesant Town, between East 14th and 20th streets on the East River, has seen a lot of changes in its 70-plus years. In its heyday, it was a middle-class enclave, like its sister complex, Peter Cooper Village. Today, with its new owners, the development is going for a more upscale feel with apartment upgrades and slick marketing campaigns.
In 2015, The Blackstone Group bought the property for just under $5.5 billion, with an agreement to maintain a portion of the apartments there as rent-stabilized. After those tenants moved out, about 4,500 rent-stabilized apartments would become affordable housing, renting for more than $3,500 a month for a family of three with income restrictions, according to this article in the NY Daily News.
This one-bedroom "flex," one-bath apartment, 11 Stuyvesant Oval, #02H, is asking $3,899 for a two-year lease, or $3,974 for a one-year lease, with no broker's fee. ("Flex" means it can made into two bedrooms.) Clearly it's not affordable housing—in fact, it's priced higher than the median asking rent for a two bedroom in the East Village, which is $3,540, according to StreetEasy. And, curiously, the price has gone up incrementally from when it first came on the market in June at $3,634, bucking a trend in the Manhattan rental market. (The second quarter saw a 2.9 percent drop in median rental price compared to the year-ago quarter, according to Douglas Elliman's latest report.)
Tenants at Stuy-Town, as it's known, enjoy the development's playgrounds, basketball courts, and shady lawns. It's well situated for transportation and retail, with stores around the perimeter, and it is close to the East Village for restaurants and shopping. Is having two bedrooms worth giving up a living room to live here?
As always when weighing New York City apartment listings, we turn to our Take It Or Leave It experts: myself (filling in for senior editor Nathan Tempey), Constantine Valhouli, founder of real estate research and analytics firm NeighborhoodX, and freelance writer Lambeth Hochwald.
But first, here are more pictures of the apartment, as well as the common spaces. Note: There are several apartments available at this complex, all with the same photos in the listings. The photos do not show the walls of the second bedroom, which you can see on the floorplan.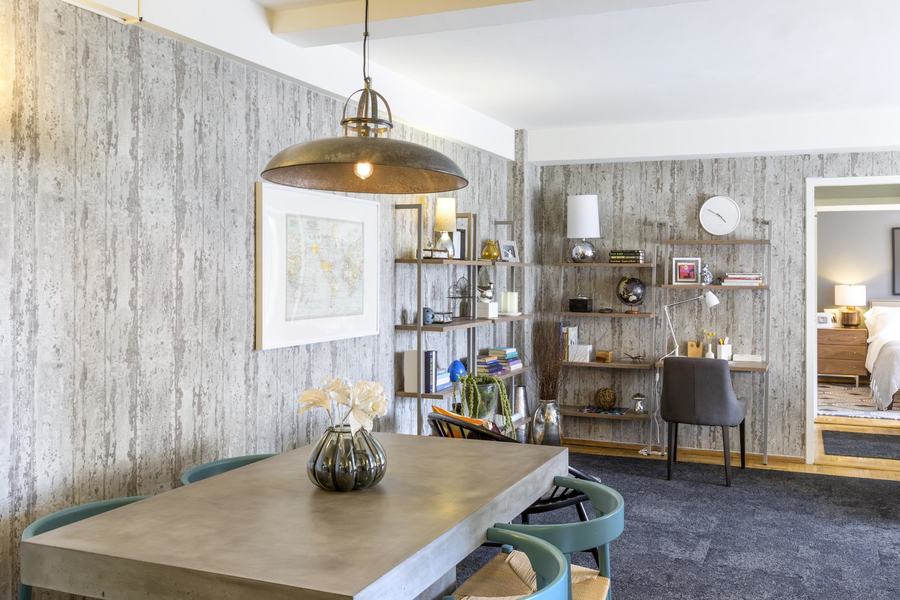 Pros and cons
"The price keeps creeping up for this Stuy-Town two bedroom, which is odd considering this isn't even a dedicated two bedroom. It's more of a one bedroom plus den." –Lambeth Hochwald
"You are staggering distance from the East Village nightlife for under $1,900 per month [with a roommate]. But the 'living room' does not have any windows. And it's basically a glorified wide hallway. Also the 'den' is kind of the second bedroom—but it has no closets in the room (presumably because they won't actually fit, if there's a bed in there). The layout feels kind of awkward, all told—but the architectural renderings do look good." —Constantine Valhouli 
"This area has a really nice vibe, and families love it there for it's community feel. It's disappointing to see the living room get obliterated by the addition of a second bedroom, but it could make the apartment affordable for someone who wants to live there." —Jennifer White Karp
Whom it's perfect for 
"Stuy-Town is known for its oversized apartments, so this apartment is ideal if you have lots of stuff and appreciate things like closet space!" —Hochwald
"You have a tiny friend and want to rent them your spare bedroom. But two normal-size friends might have issues given the unequal sizes of the two bedrooms." —Valhouli
"A couple with one or two small children looking for a starter apartment." —White Karp
Take it or leave it
LEAVE IT: "Most of these buildings don't have doormen, and it can feel a bit claustrophobic living in these buildings, especially the ones in the center of the complex." —Hochwald
LEAVE IT. "Yawn, feels like the burbs. Didn't you move to NYC to escape the burbs?" —Valhouli
TAKE IT. "If you have your heart set on living in this family-friendly complex, go for it. But gather some comps and negotiate a lower rent." —White Karp