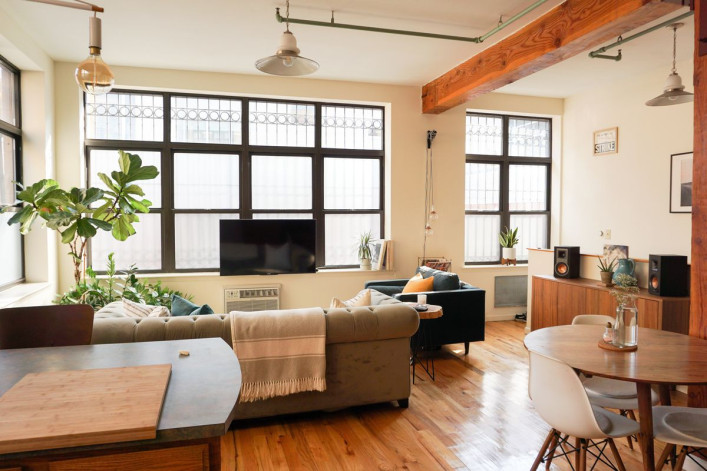 For an isolated neighborhood that has been notoriously known as a transportation desert, Red Hook has finally been getting some options. Last week, Mayor de Blasio said a plan to link up waterfront neighborhoods in Brooklyn and Queens via a $2.7 billion streetcar project called the Brooklyn Queens Connector (BQX) would be moving forward, albeit with a smaller route that will originate in Red Hook. 
And in May 2017, the city launched a South Brooklyn ferry route with a stop in Red Hook, with service to Manhattan running every 30 minutes. Prior to the ferry route, public transportation was limited to one bus line, the B61, and the F and G trains, at the Smith Street and 9th Street station on the edge of the neighborhood.
So with transportation and other development shaping up in Red Hook, you might be interested in this sprawling duplex rental on the edge of Red Hook and Carroll Gardens, 64 West Ninth St., #1A. This 1,438-square-foot loft has two bathrooms, 10-foot ceilings, large windows, and exposed wood beams. Most significantly, it is asking $2,750 a month with no broker's fee. It is rent stabilized and regulated by the New York City Housing Development Corporation, and so there are income requirements: Your combined annual income must be between $81,000 and $226,000 to be eligible to live here. 
According to the listing, the application process can take up to three weeks. The apartment is available October 29th.
The listing notes that the apartment is within a 10-minute walk to a bunch of great Carroll Gardens restaurants, like Frankie's 457 Spuntino, Prime Meats, Buttermilk Channel, and Lucali, and is only 15 minutes to restaurants in Red Hook like Hometown BBQ, Red Hook Lobster Pound, and Brooklyn Crab. But what's nearby is something to consider: It's about a block and a half from the Gowanus Expressway and across the street from a rather scruffy looking parking lot, by the looks of Google Map's street view function.
So, is it worth it be out of the way in this Red Hook apartment, good eats notwithstanding? As always when weighing New York City apartment listings, we turn to our Take It Or Leave It experts: Constantine Valhouli, founder of real estate research and analytics firm NeighborhoodX, freelance writer Lambeth Hochwald, and myself.
But first, here are more pictures of the apartment.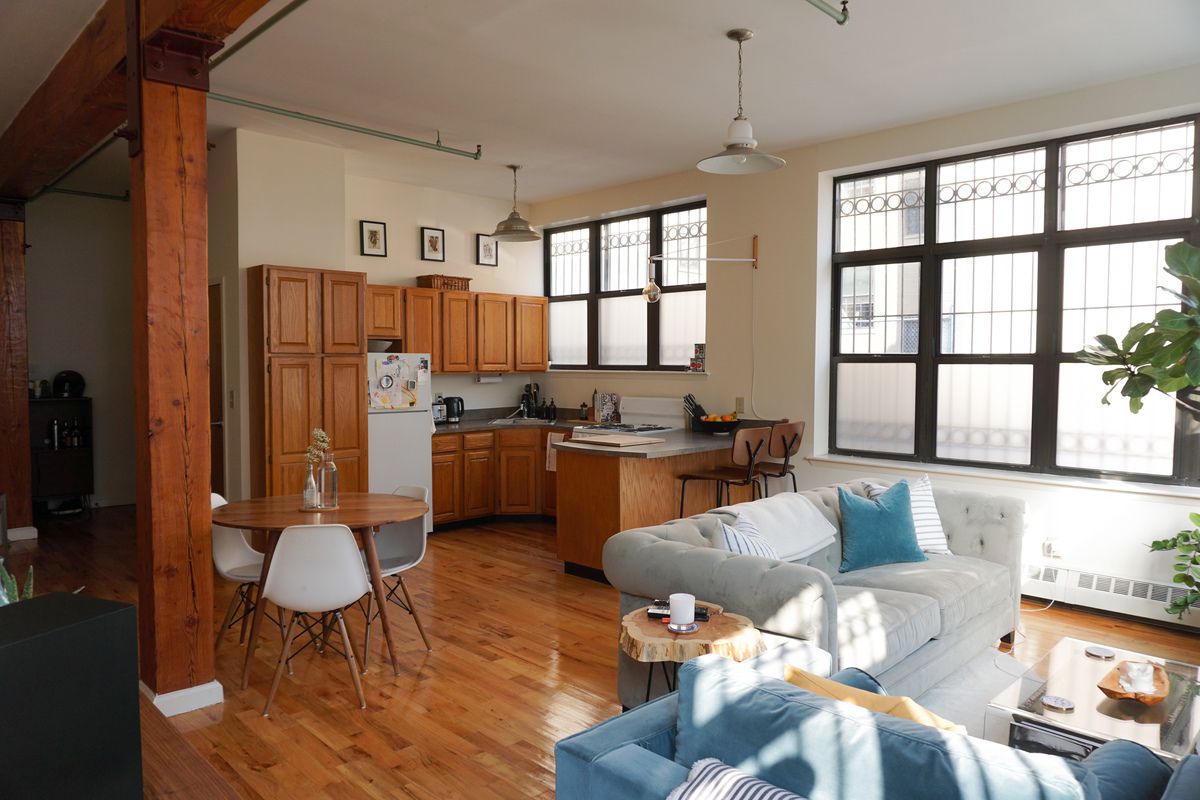 Pros and cons
"If you're looking for an industrially chic studio you have found nirvana in this Red Hook studio, which is about as far from a cookie cutter space as you can find. There's so much to love about the beams and the lighting, but the fact that the closest restaurants are about six blocks away while the Gowanus Expressway is just two blocks might be off-putting, with its incessant fumes and honking you're likely to hear around the clock." —Lambeth Hochwald
"Living in Red Hook after Hurricane Sandy exposed its vulnerability is a bit like choosing to live on the slopes of Mount Vesuvius, and shrugging to yourself with a 'what are the chances that it would erupt again?' Also, proximity to the highway and the noise and fumes. Research consistently shows that this leads to worse sleep, higher blood pressure, and can affect IQ. Then again, so does investment banking." —Constantine Valhouli 
"There's a lot you can do with this duplex. All that open space can be used in a variety of ways—more bedrooms or studio space. The upper floor, with its wood floors, thick beams and huge windows, has lots of character. The lower level is like a blank slate that's crying out for some kind of vision—or closets. But it's a really nondescript part of Red Hook with nothing close nearby except the subway, which is atypical for most of the neighborhood." —Jennifer White Karp
Whom it's perfect for 
"An artist or Red Hook wannabe who wants to give this funky neighborhood a try." —Hochwald
"Survivalists who have been saying to themselves, 'Well, if I had been there during Hurricane Sandy,' and want the chance to prove themselves when the next one hits. Or people who want to subdivide the 1,400 square feet of space into an artist colony, or a live/work space for a startup team since this is a zillion times (technical term, so don't @ tag me on this) cheaper than WeWork." —Valhouli
"A couple of creative types who put all that space to good use and not be put off by the address. In a few years' time, the street will probably be transformed anyway." —White Karp
Take it or leave it
TAKE IT. "We're talking rent-stabilized, no fee, and two bathrooms? Sign that lease!" —Hochwald
TAKE IT. "What, you're going to let a little flood risk stop you? It's 5X the apartment size for the price of a Yorkville studio, so just say goodbye to your IKEA furniture if it floods and have a kayak handy." —Valhouli
TAKE IT. "A duplex loft at that rent is pretty much like finding a unicorn in Fairway." —White Karp
Brick Underground articles occasionally include the expertise of, or information about, advertising partners when relevant to the story. We will never promote an advertiser's product without making the relationship clear to our readers.