If you moved to this rental apartment you would eat very well, as long as you have a curious palate. This one bedroom, 37-46 72nd St., #6B, is near some of the best restaurants in Jackson Heights (think Indian, Nepalese, Mexican, Spanish, and Thai).
Or you could cook—the kitchen is pretty snazzy with stainless steel appliances, Italian cabinetry, and stone counters. (What is that appliance below the sink? Looks like a dishwasher drawer. Maybe stick to takeout.)
There's loads of other high-end details and amenities here. The apartment has sustainable wide-plank oak flooring, custom closets, and thermal double-pane windows with solar shades. There's also a soaking tub and Bosch washer and dryer in the apartment according to the listing, although the washer and dryer are not visible on the floorplan or in the photos.
The building, called Roosevelt Park, has a 5,000-square-foot landscaped garden, a rooftop club, fitness center, and party room. There's also an indoor parking garage, children's playroom, yoga lawn (whatever that is), screening room, internet lounge, laundry room, bicycle storage, personal storage units, and outdoor kitchens with grills. Keep in mind there are 154 units, so you'll be sharing the units with lots of other tenants.
And you'll be paying more to live here than in other apartments in the neighborhood. The median asking rent for a one bedroom in Jackson Heights is $1,842, according to StreetEasy, way below the $2,350 at which this apartment is listed. But the real or gross rent is actually $2,650 with two months free on an 18-month lease. You could also get one month free if sign a 13-month lease. There is no broker fee to pay.
Brick Underground's
Gross Rent Calculator
What's this?
Some New York City landlords offer a free month (or more) at the beginning or end of a lease. The advertised rent is the net effective rent.  The net effective rent is less than the amount you will actually have to pay --- known as your gross rent --- during your non-free months.
Brick Underground's Gross Rent Calculator enables you to easily calculate your gross rent, make quick apples-to-apples comparisons between apartments and avoid expensive surprises. All you'll need to figure out your gross rent is 1) the net effective rent, 2) the length of your lease, and 3) how many free months your landlord is offering.  [Hint: Bookmark this page for easy reference!]
To learn more about net effective versus gross rents, read What does 'net effective rent' mean?.
Months
If the landlord is offering partial months free, enter it with a decimal point. For example, 6 weeks free rent should be entered as 1.5 months.
The building is two blocks from the Jackson Heights-Roosevelt Avenue train station, where you can catch the E, F, M, R, and 7, and could get to the Empire State Building in 30 minutes. 
So what do you think? Is it worthwhile to pay extra for these amenities?
As always, when weighing New York City apartment listings, we turn to our Take It Or Leave It experts: Constantine Valhouli, founder of real estate research and analytics firm NeighborhoodX, freelance writer Lambeth Hochwald, and myself.
But first, here are more pictures of the apartment.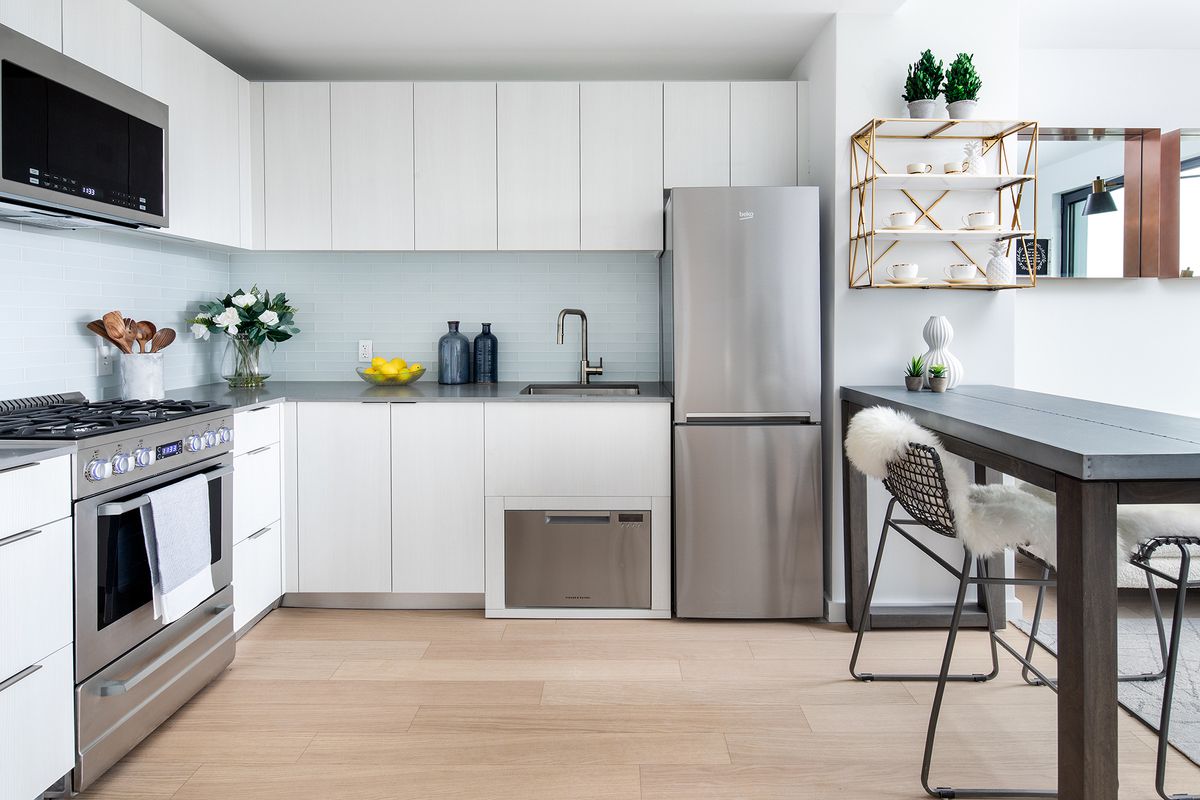 Pros & cons
"No man or woman is an island, so they say, but a move to this Jackson Heights building might be just the ticket if you're just plain sick of paying through the nose to live in the island of Manhattan. And, with all of the amenities that Roosevelt Parc offers—we're talking soaking tub and in-unit Bosch washer/dryer—you might just want to consider this your own personal island oasis in the heart of Queens." —Lambeth Hochwald
"Jackson Heights is one of our favorite neighborhoods, for the combination of architecture, parks, and above all, the food. It's one of those unpretentious neighborhoods that retain the vitality of 'Old New York' (by which I mean late 1990s, not the 'Gangs of New York' 1860s vitality or 1970 Warholia). This feels like one of those buildings that longtime residents will complain is changing the character of the neighborhood, while newer residents will feel like they're closer to Manhattan with all of the amenities. The design is understated and pleasant, but bordering on the forgettable—except for the lobby." —Constantine Valhouli
"It's pricey but the rent beats what you can find in a comparable new development in Downtown Brooklyn with a similar, direct commute. If you want a new development rental for under $2,750, you're going to need to look in Bushwick, Flatbush, or Midwood—neighborhoods that don't have the combination of easy commutes and good eats that you find in Jackson Heights. Plus the apartment has an open feel with a big closet by the front door—which weirdly enough is not always the case for lots of new apartments. Note to developers and architects: Please put coat closets next to the front door." —Jennifer White Karp
Who is it good for?
"A foodie couple on a personal quest to try out each and every one of the neighborhood's finest cuisines from around the world." —Hochwald 
"You work in Midtown and don't mind contributing to the gentrification of one of the under-the-radar neighborhoods in Queens." —Valhouli 
 "Someone who works long hours at nearby Elmhurst Hospital." —White Karp
Take it or leave it? 
Take it. "It's a half hour from the Empire State Building, sure, but have you seen that landscaped roof garden?" —Hochwald
Take it. "Because nowhere else are you going to want to go out for five-star Tibetan momos, and realize that you can take your pick from among six restaurants in the neighborhood." —Valhouli
Take it. "You could live nicely here, ordering a different kind of take out every night, tossing your plate in your dishwasher drawer (let us know how that works out), and heading downstairs to the gym to work off those calories."  —White Karp
Brick Underground articles occasionally include the expertise of, or information about, advertising partners when relevant to the story. We will never promote an advertiser's product without making the relationship clear to our readers.