Bedford-Stuyvesant, which was on the top of our latest list of the 10 best NYC neighborhoods for college grads for the second year in a row, is rapidly changing, as developers renovate the neighborhood's iconic brownstones.
It is a magnet for young renters, who come for the area's relatively inexpensive apartments, and find a festive neighborhood with block parties and street fairs. (Director Spike Lee's eighth annual "Brooklyn Loves Michael Jackson" block party will be held August 25 from 12 to 7 p.m. on Stuyvesant Avenue between Lexington Avenue and Quincy Street.)
But while commuting transportation to Bed-Stuy is difficult, there is some relief in sight. There are improvements planned for the A and C train, and longer trains and more frequent service planned for the G. And for those who don't want to wait for the train: Citi Bike usage has been increasing with the addition of new stations and bikes in the area.
Against that backdrop, consider 68 Halsey Street #4F, a four-bedroom, one-bath apartment on a tree-lined street, landmarked block. It is asking $4,350 with no broker's fee and appears renovated and roomy, with lots of closet space, and a kitchen with a granite counter top and dishwasher. According to the listing, there's central air (which is rare for a rental).
The building is three blocks from the A and C trains at Nostrand Avenue, and around the corner from shopping on Fulton Street. Guarantors and pets are allowed.
As always when weighing New York City apartment listings, we turn to our Take It Or Leave It experts: Constantine Valhouli, founder of real estate research and analytics firm NeighborhoodX, freelance writer Lambeth Hochwald, and myself.
But first, here are more pictures of the place: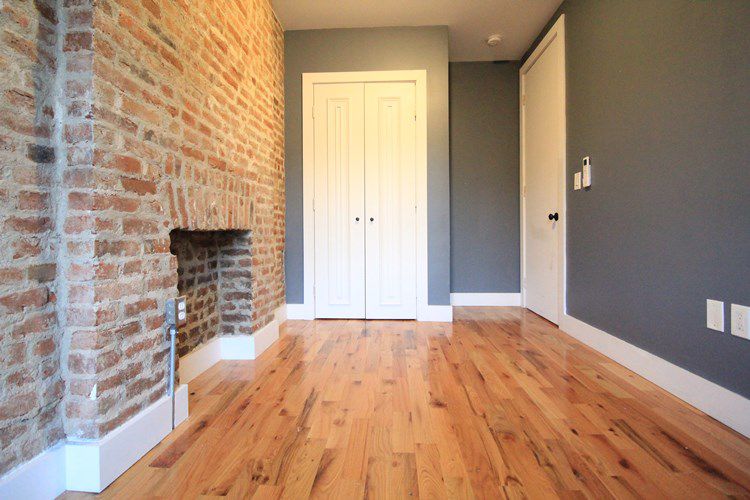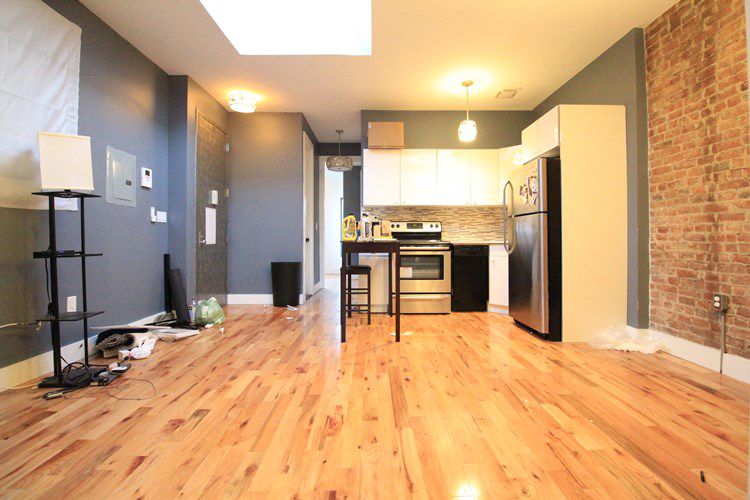 Pros and cons
"I'm a sucker for exposed brick and this Bed-Stuy four-bed is lined with it. The kitchen and solo bathroom are also nicely renovated but that's also the rub—the kitchen appears to be part of the living room and there's only one bathroom, which isn't going to work well for four singles attempting to get ready for work at the same time." —Lambeth Hochwald
"On one hand: Emerging neighborhood, and a chance to live in New York City in a beautifully renovated apartment for under $1,100 a month each in rent. On the other hand: The owner thought to himself, 'Millennials are just ... different. They're into this gig economy thing. They're bringing back the color pink. They dig avocados. And ... they don't go to the bathroom.' Because clearly, some variation of this line of thinking occurred since there are four bedrooms and one bathroom." —Constantine Valhouli 
"The block looks charming, but isn't there an empty lot next door? Still, this is a classic, gorgeous brownstone and the apartment looks incredibly spacious. What's not to love? Well, the bathroom situation. That's hard to wrap one's head around." —Jennifer White Karp
Whom it's perfect for 
"A work-from home couple either with a baby on the way or the desire to finally have enough room for one home office per person. There are a lot of bedrooms in this place." —Hochwald
"People with really resilient bladders." —Valhouli
"Roommates who work a variety of shifts so there's less demand for the bathroom at the same time." —White Karp
Take it or leave it 
LEAVE IT. "Don't forget you're walking up lots of flights to get here." —Hochwald
TAKE IT. "Because it's NYC under $1,100 a month, and that's worth all kinds of compromises. Get medieval and bring a chamber pot, and empty it out the window like in Chaucer's stories." —Valhouli
TAKE IT. "It will build character." —White Karp