Imagine living in a neighborhood where you could not only dine out often but also eat incredibly varied and culturally authentic food, like Indonesian satay, Greek pork gyro, and Vietnamese Banh Mi.
One of the best ways to experience different cultures is through food, and one of the best places to do that is in the Queens neighborhood of Astoria. You can sample all of the above dishes, and much more. Feel like you need a guide to help navigate Queens dining? Check out the blog Chopsticks and Marrow by food writer Joe DiStefano for an insider's take on where to go.
If you want to live relatively close to all this culinary deliciousness, check out this one bedroom, one bath at 30-30 45th St., #2R. It is asking $2,500 and the fee is "negotiable," according to the listing.
It's a pretty luxurious apartment for the price, with a seemingly large private terrace (more on that in a minute), plus stainless steel appliances, quartz countertops, a washer/dryer in the unit, and Mitsubishi split ACs in each room, and a dishwasher. The apartment is available Dec. 1. It's about four blocks from the R train at Broadway.
As always when weighing New York City apartment listings, we turn to our Take It Or Leave It experts: Constantine Valhouli, founder of real estate research and analytics firm NeighborhoodX, freelance writer Lambeth Hochwald, and myself.
But first, here are more pictures of the place: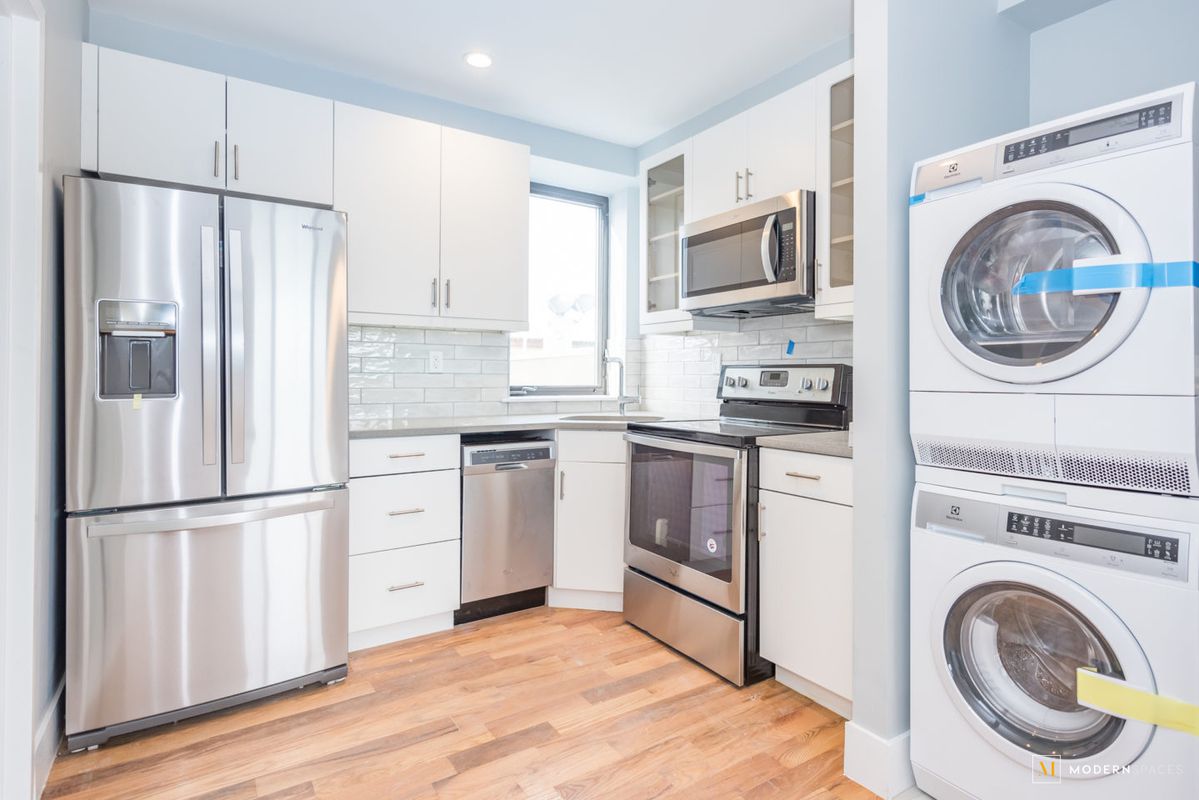 Pros and cons
"Props to whoever thought through the details on this apartment. The sparkling kitchen—all hail subway tiles!—and wood deck floor are so rare in a rental and it's nice to see that attention to detail." —Lambeth Hochwald
"A rooftop hobbit-den with a massive private wooden deck, all-new everything, and a washer/dryer? It's like living in the Shire for the same price as a run-down studio apartment in Mordor. The kitchen could benefit from an island, from some more counter space, perhaps, but other than that; this looks like a thoughtful and original renovation throughout." —Constantine Valhouli 
"Astoria is fun—and with this apartment, you are a few blocks from bars and restaurants on 30th Street west of Steinway Street, and also on Steinway itself. In the words of my colleague here at Brick: 'The neighborhood is bumping.' So that seems like a good endorsement. But for such a great-looking apartment, it's a little nerve-wracking not to see a floor plan or square footage—is this an oversight or a red flag? Don't fall in love until you see how big it is." —Jennifer White Karp
Whom it's perfect for 
"A couple who don't mind forking over a little extra for a huge space to plant or party on." —Hochwald
"If your precious is being able to live near museums and lively Greek cafes and restaurants (pros: plate smashing, flaming cheeses, flaky desserts that would make Stoic philosophers weep), while still keeping a reasonable commute to midtown, then this is your One Ring. If you're working downtown, not so much." —Valhouli
"An adventurous couple that wants to explore new restaurants, and cook for friends and have parties on the terrace." —White Karp
Take it or leave it 
TAKE IT. "Provided there's nothing wrong with the building itself." —Hochwald
TAKE IT. "Gollum is Sméagol." —Valhouli
TAKE IT. "You could paint an X on the roof and rent it out as a helipad. Kidding." —White Karp
Brick Underground articles occasionally include the expertise of, or information about, advertising partners when relevant to the story. We will never promote an advertiser's product without making the relationship clear to our readers.