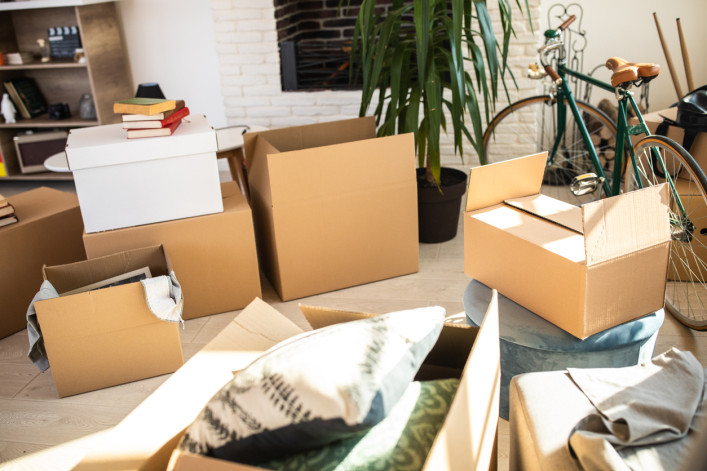 Sometimes you need to move out of your New York City rental earlier than you planned. If you need to break a lease, it means you're breaking a contract, so there are some consequences—and some protections—you should know about.
When tenants in New York break their leases, landlords are supposed to do all they can to help find a replacement tenant. However, it's still you—the original tenant—who is on the hook for the rent until a new tenant is in place.
The number of New Yorkers breaking their leases reached record highs during the pandemic, and Brick Underground asked renters about the lessons they learned on how best to navigate the process. One major takeaway: Having a good relationship with your landlord can go a long way when you need to leave early.
You should also brush up on the difference between a sublet and an assignment. When a lease is assigned to someone else, you are released from your financial responsibilities. If you sublet, your name will still be on the lease and you'll typically need a separate contract with the incoming tenant. 
Here's a tip from Phil Horigan, the founder of Leasebreak, a website where you can find renters to take over an unwanted lease: Make sure you run a credit report on a prospective subtenant.  
"In most cases I have heard about where a tenant has gotten burned by a sublet, the tenant did not run credit. Just insisting on running credit will often turn away the bad apples," he says. 
Read on for more on what New Yorkers learned when breaking a lease.
1. Get everything in writing
Molly, a Brooklyn renter who asked we use a pseudonym, broke her lease a few months early and says her landlord was fine with it as long as she got a replacement tenant.
She found two good candidates and as soon as the landlord officially approved one of them, she turned in her keys to the superintendent. However, when the security deposit wasn't returned within 14 days—and no itemized list of damages or repairs was sent within that timeframe—she followed up and was told no one had taken on the lease and she still owed rent. Her advice to anyone going through a lease break would be to get everything from the landlord in writing. 
"Emails are great, and so are texts, but no phone calls! This is especially important if your landlord is a big management company. You will get lost in the cracks. They do not care about you. Then follow up, follow up, follow up. Follow up with the old landlord. Follow up with the new tenant. And rinse and repeat until you are sure they are legally in and you are legally out," she says.  
2. Use all available online resources
When you're looking for someone to take over your lease, there are several online resources. Molly suggests using as many resources as possible.
In addition to using Leasebreak, "If time is of the essence, or getting that deposit back is really important, I would advertise everywhere possible, including sites like Craigslist and Listings Project as well as Facebook groups," she says.  
3. Give yourself time to find a new tenant
Mary Anne, a renter on Upper East Side who also asked we use a pseudonym, says she wanted to find a bigger apartment during the pandemic so she could work from home more comfortably. She looked into breaking her lease six months in. She recommends giving yourself plenty of time to find a new tenant and be completely transparent with them about the quirks of your building. 
"In retrospect I would have started a bit earlier—there are lots of inquiries that don't lead to serious potential tenants. It took me almost a month to get a tenant and I couldn't match the pandemic incentives being offered at the time by some of the large buildings. I'd give it at least two or three months to find someone—earlier than that probably isn't worthwhile but if I did it again I'd give it more than four weeks.
"Also, the building has a strict no smoking policy and although pets are allowed, dogs are not permitted in most places, they need to use a side entrance and aren't allowed in the lobby. You have to be upfront about the negatives and the positives of the building in order not to waste anyone's time," she says.  
Fiona Farley broke her lease on the Upper East Side to move in with her partner. She did the opposite of Mary Anne and says she started looking for someone too early. She thinks a six week lead time is probably the sweet spot. 
"Next time, I would probably not look for someone for my lease break as early as I did. I started showing my apartment two months out and people would come see my apartment but they just weren't ready to make the commitment that early. I would wait closer to six weeks to when the apartment is available. I would also strictly state the terms in the listing, for example clarifying that sublets are not allowed, I got a lot of questions about that," she says. 
Ismail Mustafa bought a condo and wanted to break the lease on his apartment in Dumbo to align with the date of his closing. He says his landlord was very accommodating and told him he could arrange a sublet, transfer the lease to someone else, or break the lease by paying two months of rent upfront. He ended up transferring the lease to a new tenant but says the more time you give it to find a tenant, the better.  
"Start advertising your place as early as you can—assuming you know exactly when you need to leave your place. We're in a very popular neighborhood and it still took 15 days, and six showings to find someone," he says. 
4. Search for a tenant like it's your job
Farley says her landlord was helpful in answering her questions about the lease break but the work of finding a new tenant fell largely on her, included advertising, taking pictures, and showing the apartment to interested renters. Her advice to anyone hoping to break their lease is to treat the process of finding a new tenant like a second job.
"You have to be like an [agent] for your own apartment. Be available to show your apartment, make sure it's clean and looks presentable. Make sure your pictures are high res and make sure you have multiple angles of the place so there are no surprises. Answer prospective tenants questions in a timely manner and be respectful of their time too. Also, include as many details as possible in the listing to avoid excess back and forth," she says. 
Molly was showing the apartment with a toddler underfoot and admits it was difficult to show the place while packing, especially with a four year old who didn't want to wear pants for "visitors."
5. Consider leaving the furniture 
Mary Anne discovered that a lot of people interested in taking over a lease for six months or less are looking for a furnished rental. If you can, she says, you might want to consider leaving furniture as a perk.
"I left a bed, mattress, TV, and a chest of drawers, which was preferable to reducing the rent or offering a month free. For the new tenant, it is actually a sublet and the lease is still in my name. The building has prepared a sub-tenancy agreement and I can get the furniture back because I have it covered in a contract with the new tenant," she says. 
Farley also offered what she calls "incentives" to those looking to takeover the lease. "I offered to leave my couch and kitchen table at no charge for the next tenant, which saved them money and made the move more convenient," she says. 
6. Be clear about accepting deliveries 
For Mustafa, one of the headaches he had was accepting deliveries for the incoming tenant before he'd moved out. He suggests having clear rules on package deliveries.
"Don't offer to accept packages for the next tenant prior to them moving in. It ended up working out this time, but it required a lot of back and forth communication between concierge, the building manager, us, and the new tenant. Even then, some packages were turned away," he says. 
Brick Underground articles occasionally include the expertise of, or information about, advertising partners when relevant to the story. We will never promote an advertiser's product without making the relationship clear to our readers.