Ask an Expert
The fridge and stove in my rent-stabilized apartment are broken. Do I have to pay for replacements?
If they can't be fixed, an owner must replace them and is allowed to raise the rent slightly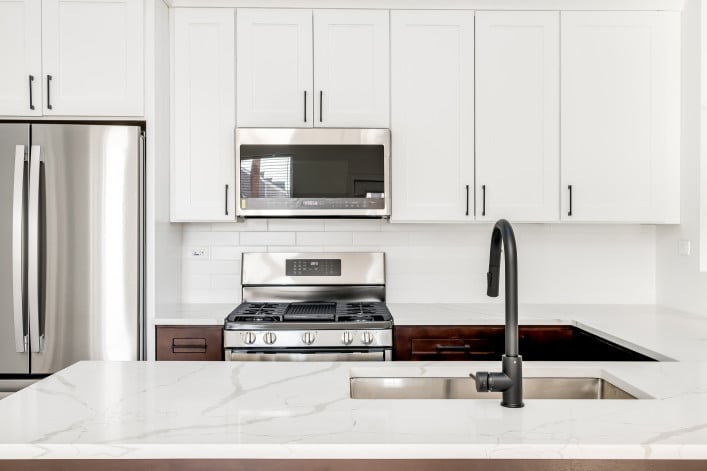 I've lived in a rent-stabilized apartment for 23 years. Both the stove and refrigerator are broken. I asked for replacements and was told they would be installed at my expense. Is this correct?
You may have to cover part of the cost of new appliances if your landlord opts to replace your refrigerator and stove, according to our experts. 
Because you live in a rent-stabilized apartment, your landlord has a responsibility to keep any appliances they installed in safe, working order, according to New York City's tenant's rights guide. 
You may be surprised to find out that your landlord isn't obligated to provide a refrigerator or oven, but the vast majority of landlords provide kitchen appliances because it's more practical. How many renters would sign a lease for an apartment that lacks a fridge?
If there was a refrigerator and oven installed at the beginning of your lease, "they are responsible for maintaining, repairing and replacing them as required," explains Jennifer Rozen, managing attorney at Rozen Law Group.
No replacement required
Your landlord, however, doesn't have to replace your refrigerator or stove unless the appliances are truly beyond repair, says Sam Himmelstein, a partner at Himmelstein McConnell Gribben & Joseph (and a Brick sponsor FYI). In other words, if you want a brand new refrigerator and not just a functioning one, you might have to pay up.
"If they are in fact beyond repair it is the landlord's obligation to replace them at the landlord's expense with appliances of equal or superior quality," Himmelstein says. "If the tenant insists on new appliances despite that the existing ones can be repaired, the landlord can pass the cost on to the tenant."
You would also have to cover the cost of both replacements in the unlikely scenario where you originally installed both your refrigerator and oven, says Catherine Grad, a partner at Himmelstein McConnel Gribben & Joseph. 
A (slight) rent increase
Your landlord could increase your rent up to 1/168th of the cost of the new appliances if you live in a building with 35 or fewer units, or up to 1/180th of the cost if you live in a building with more than 35 apartments, according to the New York State Division of Homes and Community Renewal (HCR). So for example, if you live in a small apartment complex and the total cost of the appliances is $2,500, you could expect your rent to go up by $14.88. 
If your landlord does plan on raising your rent in exchange for the new fridge and oven, they'll need to get you to sign a consent form which will list the total price of the upgrade, giving you a sense of how much your rent will rise. To collect that rent increase, your landlord also has to notify HCR of the planned improvement before it takes place and after it is completed, according to HCR. 
Sticking with what works
If you don't want a rent hike, you might have to accept an ugly, but functioning, refrigerator and oven, Grad says.
"What is frustrating for many tenants is you'll have a situation where a refrigerator is really old, it isn't in the condition that one wants, or it doesn't have the freshness we would like our refrigerator to have because of age," Grad says. "But if the refrigerator is still keeping things cold…the fact that it's no longer aesthetically pleasing doesn't require the landlord to replace it."
Brick Underground articles occasionally include the expertise of, or information about, advertising partners when relevant to the story. We will never promote an advertiser's product without making the relationship clear to our readers.