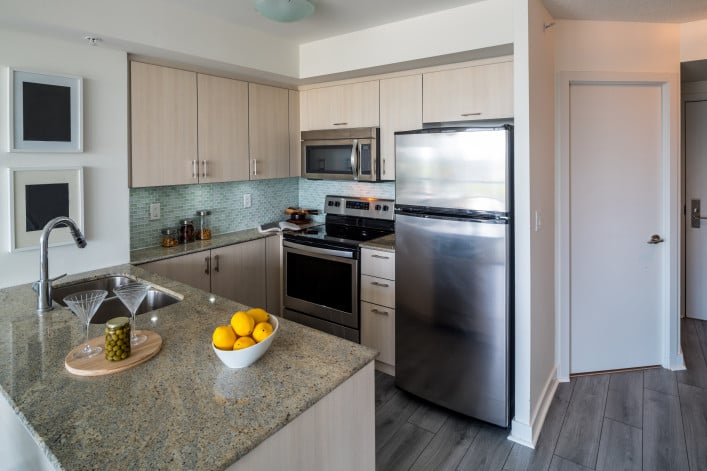 The refrigerator in my New York City apartment doesn't get cold enough and my produce quickly goes bad—but my landlord refuses to repair or replace it because "it still turns on and is cold," he says. What can I do?
A fridge that isn't cold enough is a waste of food and money, especially if you're buying in bulk during the pandemic. And if the insufficient temperature is a result of your refrigerator not working, then you should reach out to your landlord, but there are a few things to consider first.
You can try some troubleshooting: Make sure that it is not so full that food is blocking the vents that circulate the cold air. You can also try these ways to store food so it lasts longer: Don't wash produce before you put it in the fridge, store fruits and vegetables separately, and use a container that is designed to keep produce fresh.
---
[Editor's Note: Realty Bites tackles your NYC rental questions. Have a query for our experts? Drop us an email. We respect all requests for anonymity.]
---
Still not cool enough? It may surprise you to know that NYC landlords are not required to provide kitchen appliances, and that includes a refrigerator, according to Grace Munns, a spokesperson for the Department of Buildings, "However, it is standard practice for them to do so," she says. After all, if you were shown a rental without a fridge, you're not likely to sign a lease.
Strictly speaking, under the city's Housing Maintenance Code, your landlord is only legally required to provide  "gas or electricity for cooking and a sink with running water," Munns says.
However, since your landlord has already provided this appliance, it has to be maintained in "good working order," says Steven Kirkpatrick, a partner at the law firm Romer Debbas. This is likely outlined in your lease.
But that doesn't mean that you're going to get a brand new refrigerator if the one you have is not working well. Kirkpatrick says your landlord can choose to repair it, or replace it with a used refrigerator. If you're rent stabilized, the replacement must be the same size. Market-rate tenants don't have that rule.
According to the Food and Drug Administration, your refrigerator should stay at 40 degrees or colder, and your freezer should remain at zero or colder. So, if you're able to measure the temperature of your fridge and the temp is above this, then you may have a case.
Another solution: Negotiate. You can offer to get it repaired and deduct the cost of the work from your rent—but your landlord would have to agree to this first.
If your landlord is still refusing to fix it, you can file a complaint with the Department of Health, Kirkpatrick says. "They would send out an inspector who would check the unit and decide to issue a violation or not," he says. If a violation is issued, your landlord must resolve the issue. 
More often than not, your landlord will make the fix because it's much easier, and more affordable, then ending up in litigation over a refrigerator. "Most of the time, it's cheaper for them to just buy a new refrigerator," Kirkpatrick says.
If you plan to stay in the apartment for a while, and the refrigerator really bothers you, you could offer to buy your own refrigerator to replace it. However, your landlord could make you leave it when you move out if there's an argument that the original was still in good condition, Kirkpatrick says. So, make sure you have a solid agreement with your landlord and put it in writing. 
Brick Underground articles occasionally include the expertise of, or information about, advertising partners when relevant to the story. We will never promote an advertiser's product without making the relationship clear to our readers.