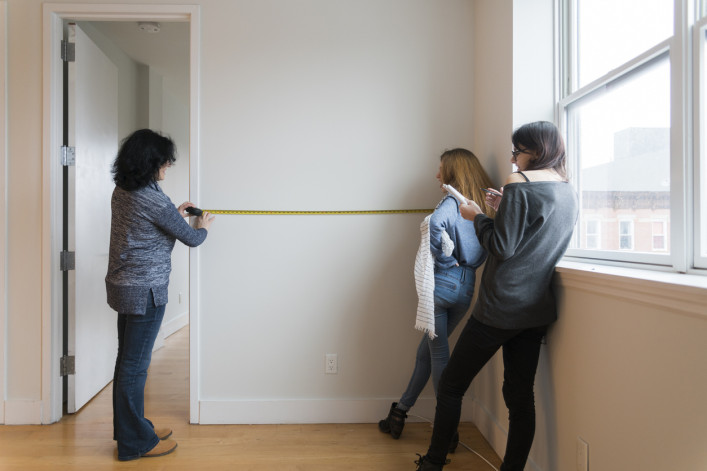 It might sound old school, but when you check out a rental apartment in person, don't forget to bring a measuring tape. New York City apartments are small, and landlords and developers may cut corners, creating kitchens with shallow drawers or cabinets and bedroom closets that don't fit full-size hangers. These design issues can appear in both reconfigured older apartments and new developments, often a result of builders trying to maximize the number of units in a building.
A measuring tape can help you spot design flaws and also avoid unpleasant surprises—like finding out a bedroom is too small to be legal. Alex Caballero is a practicing architect and also an agent with NY Living Solutions and often carries a measuring tape as well as basic blue painting tape to viewings so his clients can see if the space will work for them. (You can also use measuring apps on your phone but accuracy can be affected by bad lighting or another tenant's furniture.)
Now that so many New Yorkers need the flexibility to work from home, you may need to find out if you can fit a desk in your bedroom. "Knowing the basic measurements of your current or new furniture prior to going and seeing apartments is key so you don't waste your time," Caballero says.
With that in mind, here are the measurements you should be checking when you view an apartment.
1. Find out whether your furniture will fit
Measuring the living space and bedrooms can help you figure out if your furniture will fit. (You would be surprised how many people don't do this.) Ari Harkov, a broker with Brown Harris Stevens, says if you're planning on buying a new bed or couch, measuring the space can also be helpful especially amid the current supply chain issues, which are delaying deliveries. It means you can order your furniture right away.
"If the living room is tight and you're trying to squeeze in a couch, chair, desk for home office, dining table, you can check the rough spacing right away at a showing," he says.
Sometimes it's also difficult to figure out where you'll place the television. Scotty Elyanow, a broker with Compass, points out you don't want to block a window. He advises against being too attached to an oversized piece of furniture you already own that will throw off the balance of your apartment. "If it's a family heirloom, put it in storage until you get the right apartment," he says. After all, you may decide to move within a year or two. 
2. Check if the bedroom is a legal size
In unusually shaped bedrooms with angled walls you can use a measuring tape to determine if your bed will fit with clearance. Harkov says many rental listings do not have floor plans, or if they give the dimensions of a room it will just be the length and width. If a bedroom feels small, check the length, width, or height. As well as having two means of exit (a door and a window) a legal bedroom must have walls and a minimum ceiling height of at least eight feet with a square footage of at least 80 feet. 
Another issue to consider in the bedroom is how the bed will fit with the radiators. Elyanow says you don't want to put your bed right up against a heating vent or radiator. "It may block the heat coming into the room or potentially allow you to burn yourself," he says. Another safety issue is to make sure you have enough outlets so you can avoid overloading the electrics.
"Too many extension cords could result in a safety issue," Elyanow says. 
3. See if the closets hold full-size hangers
If the apartment has limited closet space, consider where you will store all your clothes, shoes, and bathroom items. It's not uncommon to find closets that are too shallow to accommodate standard 17-inch clothes hangers. If it looks skinny, get out your measuring tape to check. It might not be a deal breaker but at least it won't come as a surprise when you have to hang your clothes at an angle or swap out the standard hangers for smaller children's ones.
Another consideration is how the closet doors hang in the bedroom. Molly Franklin, an agent at Corcoran, recommends measuring the width of the door and factoring that in when you measure for the bed—you'll want to avoid having a closet door hit your bed all the time. "Doors change the geometry of a room," she says. The closet door's width and the arc of its swing might affect the size of the bed you install. Franklin says you might be able to take the door off the hinges with your landlord's approval and install a curtain to avoid a daily obstacle course.
Caballero has seen plenty of apartments with tiny or non-existent closets. "You might have to think of getting a platform bed with plenty of storage underneath it where you can store your luggage with clothes inside," he says. Caballero also says he's seen plenty of people use kitchen cabinets and even the oven to store shoes and clothes (like Carrie Bradshaw in "Sex and the City.") Consider whether this is a storage solution you're willing to try.
4. Gauge the depth of kitchen drawers
Small kitchens can be particularly funky. Six-foot-high shelving, storage above the sink, a fridge that opens the wrong way—none of these details are convenient. You don't need a measuring tape to tell you this but you might want to pull out the cabinet drawers with your measuring tape handy. Drawers with a depth of two inches will be much less practical than those with a depth of four or even three inches. For example, the standard silverware caddy might not fit in a shallow drawer. This can be a feature of cramped kitchens and it can be frustrating if you aren't aware of it beforehand. 
Measuring the depth of the cabinets can also be helpful. Franklin points out that in older or cheaper kitchens, the cabinets might not be deep enough or wide enough for oversized plates. "It's a real consideration—having proper storage changes your whole psyche. If you have clutter everywhere you can feel crazy," she says.
Beware also the faux cabinets: "Don't assume a cabinet is a cabinet, open things up," Franklin says. Sometimes decorative panels in the kitchen are a design choice to make the kitchen look seamless but provide no additional storage. 
Caballero also has a tip for renters with small kitchens but eager parents (or roommates) wanting to stock up with bulk supplies. "It might feel like you're saving money by buying a lot but it's a huge mistake when trying to store it—you will have toilet paper and paper towels laying around everywhere in your apartment," he says. 
5. Measure the windows
Landlords aren't required to provide curtains or blinds for your windows. In New York many windows are not standard size. Franklin says she regularly hears of renters saying they've bought 15 different rolling shades over the years. If you measure the windows you may find you're in luck and don't have to add to your collection.
Like window screens to keep bugs out (which are also not typically an item provided by landlords) there are inexpensive window treatments you can buy fairly easily. 
Brick Underground articles occasionally include the expertise of, or information about, advertising partners when relevant to the story. We will never promote an advertiser's product without making the relationship clear to our readers.