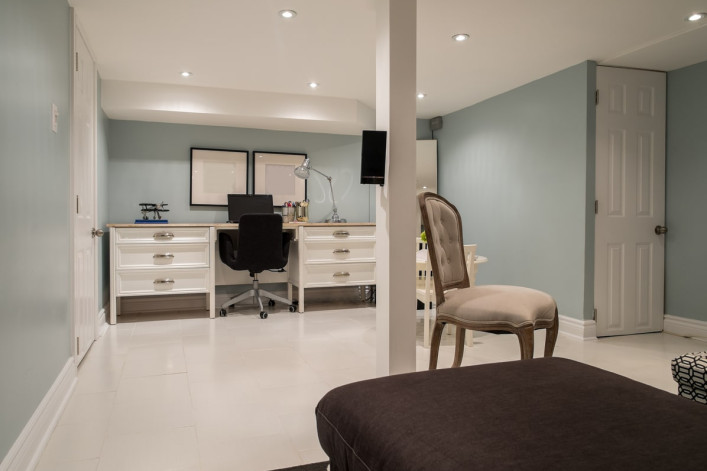 If you're looking online for a very cheap place in New York City, your search results might show you a basement apartment. And the problem is—at first glance—you might not be able to tell that it's a basement. Sometimes listing descriptions can be misleading.
"A wonderful garden-level two bedroom in the heart of Ridgewood" might sound perfect, and the pictures may look perfectly fine, especially when the rent is right, but once you trek out to Queens to see it in person, you may find out that it's a basement space.
There are risks involved with living in a basement apartment, and sometimes those risks turn deadly. When the remnants of Hurricane Ida hit the city earlier this year, at least 11 people died as result of flash flooding that trapped them inside their basement apartments. It's important not to waste time and not be tempted by apartments that are cheap because they are potentially dangerous.
Of course, not all basement apartments are problematic. A basement unit can be considered habitable if it meets requirements for minimum floor-to-ceiling height, emergency exits, natural light and air, and fire protection. In addition, the basement must have at least
50 percent of its height
above street level. If if is less than 50 percent above street level, then it is considered a cellar and should never be occupied as living space.
So when you're looking at listings online, ask these questions to determine whether or not it is likely to be a basement and if it's worth a visit in person. 
Do you see any windows? 
This is the biggest tell-tale sign that you're looking at a basement: There are very few windows and those that do exist have the blinds pulled down. Closed curtains are a sign the view isn't stellar. Closed curtains in a basement mean your nose is level with the backyard or you'd be looking out at exterior stairs heading up to the street.
It's not unusual to have a windowless galley kitchen or a windowless bathroom but if there are also no windows in the living room—and particularly none in the bedrooms—proceed with caution. 
Are the floors tiled? 
Water damage is often an issue in basements because the space is below grade. This is the term used to describe living space that's below ground level. Wood flooring will warp from moisture so in a basement you'll usually find tiled or linoleum floors that can better withstand exposure to water. 
Of course, tile or linoleum in a bathroom or kitchen is common but if you see it installed throughout the apartment you may be looking at a basement. 
Another tip is to look at the baseboards for signs of both water damage and staining. This might be difficult to see in listing photos but is a sign the apartment may have experienced flooding. If you make it to an in-person viewing, be on the lookout for signs—or the smell—of mold. Lawrence J. Ubell, president of Accurate Building Inspectors, previously told Brick: "The nose does not lie." 
Dealing with flooding or water damage and mediating mold in a NYC apartment is a major procedure and you want to know it's been dealt with comprehensively. 
Is the description pretty limited? 
If the description of the listing is just a couple of sentences, it may be that a broker is struggling to come up with ways to entice renters to move into the apartment. There may be very little going for the place except perhaps affordability. 
Of course, a brief description of an apartment isn't always a sign the place is a basement—the apartment may have only just been listed and the text hasn't been added by the broker. Another tip is to see how long the apartment has been on the market. If it hasn't been snapped up, there may be an obvious reason why. 
Is it much cheaper than comparative listings? 
If you're finding most two bedrooms in a specific area are listed with a rent of $2,500, an apartment of a similar size that is listed for $1,800 probably means it has some kind of drawback.
A study of residential projects in Manhattan and Brooklyn built in the last five years showed apartments below grade were, on average, 21 percent cheaper per square foot than other units in the same buildings, according to StreetEasy, which compared 75 projects with a total of 646 units that sold in the same buildings within three years. 
It's been said before but it's worth saying again: An apartment that is too good to be true is probably just that—too good to be true. 
Is there outdoor space? 
Access to outdoor space is increasingly a priority for New Yorkers, especially if you've become a dog owner in the past year, as many have. It's typical for a basement in a multi-family to have a front door under the stoop and for the back of the apartment to lead out to a backyard.
It you are adding outdoor space to your list of must-have amenities in your online search, you may well find basement apartments popping up on your list. 
Brick Underground articles occasionally include the expertise of, or information about, advertising partners when relevant to the story. We will never promote an advertiser's product without making the relationship clear to our readers.