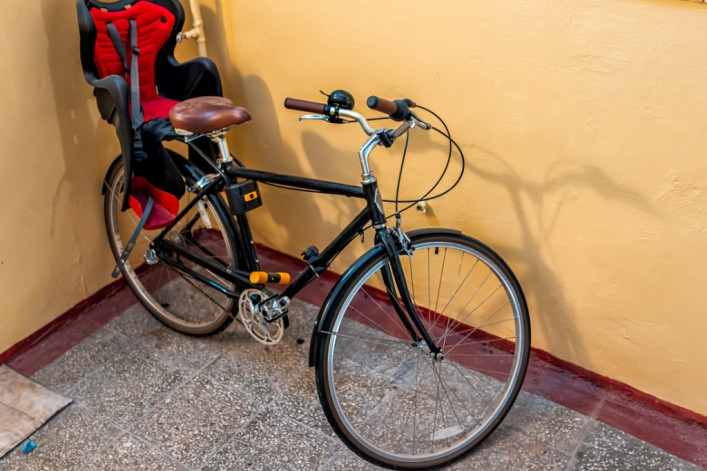 I live in a small rental building and my neighbor has taken over our hallway with their stuff. They use it to hang their clothes to dry and store their bikes and strollers. What can I do?
If your neighbor is hogging the hallway with their stuff, the rules are on your side, especially if you live in a small building because they may be creating a safety hazard. Here's how you can take steps to protect yourself.
The first thing you should know is New York City's fire code prohibits using a common hallway for storage because it could make getting out of a building in an emergency difficult and dangerous. Imagine what your hallway would be like if the lights were out and it was dark and filled with smoke—now imagine a firefighter trying to make their way past unknown obstacles. 
So if you feel like you or emergency personnel don't have a safe means of egress, you should reach out to your landlord immediately.
---
[Editor's Note: Realty Bites tackles your NYC rental questions. Have a query for our experts? Drop us an email. We respect all requests for anonymity.]
---
Because of these hazards, Bill Kowalczuk, a broker at Warburg Realty, says that buildings don't usually permit tenants to store items in the hallway. However he says it does occur sometimes in spaces that are only used by one tenant and that other tenants do not pass through, like a top floor landing.
Most leases also state that personal items cannot be stored in common areas including hallways and lobbies, but some buildings will look the other way when, for example, some tenants keep their strollers on the ground floor.
There's a chance that your landlord is aware of this and doesn't consider it a risk. Craig Roche (a pseudonym), owns a multi-family building in Manhattan and says that his tenants' leases prohibit storing items in hallways, but he makes some exceptions and has added some safety measures. 
For example, he installed bike rack pulleys that hang from high ceilings to store bikes and keep them from blocking the exits. He also allows tenants to keep a stroller and shopping cart in areas that don't interfere with the doorway.
A member of the fire department visited and said it was acceptable, Roche says. "But I've put some effort into ensuring that all items are attached to walls or ceilings and don't block egress."

If your landlord isn't putting the same effort into maintaining a safe hallway, you can take photos of the items and send them to your landlord to show that you are taking this seriously. If this doesn't work, you can call or log on to 311 and file a complaint.
Brick Underground articles occasionally include the expertise of, or information about, advertising partners when relevant to the story. We will never promote an advertiser's product without making the relationship clear to our readers.