Realty Bites
Can I be a lease guarantor for both of my adult children? What are the risks?
It's an unusual scenario: Landlords assume a parent would be a guarantor on only one lease
And an expensive one: You would need to earn a minimum of 150 times the rent to qualify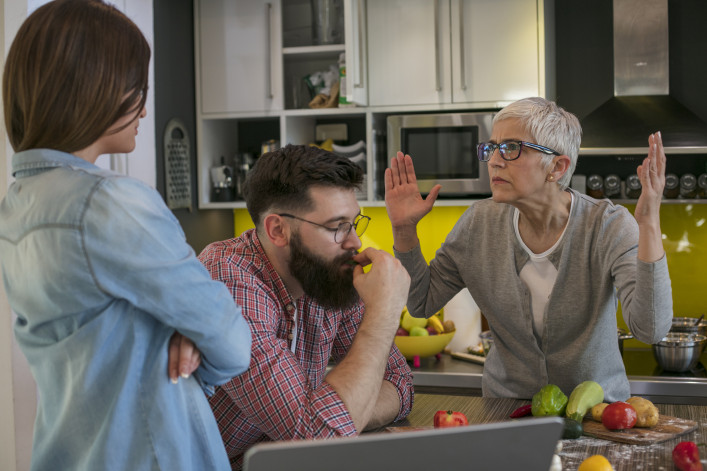 Nikola Ilic/iStock / Getty Images Plus via Getty Images
I have two adult children and I am currently serving as the lease guarantor for my eldest. When my younger child graduates from college and wants to get their own place, I know they will want me to be their lease guarantor as well. I want to help both kids equally but I need to know if this is a bad idea. What can you tell me?
We know how it is: You buy one kid something and the other one wants the exact same thing—and when they become adults the pattern doesn't change. This may be ok when it comes to sneakers and phones, if you can swing it, but when we're talking about guaranteeing the rent for two New York City apartments, you need to proceed cautiously.
Because the question isn't can you be a lease guarantor for two apartments. The question is: Why would you want to put yourself in that position?
It may sound like we're preaching a tough-love parenting style, but that's because the numbers are daunting. When you agreed to become the guarantor for your older child's lease, that meant you had to show the landlord you earn an annual salary that's at least 80 time the monthly rent on your child's apartment.
Why so much? Because if they stop paying, you need to be able to cover their housing expenses plus your own.
---
[Editor's Note: Realty Bites tackles your NYC rental questions. Have a query for our experts? Drop us an email. We respect all requests for anonymity.]
---
Now if you were going to become the lease guarantor for two apartments, you would need to earn a minimum annual salary of almost double the usual requirements for a personal guarantor to qualify, says Jeffrey Geller, vice chairman and chief operating officer of Insurent Lease Guaranty, an institutional guarantor (and Brick Underground sponsor). 
"It would be atypical to be an individual guarantor on numerous leases," he adds. Landlords will assume that a parent would be a guarantor on only one lease and may ask if they are a guarantor on another lease.  
If that's the case, an individual guarantor may need to make a minimum of 150 times the monthly rent to qualify," Geller says. So you are going to guarantee your younger child's $3,000 apartment in addition to their older sibling, a landlord would want to see that you earn nearly a half a million: $450,000.
Beware the impact to your credit report
Maybe that income requirement is not a problem for you and your family (in which case we would like you to adopt us as your children too.) But there's another consideration that may make this scenario unworkable for you: The impact on your credit report.
When qualifying you as a guarantor, each landlord will "pull" credit reports on you, which could have a negative impact on their credit report.
When your credit gets pulled, it sends a signal to credit bureaus that you may be taking on more debt soon, says Michael Lucarelli, CEO of RentSpree, an online rental application platform that vets renters for landlords.
Credit bureaus are trying to gauge your risk as a borrower, Lucarelli explains, and this type of "hard credit check" can damage your credit score. (RentSpree does a soft credit inquiry for TransUnion's screening reports, which will not ding your credit score.)
What is a hard credit check?
A hard credit pull usually damages your score by about five points but can go up to around 10.
"This problem is exacerbated by applicants who typically need to apply to two or more properties prior to being accepted," he says. "Each 'pull' from a landlord can damage your score by about five points," he says.
Parents considering becoming a guarantor should be aware that hard inquiries can remain on your credit report for up to two years. However, the impact on the score is less significant, around one year.
There are some workarounds: In New York, rent laws limit apartment application fees to $20 and also enable renters to take their credit score that results from the initial inquiry and submit it for subsequent apartment applications. (Some landlords may require that your score be sent from a third party to prevent any tampering.)
An alternative to a personal guarantor
You may want to say no, or at least work it out so you are only serving as a guarantor to one child at a time.
The other child doesn't have to be left out in the cold, you can steer them toward an institutional guarantor like Insurent.
When using Insurent, a parent or parents are the solely responsible party(ies) on the agreement, and no credit reports are pulled on the parents.
Typically, NYC landlords want personal guarantors to live in the tri-state area, or even in NYC, so it's easier to collect if the renter stops paying.
As Geller explains: Insurent will qualify a parent as a responsible party from anywhere in the U.S. or outside the U.S., and the parent only needs to have a minimum annual income of 50 times the monthly rent (versus the 75-90 times required by NYC landlords) or a minimum of 75 times the monthly rent in the bank or stock market funds anywhere in the U.S. or outside the U.S. 
Brick Underground articles occasionally include the expertise of, or information about, advertising partners when relevant to the story. We will never promote an advertiser's product without making the relationship clear to our readers.