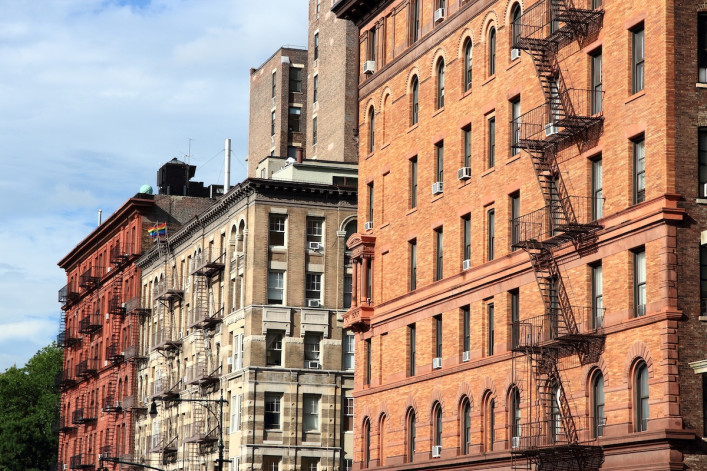 It's expensive to rent an apartment in NYC, and those high costs are exacerbated by brokers' fees and security deposits—two upfront costs that, alone, could have you shelling out thousands of dollars before you even move in.
But that may soon change. City Council members Keith Powers and Carlina Rivera have proposed a package of bills that would slash brokers' fees and security deposits in an effort to make renting a NYC apartment more affordable. 
Their legislation caps brokers' fees at one month's rent, instead of the standard 12 to 15 percent of the annual rent. Security deposits would be limited to one month's rent, and renters would have the option to spread the charge out over a six-month period. Landlords would also be required to return deposits within 60 days of a lease ending. [Editor's Note: The New York State Legislature passed major reforms in June that capped security deposits at the equivalent of one month's rent and created a deadline of 14 days for landlords to return a security deposit.]
"We're lifelong New Yorkers, we're both renters, and we hear from constituents all the time about the cost of living in New York City," Powers tells Brick Underground. "I was really interested in looking at what can be prohibitive to people, and I've heard a lot of constituents and New Yorkers in general talk about the large amount of money they have to put out just to move into a new apartment."
The bills are backed by "roughly half the council, which is a sign of strong support," Powers says.
While NYC renters are likely to support the proposed legislation, brokers are adamantly proposed.
"I am mindful of the impact on the people that work in the industry, and I've heard those concerns, and I'm taking them into account as we consider advancing the legislation," Powers says. 
Powers and Rivera have not yet requested a hearing with the City Council's housing committee, which is the bills' next step before going before the full council for a vote.
Brokers' opposition
Brokers argue that this type of legislation is a blatant overreach, and would hurt brokers' and agents' livelihoods. They're New Yorkers, too, after all.
"Limiting what you can charge on a particular kind of transaction, it creates a really dangerous type of precedent because if [council members] can do it to rental brokers, how long until they do it sales brokers, mortgage brokers, insurance sales people, lawyers, and doctors?" asks Douglas Wagner, director of brokerage services for Bond New York. "I don't think anybody in business in New York can condone any governmental body regulating rates that are charged in a competitive marketplace." 
Wagner worries the proposed bills to make brokers' fees and security deposits more affordable for New Yorkers will make the city unaffordable for the brokers themselves.  
"The average rental broker makes somewhere between $35,000 to $42,000 a year on straight commission, and they don't get a salary or health benefits," he explains. "They pay all of their own expenses because they work as independent contractors. Our agents are really concerned about paying their rents, student loans, kids' schools—and they're concerned they'll have to find another job." 
Brokerages may shrink
Should the legislation pass, Wagner expects to see rents rise and brokerages shrink as a result, since some management companies may have to hire staff to handle rentals in-house instead of using brokers to market and show available apartments—costs that are currently paid for by tenants in the form of a broker's fee.
"When those costs are included in a landlord or management company's overhead, you know that's going to be reflected in the rent," he says.
Powers disagrees with that assessment.
"If you want to see an apartment and the landlord opted to use a broker to market it, it seems unfair to me that the tenant has to bear the cost of that," Powers says. "That was the intention of the bill—we tried to create a limit on how much the renter would pay understanding that this is about people's lives."
Limiting security deposits 
Rivera's bill proposal to cap security deposits to one-month's rent mirrors the limit on fees for rent-regulated apartments. Plus, it gives renters the ability to pay the deposit over the span of six months instead of another substantial upfront payment. 
Sam Himmelstein, a lawyer (and Brick sponsor) who represents residential and commercial tenants, tenant associations, and co-op shareholders, sees the bill as especially beneficial to younger renters and students, who often have trouble paying security deposits because they may be struggling financially, are new to the job market, or don't have a good credit history. 

"I understand the landlord's perspective, but my perspective is that it's hard enough for these people to come up with the rent, then they have to come up with first-month's rent, security deposit...that's a lot of money for people to come up with in one shot," he says. 
Himmelstein is also in favor of the proposed 60-day security deposit return policy. 
"I see an incredible amount of security deposit abuse on the landlord end, where they'll not return security deposits for really bogus reasons—claiming damage to the apartment when in fact it's wear and tear, a few scratches on the floor, nail holes in the wall," he says. "Tenants are often forced to have to go to small claims court."
The risk to landlords
Security deposits are typically equivalent to one month's rent, but often they can be a couple month's rent if a tenant has bad credit, no job history, or no guarantor. While limiting them could help help renters save money, the legislation may put landlords, and even some renters, at risk. 
"The lease is a contract. One way of ensuring that landlords get their due is through security deposits, just as the name suggests," says Maxwell Breed, a real estate lawyer with Warshaw Burstein. "When a potential tenant doesn't have the credit history that might warrant the extension of such a contract, a greater security deposit can be one way of addressing that shortfall."
Breed also questions how capping security deposits will actually make housing more affordable.  
"The dollars and cents are the same at the end of the day—the rent for the apartment is what the rent for the apartment is," he says. 
Brick Underground articles occasionally include the expertise of, or information about, advertising partners when relevant to the story. We will never promote an advertiser's product without making the relationship clear to our readers.