Affordable Housing
NYC public housing residents are demanding the city make much-needed repairs, but the funding isn't there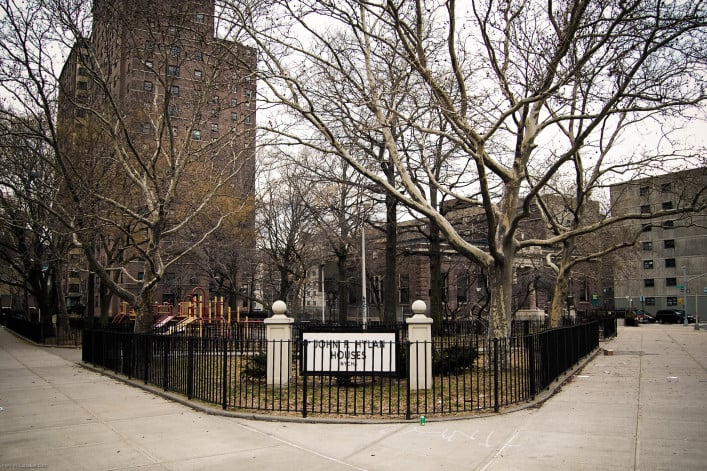 Tenants at the Red Hook Houses, Brooklyn's largest public housing complex, say the only way to deal with the city's negligence in maintaining their buildings is to go before a housing court judge, the Brooklyn Paper reports. Residents complained of longstanding issues with leaks, mold, and pest infestations that go unaddressed until they withhold rent and take the city to court. Only then, with a judge's court order in hand demanding the city's housing authority make repairs, is action taken, according to the paper. 
Some 400,000 New Yorkers live in NYCHA's 326 developments. The average household in public housing has an income of $24,336, and contributes 30 percent of that income to rent. The federal Department of Housing and Urban Development subsidizes the rest with taxpayer money. 
The Red Hook Houses is far from the only public housing complex with maintenance issues. Brick previously wrote about a public housing tenant in Harlem who said her building was a "horror story," as well as several NYCHA-owned brownstones on the Upper West Side that have similarly fallen into disrepair, with exposed gas pipes, broken windows, and sagging ceilings. WPIX recently visited a 91-year-old resident of the Frederick Douglass Houses with a hole in his bathroom ceiling that he said he'd been living with for years. 
A major reason for this level of neglect is the agency's financial troubles, which NYCHA itself acknowledges are serious. A decline in state and federal funding since the 1980s has left the housing authority in debt. Moreover, the agency estimates it would cost $17 billion to properly repair its properties, the majority of which are over 30 years old. There's no end to the bleeding in sight.
On the contrary, the president's initial budget proposal called for $6 billion cut in HUD funding, which would mean a further diminishing of federal support to the city's already beleaguered public housing.
For repair requests, the city directs NYCHA residents to a customer contact center (unlike other renters, who should file a complaint with 311 if there's an issue that their landlord or management company is ignoring). But given past reporting and the fact that the city has only just begun fixing damage from Hurricane Sandy to the Red Hook Houses' roofs, responses to maintenance complaints seem unlikely to be quick. 
Residents can also take their grievances to housing court by filing an "HP" proceeding at their local housing court, according to MFY Legal Services. This leads to an inspection from the department of Housing and Preservation Development. If the inspector finds any code violations, the housing court judge will order NYCHA to address the violation. However, even in these cases, there are examples of housing officials failing to act. DNAinfo reported last year on a South Bronx public housing development where residents were living with mold and other damages a year and a half after a court ordered the agency to make repairs, forcing tenants to file for the city to be held in contempt. 
One proposed solution to the funding crisis has been a Housing and Urban Development program called Rental Assistance Demonstration, which allows public housing authorities to partner with private companies to finance repairs. The Bronxchester Houses have gotten revamped bathrooms and an updated lobby through this program, AM New York writes. The initiative allows NYCHA to retain ownership of the land and apartments while co-leasing the development with a private property management company. However the program has capped how many authorities can benefit, and there's a waiting list for approval—though it's not quite as long as the waiting list for public housing in NYC, which bears the names of over a quarter of a million families. 
Brick Underground articles occasionally include the expertise of, or information about, advertising partners when relevant to the story. We will never promote an advertiser's product without making the relationship clear to our readers.