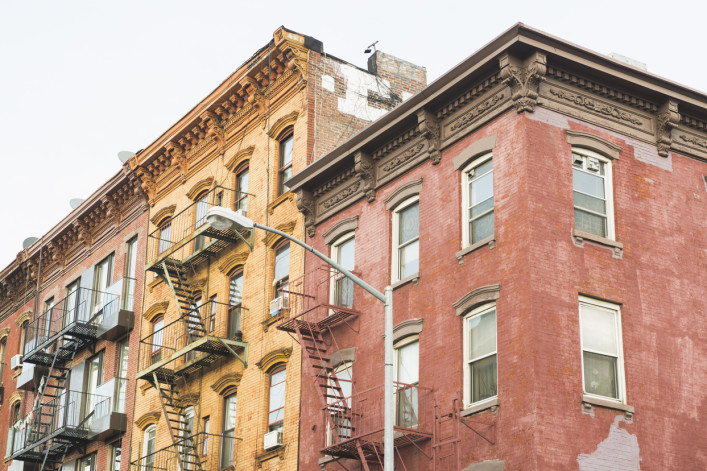 Faced with tenants who can't pay the rent and with no reprieve on their taxes or mortgages, mom-and-pop landlords say they're being chased out of New York City—and it's low-income tenants that will suffer. 
Measures enacted to protect tenants suffering financial hardship during the pandemic, like eviction moratoriums, are hurting landlords because they don't help with the loss of income. For some of the city's small landlords, the pandemic has them questioning whether they can continue to operate or will have to sell to larger rental companies.
If many of them do so, the fear is NYC could lose more affordable housing and see more transient neighborhoods. At the very least, more tenants will miss out on the quintessential NYC experience of renting from an individual landlord who has deep roots in a neighborhood and takes care of his or her own (quirky) building themselves.
Matt Murphy, executive director of the NYU Furman Center, a real estate research institute, says the strain on smaller landlords is obvious. Larger institutional building owners with diverse portfolios are likely better positioned to handle the types of losses the pandemic has brought about than many of the smaller landlords who say they are struggling to meet their obligations. 
From a policy perspective, Murphy points out city data on small building ownership is difficult to categorize. But enough is known about the national picture—small landlords own 77 percent of small buildings, where the average rent is lower ​​​than that in median or large apartment buildings—to conclude that in New York, rentals in small buildings are "an unheralded supply of affordable housing."
Here's what could happen if small landlords can't hang on in NYC and how renters will be impacted.
Loss of affordable housing
Small property owners are more likely than institutional landlords to own smaller, more affordable buildings, Murphy says. Mom-and-pop landlords also tend to rely less on rigid tenant screening tools and as a result provide housing for undocumented New Yorkers, people with poor credit history, or tenants who can't qualify through a more standardized process, he says. 
Labor market data compiled early in the pandemic suggests people who work in the service economy are more likely to be living in these types of buildings. According to analysis by Noah Kazis, a legal fellow at the NYU Furman Center, renters in more vulnerable occupations are more likely to live in the city's small buildings, particularly those with two to four units.
Murphy says there are big questions about the opportunities for these workers if they find themselves unable to live in this type of housing. If these buildings adopt stricter vetting protocols for renters, it will become more difficult for lower income workers to qualify for apartments.
The loss of rentals in small buildings run by mom-and-pop landlords would make it very difficult for some service workers to stay in the city, Murphy says.
More transient neighborhoods
Robert Lee, a small landlord in Brooklyn, who operates 19 apartments in five buildings, says he's watched the families in his three-unit building in Bushwick raise their kids from diapers to college. He argues small landlords create stability in city communities that would disappear if they sell to developers. "I'm not here to flip apartments or build luxury apartments but I can't do this," he says. 
In his view, the current eviction moratorium as well as the increased tenant protections passed in 2019 make it increasingly hard to keep going.
"These are laws to put us out of business," he says. Lee recently sold a three-unit building to developers because he was concerned about the future. Now he says those tenants are going "through hell," as the new owner tries to move them out. The Housing Stability and Tenant Protection Act was meant to disincentivize harassment from landlords because rent-stabilized apartments could no longer be easily cycled out of the affordable housing program. In spite of this and additional tenant harassment laws, the practice of trying to remove unwanted tenants is yet to be eliminated. 
Building conditions will suffer
If you are renting from a small landlord who is struggling—they won't be able to make critical upgrades, and so the most likely outcome for tenants is that these buildings will go through a period of disrepair. These are "genuine concerns," Murphy says. 
Small property owners are much less likely to have reserves and lines of credits compared to large investors. The pandemic has been an accelerator for long-term trends and if there is a tipping point for defaults and foreclosures in the coming decade, Murphy suggests we'd see it in the city's small building stock first. 
Brick Underground articles occasionally include the expertise of, or information about, advertising partners when relevant to the story. We will never promote an advertiser's product without making the relationship clear to our readers.