The Market
NYC rents dipped slightly last month and that's pretty much as good as it gets for renters
Manhattan median rent fell 1.1 percent and Brooklyn sank 3.9 percent compared to the prior month
The market has shifted and you can expect rents to stay relatively stable in the coming months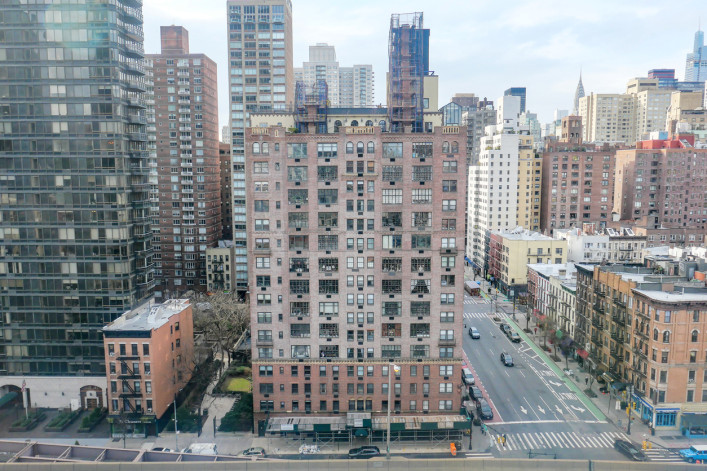 The New York City rental market appears to be cooling off, but if you're on the hunt for an apartment don't expect a big discount. That's because in NYC, the opposite of soaring rents generally is a flat line—or maybe a small dip.
And that's what renters found last month. Manhattan's median rent was $4,350 in September, according to the latest edition of the Elliman Report for the Manhattan, Brooklyn, and Queens rental markets. That represents a drop of 1.1 percent from the prior month, says Jonathan Miller, president and CEO of appraisal firm Miller Samuel and author of the report. (It was an 8.2 percent increase over September 2022, however.)
The NYC rental market "is doing what we expect and topping out after two months of record rents," Miller says. August is usually prime leasing month, but this year there was a drop in new signed leases compared to the prior year, a continuation of a trend toward renewing lends vs. signing new leases that picked up in July.
There are other signs the rental market turned a corner in September: The vacancy rate exceeded the 3 percent threshold for the first time in more than two years. And bidding wars are down to just 10 percent of all deals. A year ago, they represented 14.6 percent of new leases.
Perhaps most significant is the fact that listings are increasing in a big way. "Inventory been rising steadily for the last six months," Miller says. "Rents have to give," he says.
In September, Manhattan rental listings were up by a whopping 61.2 percent over the previous month and 39.9 percent over the previous year. At the same time, Miller points out, "new leasing is tepid and has been throughout the summer."
Renters singing new leases for Manhattan dropped 12.3 percent for the month and 1.9 percent for the year. A combination of rising inventory and a drop in new leases indicates that renters are choosing to sign renewals rather than move to different apartments.
"We're out of rocket ship mode," Miller says, referring to the recent month after month period of steep rent increases for NYC. "But that doesn't mean that rents are going to become much more affordable. The outlook for the rest of the year is for rents to move sideways but certainly no major correction," he says.
Brooklyn rents slip 5.9 percent in September
For the Brooklyn rental market, median rent slipped month over month from the July record but was still well above pre-pandemic levels, according to the report. It hit $3,700 last month, a 3.9 percent drop from the prior month and a 5.9 percent drop from the prior year.
New leases fell year over year for the fourth time, a drop of 24.3 percent, however leasing activity remains above the pre-pandemic level. Listings rose year over year for the first time in four months, an increase of 42.7 percent.
Queens rent increase 10.3 percent
Over in Queens, the median rent fell from the previous month's record, but remains well above pre-pandemic levels. It hit $3,528 in September, a drop of 9.5 percent from the previous month and but an increase of 10.3 percent over September 2022.
Lease signings fell year over year for the sixth time, a drop of 22.3 percent, but remains above the pre-pandemic level. Listings were up year over year for the first time in three months, rising 14.7 percent, according to the Elliman Report.
Farewell summer rental rush
The Corcoran Group also released Manhattan and Brooklyn rental reports for September. Gary Malin, Corcoran's COO, pointed out that the drop in new lease signings is typical "as the summer rental rush generally wanes as we enter fall."  
Malin points out that Manhattan listings hit the highest level since July 2021.
"While conditions are still a mixed bag for tenants and undoubtedly competitive, some of the seasonal pressure has dissipated. With more available units in Manhattan, and slightly lower prices across the East River, there are currently some new opportunities for New York renters," he says.
Where the rents are rising the most
MNS Real Estate released September market report for rentals in Manhattan, Brooklyn, Queens, and the Bronx. Among its findings: The Manhattan neighborhood with the largest month-over-month increase was Gramercy, where a non-doorman two bedroom saw a rent increase of 13.2 percent from $4,573 to $5,174.
In Brooklyn, Cobble Hill saw the largest month-over-month increase, with one-bedroom rents rising 10.7 percent from $3,573 to $3,954. For Queens, Rego Park had the largest month-over-month increase, with one-bedroom rents rising 11.4 percent from $2,138 to $2,382.
And in the Bronx, Morris Heights/University Heights saw the largest month-over-month increase. There, two-bedroom units increased 9.2 percent from $2,269 to $2,477.
Where renters can get a deal
In addition, BOND New York shared its Manhattan and Brooklyn rentals report for the quarter. It pointed out that many Manhattan renters "suffered from rent fatigue," and shifted their apartment hunt to the outer boroughs, driving up demand and rents in these areas.
But there are still deals to be had in Manhattan. The report notes studios in Hamilton Heights run below $2,000 a month on average and two bedrooms go for under $2,800 in walk-up buildings. Similar deals can be found in East Harlem, and even Midtown East.
Similarly, the report notes that Bushwick and Crown Heights have studios for under $2,500, one-bedroom apartments under $3,200 and two-bedroom units below $3,800.
Brick Underground articles occasionally include the expertise of, or information about, advertising partners when relevant to the story. We will never promote an advertiser's product without making the relationship clear to our readers.