The Market
Gap widens between Manhattan and Brooklyn median rents as demand for luxury rentals surges
Manhattan median rent hit $4,095 in February, $695 higher than Brooklyn's median rent
The spread between Manhattan and Brooklyn rents hit a record low $171 in November 2020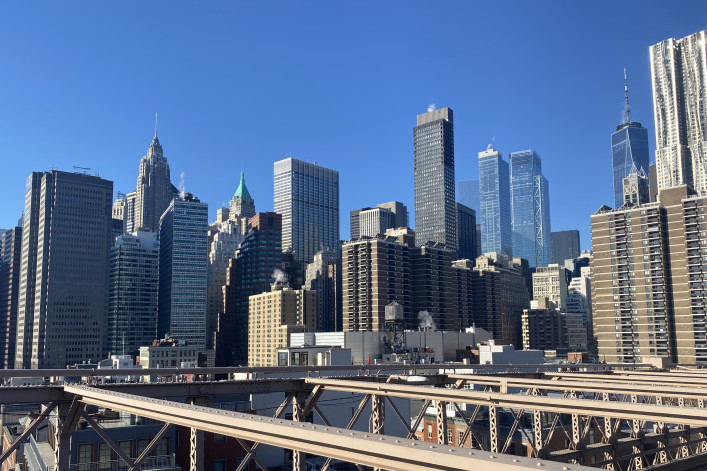 Jaime Kent via Getty Images
Comparing the difference between what you pay in rent for a Manhattan or Brooklyn apartment can be something to brag about. Or it can help justify whether you made the right decision if you just left one borough for the other.
But measuring the gap between Brooklyn and Manhattan rents is also apparently a way to track the strength of the New York City rental market relative to the economy. For example, the spread between Manhattan and Brooklyn rents hit a record low $171 in November 2020 during the pandemic. The previous low was $210 in February 2014, when the U.S. was still recovering from the Great Recession.
Now the spread is much greater, thanks to Manhattan's surging rents. The median rent hit $4,095 in February, $695 higher than Brooklyn's median rent of $3,400, according to the latest edition of the Elliman Report.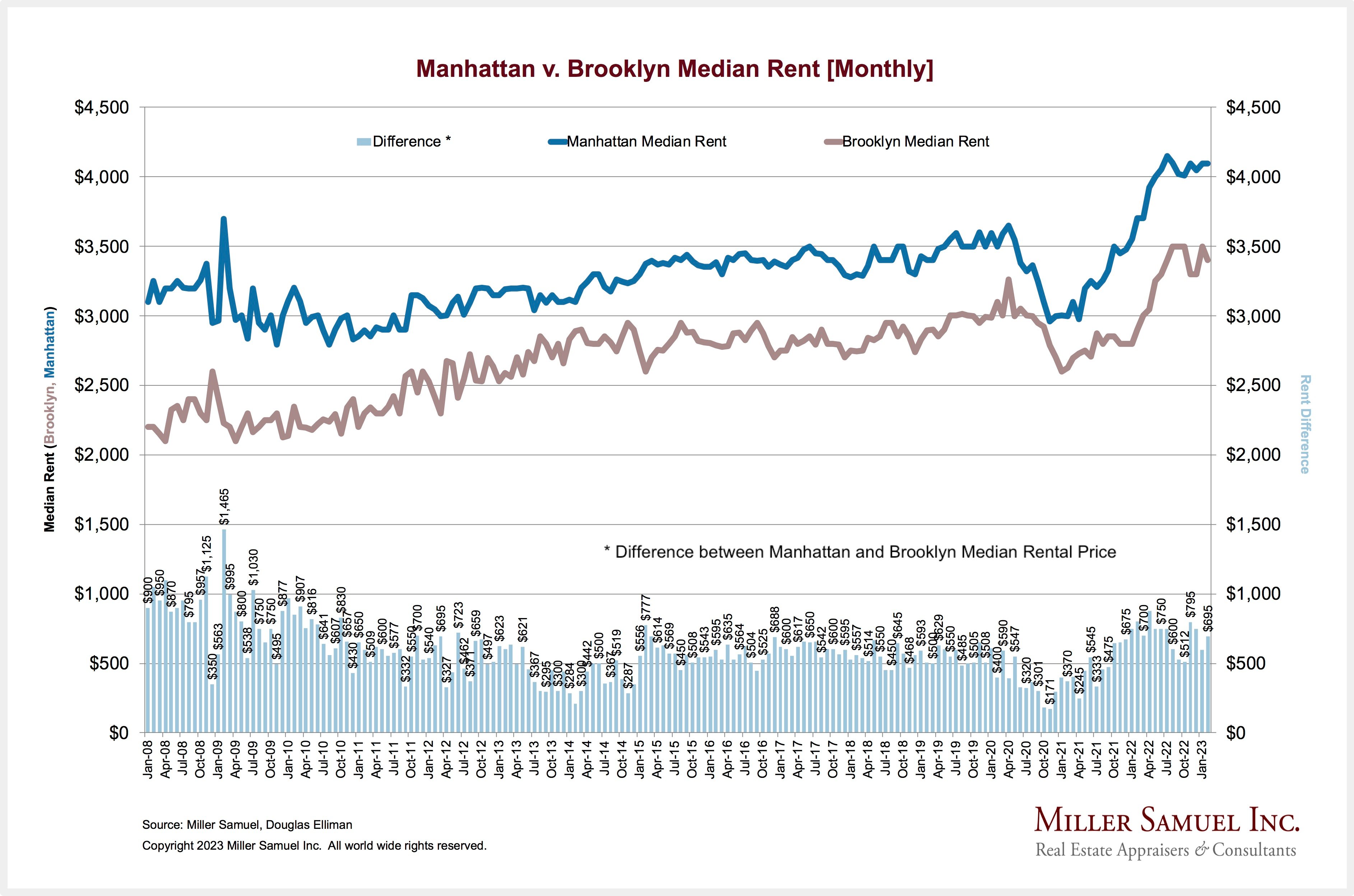 Tracking the gap between Manhattan and Brooklyn rents
Jonathan Miller, president and CEO of appraisal firm Miller Samuel and author of the Elliman Report, has tracked the difference between Manhattan and Brooklyn rents (see chart above) since 2008. He notes that throughout 2022—when interest rate hikes lifted mortgage rates and pushed would-be buyers into the rental market, and rents set or came close to new records month after month—the spread was in the $600 to $700 range.
In 2023, a high volume of new leases for expensive luxury rental properties continue to propel Manhattan median rents skyward, and this is no knock on the Brooklyn market.
"It's not that Brooklyn rents are low, it's that Manhattan's high-end rental market is so strong," Miller says. Demand has been boosted by high-wage earners parking in luxury rentals while they wait for mortgage rates to come down.
In fact, Manhattan's net effective median rent (which factors in landlord concessions) rose annually for the 18th straight month and was the highest February net effective median rent on record.
Falling inventory is also keeping rents high: Manhattan listings fell 5.8 percent from January.
Despite rising rents and falling inventory, the number of newly signed leases jumped last month, increasing 17.3 percent over the previous month, the highest annual rise in new leases in 19 months. The market share of two-year leases was 50.4 percent, an indication of how renters feel about the market.
"More renters are trying to lock in their rents, which suggests to me that renters assume rents are going to continue rising," Miller says.
One in five Brooklyn rentals in a bidding war
In Brooklyn, net effective median rent ($3,361) was the highest level for a February on record, but down 2.5 percent from January. New lease signings increased annually for the first time in five months, jumping 38.6 percent from January.
Perhaps most ominous for apartment hunters: About one in five new Brooklyn leases continues to involve a bidding war.
Over in Queens, average ($3,444) and median ($3,238) rents rose to their second-highest levels on record, even though they registered slight drops from the previous month.
The market share of two-year leases reached an all-time high—a sign renters are hedging against rent increases. New leases reached their second-highest level for a February on record, jumping 31.7 percent over January.
A slight increase in the Manhattan vacancy rate
Gary Malin, COO at Corcoran, which also released Manhattan and Brooklyn rental market reports for February, notes apartment hunters had a little more breathing room last month as opposed to January.
"In Manhattan, the vacancy rate ticked up from January to February as apartments took longer to find tenants and leasing activity slowed. These are all positive signs for apartment seekers looking for more choice and less-frenetic conditions," Malin says.
"However, the median rent has remained unchanged since October 2022, which shows that owners still remain hesitant to reduce pricing," he adds, noting that in Brooklyn, "rents in February cooled just enough to encourage tenants to take action."
NYC neighborhoods with the largest rent hikes
MNS Real Estate also released rental market reports for Manhattan, Brooklyn, Queens, and the Bronx. The reports drill down into neighborhoods across the four boroughs and look at rents by number of bedrooms and compare doorman vs. non-doorman buildings.
Notable findings include: The neighborhood with the largest month over month increase was Soho, where rents for two-bedroom apartments rose 19.4 percent from $9,000 to $10,750. Brooklyn's Clinton Hill saw two bedrooms increase from $2,891 to $4,504.
Brick Underground articles occasionally include the expertise of, or information about, advertising partners when relevant to the story. We will never promote an advertiser's product without making the relationship clear to our readers.