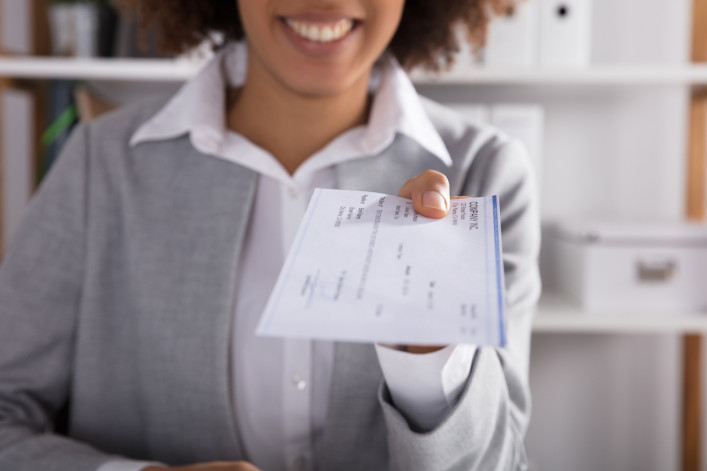 Does your landlord take his sweet time cashing your rent checks? Perhaps one check from many, many months ago is still outstanding and you're starting to view that rent money as a nice little windfall? Bad news: No matter how much time passes, you are never relieved of the responsibility of making sure that amount is covered. 
"The lease will clearly state that rent is due for each month," says Adam Stone of the Stone Law Firm. "No lease will state that a landlord forfeits the right to collect rent for a particular month if the landlord holds the check too long."
But also, you shouldn't just assume your landlord is scatterbrained or a world traveler swinging into town only a few times a year to empty the mailbox. The depositing of your rent is your landlord's way of acknowledging your tenancy, which carries certain obligations, and there are a variety of reasons why a landlord might intentionally not cash your rent check.
"Some are wholesome and aboveboard, like they're selling the building and don't want to rent the apartment," says attorney Toby Cohen of the firm Holm & O'Hara. It's also possible, Cohen says, that the landlord is doing some creative accounting and waiting to cash checks in the next calendar year for tax purposes. 
Or worst case, "Less wholesome landlords might be being shady and building an eviction case against you," Cohen says, by creating a paper trail showing a pattern of nonpayment.
This is why, if your landlord isn't cashing your rent check, you shouldn't let it lie.
"Be proactive. Follow up in writing with a photocopy of your check via registered mail," Cohen says. "That makes it much harder on unscrupulous landlords. You should be thinking, 'What am I going to have to produce down the road?'"
Whatever's going on with the rent check, you shouldn't expect any favors.
"We're no longer in the age of the little old lady who let you skate on the rent for a month because you helped her move her sofa," Cohen says. "She sold her building to a real estate professional... New York City is the most cutthroat market and only the strong survive." 
Stone, who also runs a property management company, says that he receives checks via FedEx from some tenants.  
"I imagine it's so they can prove when rent was received," he says. "But as landlords, we'd much prefer to have auto-pay set up on our system. It's an electronic debit from tenant's account without having to send a check or rely on the U.S. Postal Service."
If you can arrange it through your bank or an online rent portal, this is a good option for both sides to take away some of the uncertainty.
Brick Underground articles occasionally include the expertise of, or information about, advertising partners when relevant to the story. We will never promote an advertiser's product without making the relationship clear to our readers.