The Newcomers
Why we moved to NYC from Ukraine: After fleeing the war, we came here for work and fell in love with the city
Four months and 10 properties later, they walked into a building on a whim and landed a unit
The $2,265 rent for a one bedroom with an elevator, gym, and laundry room includes utilities
'While seeing different neighborhoods was interesting, rental hunting in NYC isn't fun at all!'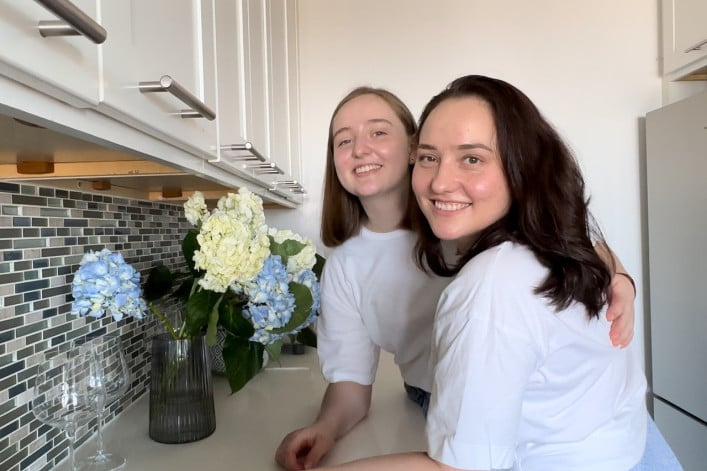 After fleeing their war-torn homeland of Ukraine and sheltering with family in California, sisters Iryna and Lillia landed in New York City for work. Their exhaustive apartment search involved six Airbnbs across three boroughs. Here's their story. 
My sister Liliia and I were born and raised in Vinnytsia, a small town in a central part of Ukraine. For the last two years of our life there, we had been living in a three-bedroom rental with our parents. The apartment itself was really nice, especially for its price of 12,000 Ukrainian hryvnias, exclusive of amenities or utilities. In Ukraine, every household has an in-unit washing machine—so not going anywhere with bags full of laundry is something we now miss a lot. 
Our place felt like home. It was nicely furnished, well-kept by its owners, and just a nice place to come back to after a long working day. I am a pediatric dentist in Ukraine, and Liliia was still in high school. My commute to work took me about half an hour by bus.
It was a convenient place to live—a lot of grocery stores, coffee shops, and restaurants were within walking distance. There was also this cute little park right across from our building where we'd often go for a walk with our friends and family.
The only pet peeve we had is probably a well-known issue for all New Yorkers: the extreme deficiency of parking spaces. Thankfully, the neighborhood we lived in had a robust public transportation system with trams, buses, and trolleys.
---
[Editor's Note: Brick Underground's series The Newcomers features first-person accounts about why a renter or buyer decided to take a chance on NYC and live here now. Have a story to share? Drop us an email. We respect all requests for anonymity.]
---
Waking up to war—and fleeing to the U.S.
I clearly remember the morning of February 24th, 2022. It was supposed to be my day off; I had to run some errands early in the morning, but I remember my mom walking into my bedroom and waking me up with, "It's started. The war started."
I, just like about 40 million other Ukrainians, will remember that day until the day I die. After that, there wasn't a single night where we wouldn't have to get out of bed and shelter in the hallway because of the endless sirens and rocket launches.
We lived like that for four months before we decided to leave Ukraine for the U.S. We landed in Sacramento briefly because we had family there, which was a huge blessing when you have no idea where you are going and why.
Our journey from Vinnytsia took us about three days: We took a bus from our hometown to Krakov in Poland and another bus to Warsaw, where we had a one-night sleepover; then we flew to Frankfurt-on-Maine in Germany for a layover before taking a 15-hour flight to San Francisco. By the time we landed in California, each of us had only a suitcase and backpack, and that's pretty much it.
We were really blessed and lucky to stay at our cousin's house with her family while we were living in Sacramento, so at least housing was not a concern for some time. Each of us managed to find work there through friends, friends of family, or neighborhood groups. Those were usually short-term things like babysitting, housecleaning, doing laundry, and food deliveries.
How they landed their Bronx one bedroom
In February 2023, about eight months after arriving, we decided to come to NYC because I was offered a good job. 
Practically the minute we landed at LaGuardia, we began our apartment hunt, which took us about four months. While hunting, we stayed in six different Airbnbs in five different neighborhoods in three different boroughs—from Queens (Jackson Heights) to Brooklyn (Kensington and East Flatbush), and finally, the Bronx (Riverdale). Each stay cost us $1,200 to $1,700. 
We wouldn't say that this was a lot of fun, but the experience definitely made us real experts in packing and moving stuff around. Never in our lives did we think we'd be able to pack all our stuff in a couple of suitcases and move it from Brooklyn to the Bronx in an Uber. 
All the while, we were looking at apartments across the city and viewed about 10 places in total. But let me tell you, while seeing different neighborhoods was interesting, rental hunting in NYC is no fun at all! 
One Saturday, we happened to see a building we liked while walking in the Marble Hill section of the Bronx, about 10 minutes away from our final Airbnb in Riverdale. By then, we were so exhausted from apartment hunting that we decided to just walk in and ask if there were any available units. The security guard gave us the contact information of the real estate agent for the building. That's how we found Annie Hawkins, a broker at Sovereign Associates. We told her we needed a one bedroom that was close to the subway for a maximum budget of $2,200 per month. 
After that, everything happened so fast—the whole process took us 10 to 12 days. We saw the apartment, took some pictures, and Annie told us all the requirements and gave us some advice regarding our application, which we filled out and four days later got the news that we'd been approved! We signed the paperwork and moved in the very next weekend!
We pay $2,265 for our one-bedroom apartment, including utilities. The elevator building also has a laundry room and gym. I share the bedroom with my sister.
What they like about their new nabe
While physically located in the Bronx, Marble Hill is actually considered part of Manhattan. We absolutely love the location and the view from our apartment. Also, we really like the fact that our building is secure and kind of hidden away from the city hustle.
The 1 train and Metro-North are nearby. For us, the whole NYC subway system is pretty logical; what is more upsetting is that it isn't always the most punctual. The commute to work takes about an hour; I now work as a dental assistant on the in Midtown East. And it takes about 1.5 hours for Liliia to reach her job as a barista in Brooklyn. 
There is a Target, Aldi, and Foodtown nearby where we often get our groceries, but we're huge fans of Trader Joe's, so sometimes on our way home after work, we just make an extra stop on 72nd Street. We like to cook, but sometimes we treat ourselves by ordering in, usually something like pizza or chicken biryani.
What they think of life in NYC
We immediately fell in love with the city. It's one of those experiences you either love or hate right away. 
We are still exploring and don't know that much about all the places to go and things to do, but our social activity consists of having coffee, visiting bookshops, and taking long walks. 
Trying out all the different restaurants is another favorite pastime. You can find whatever national cuisine you can think of in New York. So far, we have a serious love affair with Indian food, but are still trying to work things out with Chinese offerings. 
This might come as a surprise, but we've actually found more similarities between NYC and Ukraine than differences. However, I'd probably say the biggest difference is people's openness to strangers. In New York, you always have to be aware of your surroundings, which also applies to Ukraine, but there at least, you aren't in that constant state of mind where you assume that every stranger that talks to you or is 'too nice' to you (is that even a thing?) has some wicked intentions. So that is taking us time to get used to. 
We are still trying to build our social circle, and making new friends is a process. We've both been really lucky to work with great people, who we now consider our friends. So life in NYC is not as lonely anymore, and we definitely plan to stay and keep exploring all the city has to offer.
Worrying about their homeland
We miss our Ukrainian friends and family, who love that we are here and are making plans to visit us in NYC. A person can get used to everything, but home is always about the people.
On that note, the war is still going on, people are still dying, and nowhere in Ukraine is safe. I'm writing this in the morning after waking up to the news that Russia had launched a huge missile attack on a kindergarten building in Lviv, in the western part of Ukraine, which shows the war isn't just located on the frontline, in the eastern part of Ukraine. We see this tendency among Western politicians, media, and regular people—they are kind of getting used to the idea of the war in Ukraine, which hurts the most. Because once you're getting used to something, it means it isn't bothering you anymore. 
If any of my fellow New Yorkers want to help by donating to a reputable organization, I recommend UNITED24, the official fundraising platform of Ukraine, where you can choose to have your contribution go toward one of five support areas. 
Brick Underground articles occasionally include the expertise of, or information about, advertising partners when relevant to the story. We will never promote an advertiser's product without making the relationship clear to our readers.