The Newcomers
Why I moved to NYC from Malta: My husband got a new job and now I help other transplants as a real estate agent
Searching for rentals from Malta was hard: 'many agents did not give us the time of day'
After a video tour, they landed a one bedroom with a balcony and washer/dryer for $5,500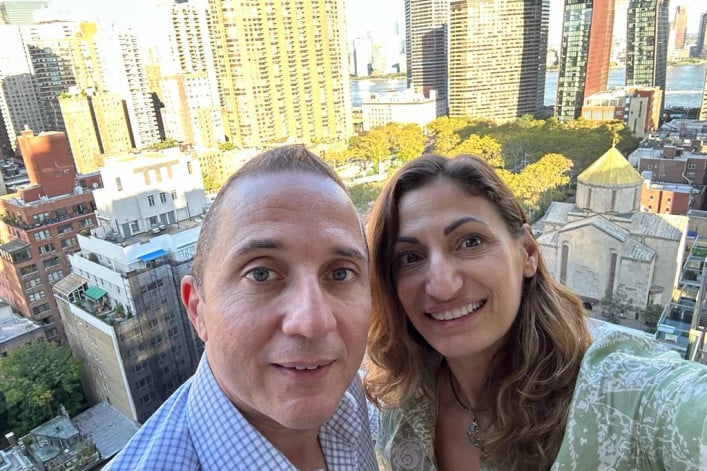 When Victoria's husband got a new job in New York City, the couple left their idyllic home in Malta. They managed to land a great place in Midtown Manhattan despite a frustrating rental search, which inspired her to help other newcomers as a real estate agent. Here's her story. 
I was born and raised on Malta, a small island in the middle of the Mediterranean south of Italy. 
Along with my husband, I lived in a two-bedroom penthouse with unobstructed views from all rooms of a beach and fields. I had a small splash pool on the roof, which is great in summer. I also have a private garage space for two cars. I bought the property for about $600,000. I think something similar in NYC would cost $2 million. Back home, we do not pay property tax, and the building maintenance is extremely low. Malta is a great place to invest in property and a tax haven for foreigners. I should know: In Malta, I was a real estate agent.
We lived in a quiet village close to the sea. I loved the proximity of the beach, and our neighbors were lovely. One drawback was that you always needed a car to go somewhere because it was a bit remote. The area is also hilly, so walking was not an option, especially in the heat of summer. Being a small island, however, going out is easy since everything is 20 to 30 minutes away. There are plenty of excellent restaurants on the island at relatively good prices. Someone from New York would say that living in Malta is very cheap. 
---
[Editor's Note: Brick Underground's series The Newcomers features first-person accounts about why a renter or buyer decided to take a chance on NYC and live here now. Have a story to share? Drop us an email. We respect all requests for anonymity.]
---
Last year, my husband, who is a colonel in the Malta military, was offered a job in NYC, so we opted to move here along with our two cats. Our moving date was at the end of November 2022.
Wanted: A one bedroom in a pet-friendly building for $5,000
We started searching for a rental on StreetEasy while we were still in Malta. It was not easy. We had a lot of questions, and we had to figure out everything by ourselves, though we got a little help from the embassy.
We chose to be in Midtown due to my husband's work so he could be near the United Nations and our embassy. 
Our requirements were a one bedroom in a pet-friendly, elevator building with a washer/dryer in the apartment. We also hoped we'd have a gym in the building. Our budget was around $5,000.
Many agents would not give us the time of day. Others would just reply, "When would you like to see it?" and then we'd never hear from them again. Their approach felt very cold and mechanical. The replies to our emails were short and at times did not even relate to our questions.
Finally, Boris Sharapan Fabrikant, a broker at Compass, reached out. We were lucky as the apartment we inquired about accepted diplomats, which made things easier. We spoke on a phone call and he showed us the apartment over video. We agreed to take it. The process was lengthy, the paperwork never-ending, but in the end (after about a week), we managed to close the deal.  
Pros and cons of the new digs
We currently pay $5,500 for a one-bedroom apartment in Midtown East. It is spacious compared to a lot of other apartments on the market, with a nice dining and living room and a large bedroom. It has wood floors and plenty of natural light. We even have a balcony (we can see the river!) and an in-unit washer/dryer. 
The only thing that I would change is the small kitchen. We both love cooking, and the space is just not big enough.
We are very happy with the apartment and the building. The staff is helpful and pleasant. The building is clean, and the tenants are quiet. We sent photos and videos of the unit to friends and family back home, and they all loved it.
We have had to make some adjustments. Rents here are very high. In Malta, you could rent a one bedroom in a desirable neighborhood for a maximum of 1,000 Euros [about $1,065 USD], and it would be luxuriously finished and furnished. 
Although we are now paying more than we are used to, we still manage to go out, travel, and save a little money.
Becoming a NYC real estate agent
In Malta, I was a real estate agent. A few months after I arrived here, I took the NY real estate exam and am now a licensed agent here in the city. I joined Keller Williams NYC, and it was the best decision I made. The company provides a lot of training and prepares you well. The other agents are all very helpful. 
One of the reasons I decided to work in real estate is because of our experience finding a place here. As a newcomer to this country, I didn't get the right assistance. It was assumed I knew how to do everything. I now know how to cater to foreigners coming to the city for the first time and what they need to know. My aim is to make their search smooth and less stressful. 
What she likes about the new nabe
There are a lot of advantages to living in the city, especially in Midtown East. Everything is within walking distance, and the public transport is efficient. We do not even miss our car. 
We enjoy eating at a lot of restaurants close by, especially Momosan for ramen, El Rio Grande for margaritas, and Ostrica for oysters. The variety of eateries is wonderful. There are also many theaters and standup comedy clubs in the area, including in Times Square. We also like taking walks in Central Park.
Trader Joe's and Fairway are two blocks away, as is the number 6 subway line, plus Grand Central Station is a short stroll. 
Although the neighborhood is vibrant and busy, we are lucky to be on a quiet street so we have the best of both worlds. Ordering in is also super easy with so many restaurants in the area. 
How their social life is going
When we entertain, guests enjoy the open space and views from the apartment balcony. We met most of our new friends through our jobs. We have not really made friends with people in the area. When we go out, we talk to people for a bit, but it never grows into anything beyond chit-chat.
Even in our building, we say hello to everyone in the elevator, but some do not even reply or mumble something and rush out. Perhaps everyone is busy with their life, or they don't need more friends. Maybe it's because people move in and out of New York often, and investing time in making friends knowing that they might leave is not worthwhile.
Our original plan was to stay here for two years and then see what life brings. We are really hoping to stay longer because we love NYC so much. 
Brick Underground articles occasionally include the expertise of, or information about, advertising partners when relevant to the story. We will never promote an advertiser's product without making the relationship clear to our readers.