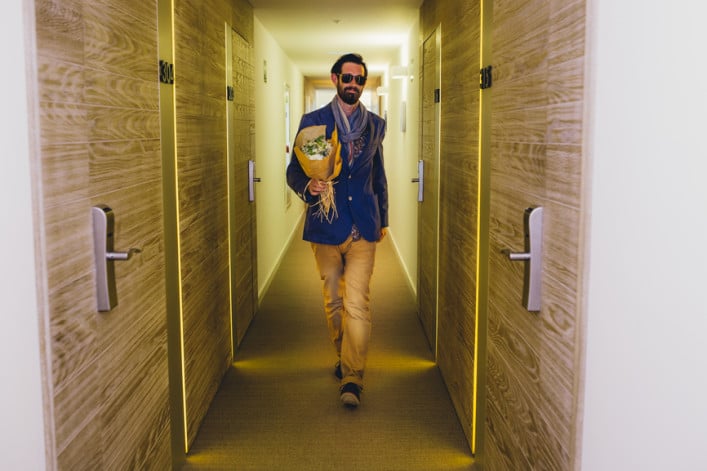 The relationship between a tenant and a landlord is by nature transactional—there's no getting around the fact that you're living on someone else's property, and, this being New York City, probably paying quite handsomely for the privilege. 
But the dynamics can be so much more complicated than that. Most New York renters have experienced the vulnerability of needing their landlords to come into their apartments for repairs, and come lease renewal time, have held their breath and hoped that they wouldn't be hit with a sky-high rent hike. Some even live in the same building as their landlords, and are privy to the ups and downs of their private lives. 
Landlords, meanwhile, don't necessarily have all the power. They're counting on tenants to live up to their end of the bargain by not only paying rent on time, but also by being trustworthy and dependable, and treating the building, building staff, and neighbors with respect. One Brick Underground podcast highlighted the experiences of Ann, the owner of a Manhattan brownstone, who discussed the challenges and rewards of being a landlord, which is about a lot more than just collecting cash each month. And as this New York Times article reveals, being a landlord can be a full-time job and then some, requiring the owner to travel around the city at all hours, checking up on buildings and fielding the complaints of exasperated tenants. 
So, landlords: Let us make it easier for you. We asked New Yorkers which qualities they think make a great landlord, and it turns out it isn't that complicated: Most want someone who will give them their privacy but be easy to reach, respond quickly when there's a problem, and of course, go easy on the rent increases. More intangibly, tenants are hoping for someone who is able to put themselves in the shoes of the renter and respond to them with empathy and understanding. Read on to learn more about what exactly New York renters are looking for: 
Responsiveness to complaints
"Responsiveness—actually taking care of things, and letting the renter know when they'll be showing up to fix something. I have a landlord who just showed up to fix a problem without giving us any warning, and no one was home to let him in." —Darcy
"The ability to communicate via modern means. Email or texting is hugely helpful when there is an issue and you're at work and can't constantly stop or leave meetings to make calls to a landline they may or may not be near."—Maria
Charging a fair rent
"I had a decent landlord. She appreciated that we didn't complain much and paid rent on time. And in return, she never hassled us or raised the rent. She made a little small chat with me, but not much. She bought a super-ugly but kind of adorable baby cardigan for my son when he was born. Then she didn't renew our lease because of the obvious lead paint problems in our apartment. Whomp whomp." —Susan
"Someone who doesn't unfairly raise the rent each time it's time for a lease renewal (even if they can), and someone who hires good staff to run a building and responds quickly to any complaints, issues, or questions from tenants. Added points if they accept digital rent payment!" —Lucy
"The landlord that cuts you a deal on rent because they like you personally." —James 
"My landlord is great. The price is very fair, and he is responsive to legitimate complaints. The unspoken (or made-up-in-my-mind) agreement is that we pay little, but save complaints only for 'major' things. He's sprayed for ants, fixed our stairs and toilet bowl, etc. But we don't bother him over minor things. There are some strange restrictions, but it's his place, and if you knew what we paid you'd kill us." —Neil 
Flexibility, accessibility, and sanity
"I think it's more about what not to do. The number one thing that makes a good landlord is being not totally crazy. My first apartment was a sixth floor walkup in Hell's Kitchen. The stairs sloped, the building was in disrepair and I paid a $5,000 broker's fee to live there. The worst, though, was the landlord was an elderly woman with a serious personality disorder. She would literally (I'm not kidding) throw herself on the floor if a tenant asked her to fix something as benign as a stopped-up toilet. 
"One of my best landlords was reachable via text. While the building—another janky Hell's Kitchen walkup—had its issues, the landlord was super responsive. If I texted her that the furnace was out and there was no heat, she'd not only send a repairman quickly but also allow me to go down with him, explain the issue and work with him to get it resolved. 
"Another good trait is to be flexible—that same landlord agreed to lower the rent by $200 a month when I offered to pay a year up front. They also had their handyman turn a small bedroom into a huge walk-in closet with dressing room for me. They really valued a good tenant—one who pays early, is clean and organized, and cares about the building. 
"Another trait that makes a great landlord is one who has a good team. A building with a good super is key. I'm now in a doorman building and while the landlord and management is impossible to reach, our building's super is awesome and had a direct line into management. Our doormen also act as gatekeepers and act immediately when there is an issue." —Kelly
Compassion
"I think the perfect landlord was a renter in a past life, hopefully for many years, so that he or she understands the mental gymnastics it requires to have to live on someone else's property and feel it is their home. At the very least, a great landlord is an empathetic person who understands that their job is not merely to collect checks but to take care of problems too—and not just when it's convenient. Heaters break, even during the Super Bowl sometimes. Lastly, an on-site landlord is by no means ideal, but I can say from experience that a great landlord is not a busybody and will never ask you who the guy is that you are bringing into the apartment, where you're going, and why you would do so in that outfit." —Helly
"Empathy and honesty." —Dianca 
The landlord's perspective
"Communication is key on both sides. Landlords have to make it clear that there are certain things that are non-negotiable and things you can discuss. If there's an issue, even if you can't respond by doing exactly what tenants ask for, let them know you heard their complaint and give them a timetable for handling it. It is a business and you have a limited amount of time, but give a prompt response at least to say, 'I got your message and I'm working on it. This is what I can and can't do right now.'
Stay on top of supers and porters and make sure they're doing their jobs. Walk through the property and make sure it's being cleaned and taken care of. Then you run into tenants and get to know them a little bit. When you've spoken to someone face to face and shaken their hand, it's harder to see them as some entity on the other end of the phone. That goes both ways—you can't just dismiss each other.
On the other side, tenants should be upfront with what you want, treat building staff with respect, and perform your obligations. Pay your rent on time without being reminded 15 times. Paying rent doesn't mean you get to call the office 50 times and complain and harass the super, but you should get a reasonable amount of service. 
As a landlord, it gets dicey when you're dealing with neighbor problems, getting in the middle of two people you owe a certain amount of duty and respect to. And it happens all the time." —John (landlord for several residential Brooklyn properties)
Brick Underground articles occasionally include the expertise of, or information about, advertising partners when relevant to the story. We will never promote an advertiser's product without making the relationship clear to our readers.