My husband and I are about to move into a $2,854 one-bedroom apartment in Stuyvesant Town that we won through the New York City housing lottery. That's right, it's not an urban legend like alligators living in the sewers. You can actually score an opportunity to live in a rent-stabilized apartment in Manhattan! (Also, sadly, $2,800 is what passes for affordable in Manhattan these days.)
But the process is not without many frustrations, plus, it's just that: an opportunity. Originally I thought once you won the lottery, they just give you a lease. I couldn't have been more wrong. Here's what we went through to get this "affordable" apartment, from start to finish. 
First, we applied
We submitted our initial application for the middle-income lottery apartment online through through the NY Housing Connect website in March of 2017. This is after years of accepting the fact that I'd be staying in my East Village two-bedroom apartment, which I've been living in since 1990, forever. This is where it all begins. You have to fill out the initial online form with your income and all your personal information: who you're living with, their occupation (we're both artists), how you like your eggs… Okay, maybe not that last one, but it's a very thorough application.
Tip: make sure it's all 100 percent accurate, because if it's not, you're just screwing yourself down the line (yes, they check everything).
(For more rental listings and the occasional income-restricted buying opportunity, see the Housing Development Corporation website.)
Then we waited
About four months later, we got an email from Stuyvesant Town. 
"Congratulations! You won the lottery!" the email read.
I jumped up and down with joy (seriously!) and my husband bought champagne. We thought that was it, but no. We still had to be approved as meeting the building's income guidelines, which meant getting a huge amount of paperwork together and notarized. We submitted the pile of papers to the powers that be (Stuyvesant Town's Lottery Division), and then we waited…. And waited… And waited.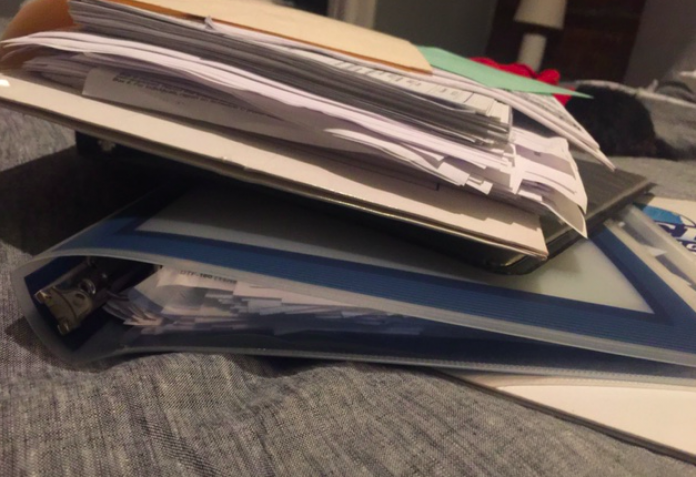 'You have been declined'
About six weeks later we got another email. 
"Thank you for your interest in the Stuy-Town lottery. You have been declined," the email read.
There was a checklist of the reasons why. They checked the box that said we did not fall within the income guidelines for the middle-income housing bracket.
"How can this be?" I yelled. We made well within the income range, according to our tax returns. I was stumped.
The first appeal
Our only recourse was to appeal. That's what the materials said to do if we believed there was an error, which clearly there was.
We had to resubmit even more paperwork proving our income as well as our assets, plus letters of employment and projected incomes for the following year. As a freelancer, I have a ton of W2s and 1099s, and my employers change all the time. I also received unemployment when I was laid off from one of my long-term freelance gigs. I believe this confused them. So we submitted again. And waited again.
The second appeal
In late September (a few weeks after our appeal), we got the notice that we were rejected a second time. I was infuriated. I knew this was an egregious error.
We live close by, so we walked over in person to see how Stuyvesant Town specifically went about calculating our income. We wanted to have a discussion and correct the errors in person. Did they try to project my next year's income on last year's tax returns? I wanted more information than just a checked box on a form.
So we went to the lottery offices, but no one would talk to us, unless you count the big guy they sent out to intimidate us into leaving. He informed us that no one was allowed to speak to any lottery applicants in person and that our only recourse—if we still wanted to live there—was to appeal to the Housing Development Corporation. 
The third and final appeal 
We left feeling defeated and unsure. Doubt crept in. Did we even want the the apartment that much anyway? It was just one disappointment after the next, not to mention the time it took getting paperwork together. By this point, I knew that my guy at Kinko's took his coffee with cream and that his sister was going to St. John's University.
But I'm tenacious, and I still wanted our shot at the apartment. I decided to make a phone call to the HDC first, thinking human contact would help. I introduced myself to a lovely woman (who wishes to remain unnamed) and it was to her that I addressed all my emails (there were many). She told me that according to the HDC's Marketing Handbook you first have to write a letter of complaint to the HDC's Compliance Department within five business days of the appeal's rejection letter's postmark. You must include in your letter why you feel the appeal was rejected in error and submit any documentation to support the explanation. I did just that.
I soon learned it's the HDC that finances the rental properties reserved for low-income or middle-income New York residents. As the supervising agency, the HDC will only review complaints by rejected applicants to determine if there are any grounds to question or intervene in an owner's decision. Should the HDC find a reason to overturn the rejection, the owner/agent has to comply with that decision.
I felt some relief. If the HDC said Stuyvesant Town made a mistake by rejecting our initial and secondary applications, we'd win. Unfortunately, I found out that the percentage of rulings overturned by HDC is quite low. They didn't have any hard statistics on this, but there is very little room for interpretation of income or other qualifying criteria.
Still, the lovely HDC woman I spoke with said that when people don't fit into boxes, it's more difficult for the buildings to process their applications. There literally isn't any place on the forms for people who don't have typical employment to explain themselves. 
The verdict
After a few rounds of emailing with the HDC, we got our answer before Halloween. We won! We actually beat the system. Maybe a better way to put that is, we used the system to help us get what we deserved: a rent-stabilized, one-bedroom apartment in Stuyvesant Town. We move in on December 1st.
So what happened? It's still a little bit of a mystery. When we got approved, we dealt with a different department, so they had no idea what we went through to get the place. We were told, essentially, that the Stuyvesant Town people didn't know how to input all the information about my income as there were so many different streams. 
For example, if someone receives unemployment, they put that as the person's sole source of income for the whole year. But as anyone who's been on unemployment knows, it only lasts six months. The HDC saw I had multiple W2s and 1099s and did the actual math that was needed to determine my actual income for last year, and that's how we ended up getting a new decision, and ultimately, our new apartment. 
Thank you, HDC.
Brick Underground articles occasionally include the expertise of, or information about, advertising partners when relevant to the story. We will never promote an advertiser's product without making the relationship clear to our readers.