Well, we actually did win the lottery, my girlfriend and I. The NYC affordable housing lottery.
We had been entering the affordable housing lottery for a total of almost 25 years. My girlfriend, Lisa, applied for the lottery at those artists' residences on 42nd Street between Ninth and 10th soon after she moved to New York in the mid-'90s. It was the first in a string of applications. This was back when you had to call to find out where and when there were openings, and then send in a self-addressed postcard.
Lisa was eventually called for an interview at Manhattan Plaza in Hell's Kitchen. She needed to prove she made at least 51 percent of her income working as an artist. She is a writer and actor and, like most other artists, she needs to work day jobs to stay afloat. After all the interviewing and figuring of her income, it turned out she could only prove two years of majority artist income. We had to let go of the idea of living on 42nd Street.
Less than a year later, she was called for an interview for a brand-new building on Union Square South. They were offering a studio apartment that would be rented at an affordable price for five years then go market-rate. I never understood what that deal was all about and Lisa withdrew her application, so we never found out [Editor's note: Housing lottery apartments are typically tied to tax break programs that are time-limited, so when they expire, the affordability requirements do too].
Time passed, and we kept plugging away. The lottery went online at a site called NYC Housing Connect and we signed up, and kept our eye out for other notices of lottery applications opening. We also put our names on waiting lists for old and renovated rent-stabilized buildings. I went through list after list, made dozens of calls, filled out dozens more applications, and sent in dozens more self-addressed stamped envelopes.
The offerings on Housing Connect gradually became more and more attractive and also more plentiful. We qualified for most of them—our combined income was 50 percent of the area median income ($55,775 in 2015). We both hit our 50s and the walk up to our fourth-floor apartment in Bushwick was wearing on us. We hoped that we would win an apartment in an elevator building by the time we turned 60.
We must have applied for more than four dozen places on Housing Connect, another two dozen on existing waiting lists, and a few random apartments that we saw here and there. I was in charge of applying. 
One day we were in our home office, sitting across from each other, when Lisa said, "Have you seen this one on West 60th Street? I just saw it go up on Time Out's website."
She sent me the link. No, we hadn't applied to that one. I immediately printed out the application, filled it out and ran to the post office to mail it.
It kind of stood out to me that we found a housing opportunity I didn't see on Housing Connect or elsewhere. We did some investigation about where else housing lottery apartments were advertised. Lisa found out that all lotteries have to be advertised in three NYC newspapers. Always in the Amsterdam News, and then two other papers, which are often (but not always) amNewYork and Metro. (Brick's full guide to finding a lottery apartment is here.)
We kept entering lotteries, every single one we were qualified for. We were wait-listed for Stuyvesant Town in April 2016. In mid-May of the same year, we received an email followed up by a letter in the mail alerting us that we needed to schedule an interview for what we knew at that time only as "West 60th Street Apartments." I called to schedule an interview. We looked at the documentation list. It was daunting, but we had been carefully saving all the correct documentation for the past several years for just this occasion! The correspondence said we were Log #85, which made Lisa think we had no chance, since there were only 52 affordable apartments in the building. I thought we had an amazing chance!
In fact, we were fast-tracked through the process. We brought originals and copies of all required documents. And it's true what they tell you: you must bring copies. The city affordable housing office cannot make copies of your documents for you. Without copies you will either be turned away completely or, if you are lucky, given a new appointment and told to return with copies.
Well, we had a suitcase full of documents and when our assigned worker finished with all of them, we had a giant file dedicated to our case. She said we were eligible for a one bedroom—and we finally were able to breathe. It wasn't a guarantee of getting an apartment, but it was a first step in the process. The next step would be verifying all the information we supplied. 
First were transcripts of our taxes, which she pulled immediately, and a credit report. Both our credit scores are in the dumpster, but we somehow passed through to the other side! Since then, new city regulations have been put in place so that poor credit scores don't affect eligibility as negatively as they used to.
Next, we waited. And waited. And waited. We didn't hear from our worker until mid-July, when she said she was ready to certify us and show us the apartment chosen for us. We only needed to sign a self-employment affidavit, have it notarized, and come into the office to schedule an orientation at the apartment building, which was set for the next Thursday.
We had walked past the building after our initial interview in May, but couldn't see much as it was still under construction. Now we were scheduled to see not only the building but also the rent-stabilized apartment that could be ours forever and ever! We went at the appointed time and were ushered by a doorman into the lobby, where we sat along with a bunch of other folks waiting for the orientation. 
During the orientation, we were told all the rules of the building. The only question folks had was "Do we get to use the amenities?" The answer was, yes, for an annual fee, just like everyone else in the building. Then we dispersed, four family units–we were the only queer couple–to see our assigned apartments.
I had been looking at the website for the building for months, and we knew the floor plan of our apartment. We went to see it, a corner apartment, definitely much smaller than expected, but with a breathtaking double exposure—a west- and north-facing view of Manhattan. We had until noon the next day to say yay or nay. We went right back to the leasing office and signed a two-year lease promising to pay one month of rent and a security deposit within 10 days. The first month's rent was free, so we wouldn't be charged until August. We didn't move in until late August, when our lease in Bushwick just happened to end.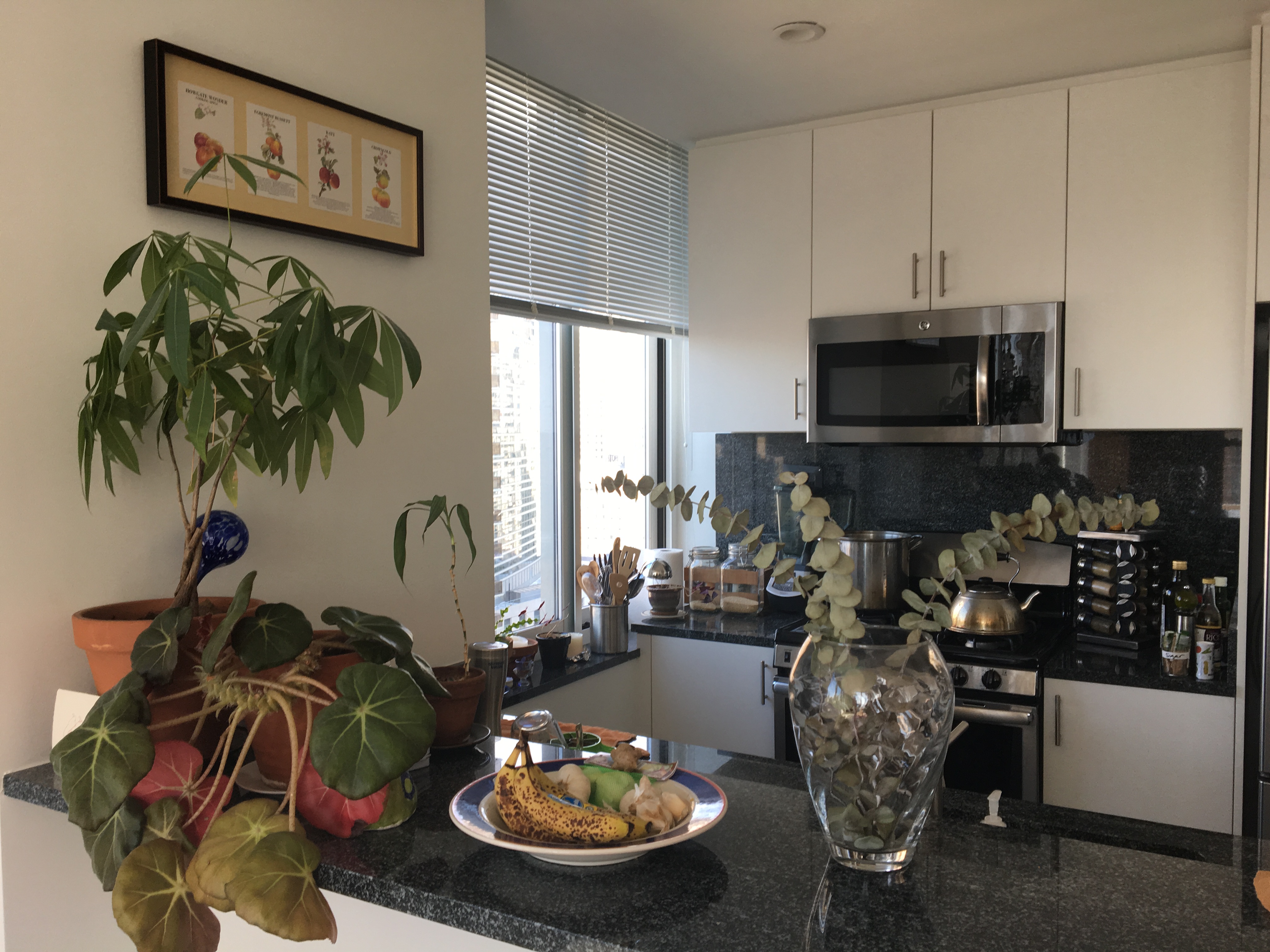 We've been ecstatic in our new apartment, and wowed by the building's high-speed elevators and crazy amenities (gym, lounge, sundeck, and pool). We have a large washer and dryer in our apartment, a dishwasher, and beautiful details (though not quite as high-end as the market-rate apartments, FYI).
We've been in our rent-stabilized lottery apartment for just over a year and are so happy our rent is so low–half of what we paid in Bushwick–and that our new neighborhood so convenient in every way. A lot of friends who come to visit express interest in applying to the lottery, and some others are already doing it but don't go to the interviews because they think their income has changed too much or... a million different reasons.
I say you should jump on any chance to attend an affordable housing interview. Even if you don't end up qualifying, you'll know what to expect next time and have your materials in order. You deserve to be ecstatic in your own lottery apartment.
Stephanie Schroeder is a freelance writer. She has written for The Guardian, Curve Magazine, Brooklyn Magazine, Healthline.com, Lambda Literary Review, and other outlets. Her work has been anthologized in a variety of collections and she is the author of the memoir Beautiful Wreck: Sex, Lies & Suicide. Schroeder is currently co-editing the anthology HEADCASE: LGBTQ Writers & Artists on Mental Health and Wellness, forthcoming from Oxford University Press. See Schroeder's journalism at www.stephanieschroeder.com.
Brick Underground articles occasionally include the expertise of, or information about, advertising partners when relevant to the story. We will never promote an advertiser's product without making the relationship clear to our readers.